5 Sizzling Tips for Cooking Outdoors
By Christine Cooney, Direct from the Designers Staff Writer
Warm weather is all about enjoying your favorite grilled dishes outdoors with family and friends.
Whether you enjoy preparing traditional cookout food like hot dogs and hamburgers or like to be more creative with flavorful fish dishes or gourmet kabobs, you'll need the right outdoor grilling tools and some hot cooking tips to create great dishes.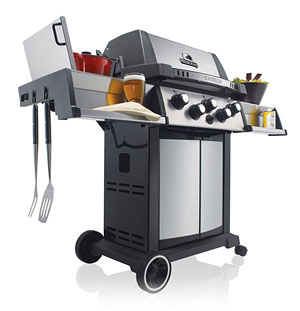 1 CREATE YOUR SPACE

One of the key ingredients to most outdoor living spaces is the cooking area, since food and drink draw people together. Your outdoor cooking area can be as simple as a grilling station, or the ultimate gourmet kitchen with a grill, sink, refrigerator, ice maker, even a beer tapper and dishwasher. The possibilities are truly endless- if you want it, it can be done. A key component of the well-equipped outdoor cooking space is, naturally, the grill. Today, you have a very wide variety of choices: will you want a built-in or freestanding(portable) grill, cooking area size (range from 32" to 54" and even larger), and choose special features such as side burners, rotisseries, sear stations and infrared burners. Do you prefer gas, charcoal, wood? Or a high-end hybrid that can cook with all three? Today, even wood pellet burning units are available.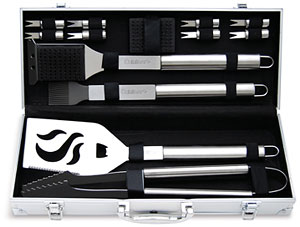 2 COOKING ESSENTIALS

Make sure you invest in some high quality, heavy-duty cooking utensils and perhaps some grilling cookware like cast iron pans and woks. There's nothing worse than cheap spatulas, forks and tongs that bend easily and rust after one season. Quality tools will give many years of dependable service.
Beyond the basic three grill tools (turner, tongs and fork), you can find sets that feature all sorts of gadgets, which you may or may not use. While that 18-piece grill set may look enticing, you may be better served by spending that money on three or four really high-quality tools.
3 PREPARE YOUR FOOD AHEAD OF TIME
Some of us aren't as patient as others when it comes to cooking, but when you plan ahead just 24 hours in order to marinate your next dinner, it will be worth it when you and your guests savor the tender beef, flavorful shrimp and chicken... It's really quite easy and quick to put together a savory Italian marinade with extra virgin olive oil, traditional spices and of course fresh garlic. If you prefer, there are a bounty of great marinades available in the market where all you need to do is shake, pour, cover and chill. But nothing beats the delicious, savory taste of fresh, homemade marinades.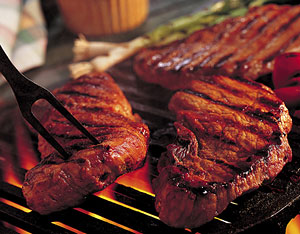 4 DON'T GET SAUCEY TIL THE END
A common error is to coat meat with barbeque sauce before cooking, or as cooking has just begun. This is a mistake because the sauce will burn vigorously, leaving a nasty tasting, charred layer long before the meat is actually cooked. Add only dry spices to your meats, such as salt and pepper during cooking. Once the meat is nearly cooked to perfection, it's time to brush your chicken or beef with your favorite sauce and cook just a bit more on low heat. A neat trick for cooking mouthwatering ribs is to cook them first in the oven, then finish them off on the grill to capture some amazing smoky taste.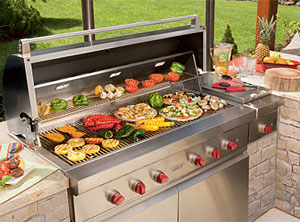 5 TURN UP THE HEAT
Nothing tastes better than a perfectly tender, seared juicy rib eye or strip steak. The trick to creating this perfectly seared steak is to coat both sides with salt, pepper, crushed garlic and olive oil (and of course any other seasonings you like). You can also marinate the steaks a few hours before you plan on grilling. To really capture the flavor, you should allow the steaks to reach room temperature before grilling (this applies to burgers as well). Place the steaks over direct heat and sear for two minutes per side. If you don't like it rare, move them to indirect heat for a few more minutes until desired doneness. A meat thermometer is your friend here. Remember they will continue to cook for another 5 to 10 minutes after you've removed them from the heat, so be careful not to overcook. Happy Grilling!