Simple, Affordable Ways to Add Holiday Spirit to Your Home
By Christine Cooney, Direct from the Designers Staff Writer
If you're like most people, you don't have much free time left at the end of your day to do anything extra. But during this time of year, we all want to do something decorative and festive to create a wonderful holiday atmosphere in our home.
Our designers and writers have come up with some creative ways to increase the holiday spirit to your home without much effort or cost, so that you and your family may relax and enjoy the holiday season.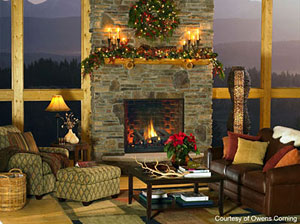 Decorating with lots of ribbons and bows is a time-honored decorating tradition. Tie ribbons to the back of chairs, candlesticks, wreaths, garland, basket handles, drapery tiebacks, stair railings and doorknobs. Make sure the colors and patterns of the ribbons you choose complement your home's decor. Bows always look festive and are available in a wide range of sizes, colors and patterns. For a little extra cheer, place bows with bells on your entry and interior doors. Choose a ribbon that you can easily untie and re-tie each year. This will save you money next year and help add to your collection of holiday decorations.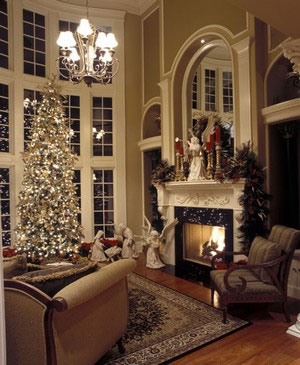 Decorate with fresh greenery such as wreaths, berries, garland and herbs to bring a touch of the indoors into your home. Place a wreath or swag on all your doors and windows. Of course, start with your front door to welcome guests and add appeal to your exterior. There are so many different fresh wreaths to choose from like a juniper wreath or a fresh herb wreath made from sage, oregano, rosemary and bay leaves. Or try a wintery floral wreath fashioned of fresh pine, cedar, hydrangea and green apples.
Try lively floral displays like hanging juniper wreaths with ribbon in the windows or a berry wreath. Pinecones make a great addition to your home's decoration and can easily be displayed in baskets.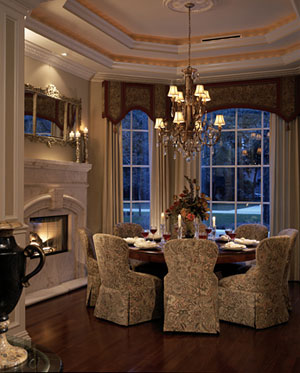 For another burst of holiday color, fill a florist's bucket or ornate jug with amaryllis and other holiday-hued plants and flowers.
You can help stay in the festive mood every day in December by using holiday tableware for all your meals, listening to holiday music whenever you're home, having some sweets around the house and making time to watch holiday classics on TV with your family.
And of course you must put up the perfect Christmas tree.
Use leftover greens from your Christmas tree to make a few quick arrangements in simple bowls or baskets. Gather sprigs together with a bow and hang them inside your windows or on interior doors.
You can give your home a feeling of warmth and ambience by using lots of candles. Dine by candlelight, create family time by gathering around a warm fire to read, do homework, write Christmas cards, sing carols, read Christmas stories or simply converse.
By keeping things simple, you'll find that you can enjoy the season, the lights and the traditions with family and friends without getting tired out in the process.
Everyone at Direct from the Designers wishes you and your family a wonderful holiday season! We'd love for you to share photographs of your home dressed in holiday décor on our Facebook page.