Apps to Help You Pick the Perfect Paint Color
by Lauren Busser Direct from the Designers' Contributing Writer
There are so many shades of so many different colors out there. Sorting through them can be quite a task. You might be asking yourself "what goes well with this blue couch?" or, "does this look a little too peach against these curtains?" Fortunately the top paint companies have released apps and tools that let you easily design your ideal color palette so that the guess work is taken out of the process.
Benjamin Moore's® Color Life App
The Color Life app from Benjamin Moore® brings together the best in design tips, inspiration, and color selection at your fingertips. Using the Color Life app will take you on tours of stylish homes, smart color choices, and help you explore more than 3,000 different colors with a swipe. Color Life works with iPad® and Android® devices.
You can also check out the Color Capture app which lets you capture any color that inspires you and match it to any of the 3,000 colors in the Benjamin Moore® library with ease.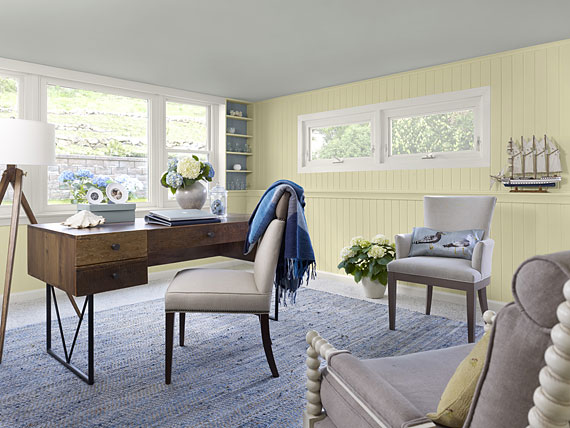 ---
This home office uses Benjamin Moore® paint but with the Color Life and Color Capture apps you can play with how the color looks in your own spaces.
---
Sherwin-Williams® ColorSnap®
One of many things I learned as an art student was that computers can identify certain colors that people may struggle with. The ColorSnap® app by Sherwin-Williams for iPhone®, Android® and Blackberry® makes the process of identifying colors you see in the world a little bit easier. With 1,500 colors in its library, ColorSnap® creates custom palettes based on colors that inspire you.
Not only will you be able to find colors that really work for you but you'll also get detailed information including RGB values, LRV numbers, and color names if desired. When you are done creating your dream color palette the app can help you find the nearest Sherwin-Williams® retailer to purchase your paint.
Don't have a smartphone? Sherwin-Williams still has you covered with their Color Visualizer for your computer and ColorSnap® studio for iPad®.

---
With Sherwin-Williams® ColorSnap® you will be able to take in every possibility from nature's neutrals to the boldest of reds.
---
Valspar® Virtual Painter
The Valspar® Virtual painter is a program that allows you to see how different colors affect the feel of your space. You can upload your own photos and then begin manipulating the color of the walls to see how it will look. With it you can spend some time seeing how a room will look in a calming cerulean blue or a dusty rose. You can even save your projects and come back to them later.
ColorSmart by BEHR®
The ColorSmart app by BEHR® makes finding your perfect paint color easy with touch and tap technology. Take a photo of your room and the tap to paint the room, preview, match, and coordinate colors on the go, save images, and post your projects to Twitter or Facebook. Whether you have an iPhone®, iPad® or Android™ device you'll be able to manipulate the colors of your project and when you are done find the nearest Home Depot to purchase your paint.
With these tools it will be easy to find the perfect colors for you. By combining color libraries with your favorite mobile devices you will be able to find a color you will love for years to come. After you build your new house plan, take some time and play with colors in your new spaces. In the virtual world, experimenting with color is easy and fun.