Beautiful Reclaimed Products for Your Home
by Lauren Busser Direct from the Designers' Editorial Director
Building green is one of the biggest trends in home building right now. If you want to make your home even greener you can use materials that have been reused, reclaimed, or recycled to add instant value and unique character to your home. Not only do reclaimed products offer a unique touch to your home, but you will be saving resources by choosing vintage options.
Finding reclaimed materials takes some planning ahead but you can certainly incorporate these items into your home. A reclaimed materials expert can help you decide which items will fit into your design and where. Some companies work with recycled materials and ship them across the country. Here are a few options.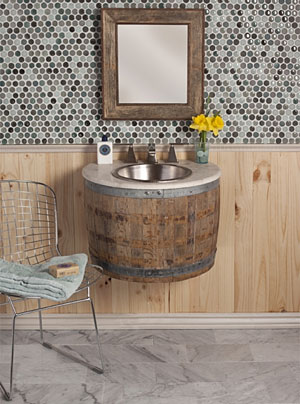 You can find lots of recycled timber and glass products that can add a unique touch to your home. For example, Fireclay glass tiles. These tiles are made from 100 percent recycled glass using a no-VOC pigmentation process. These tiles are perfect for adding a unique touch to your bathroom or kitchen.
You can add accents like a unique tile backsplash with your own personal mix of over 40 colors and 17 sizes and shapes. Free samples are available to let you experiment and find a combination that you really love.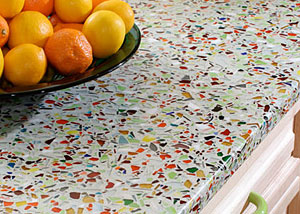 If you want another way to use eyecatching recycled glass you might want to take a look at recycled glass countertops. While serving as an excellent working surface a Vetrazzo® Recycled Glass countertop is truly a work of art. Vetrazzo® recycled glass surfaces started in Berkeley, CA in 1996 when materials scientist Don McPherson combined recycled glass and a cement binder to create a sustainable, polished countertop. The company is now owned by by Polycor, the largest natural stone manufacturer in North America. Vertazzo® continues to hold roots in the United States with a manufacturing plant in Georgia.
Vetrazzo® is a really unique and amazing product. Comprised of 85% glass and cement-like recycled materials you get an exquisite surface that 's beautiful to behold. It becomes the centerpiece of your home and your project. There is an expansive color palette, and a story in every surface. The glass is sourced from a variety of materials, including art glass, beverage bottles, and jars.
Not only is Vetrazzo® beautiful but it is extremely durable and easy-to-maintain. The strength of Vetrazzo's® recycled glass countertops is comparable to granite in scratch resistance, heat resistance and wearability. Caring for a recycled glass countertop from Vetrazzo® is just like caring for natural stone. That makes Vetrazzo® countertops a win.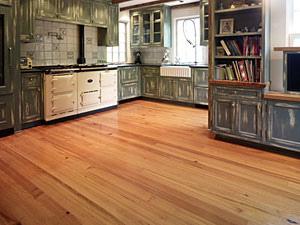 Reclaimed wood is a great way to get a storied look into your home. One way to get that is with reclaimed wood flooring from companies like Elmwood Reclaimed Timber. Reclaimed wood comes from a variety of sources and can come in different colors and styles. Elmwood Reclaimed Timber's wide plank wood flooring is 100% reclaimed, and custom milled to your specific needs and design specifications one plank at a time.
Elmwood offers flooring from a variety of sources including: The Naturals Reclaimed Antique Wood Flooring, Reclaimed Antique Hardwood Flooring, and Reclaimed Antique Barn Wood Floors. Each is uniquely sourced by their reclamation team.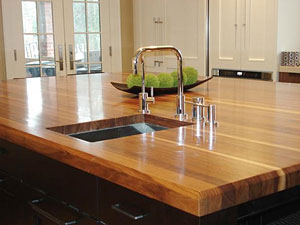 If you want another way to use reclaimed wood outside of flooring you might consider using a Reclaimed Wood Countertop from The Grothouse Lumber Company. Reclaimed Wood Coutertops from Grothouse Lumber Company take many forms. Customers have turned their reclaimed wood countertops into kitchen counters, bar tops, vanity countertops, and even planter boxes. The reclaimed wood adds an organic element to the space, and is endorsed by Leadership in Energy and Environmental Design (LEED). All Grothouse products are covered under their lifetime warranty.
By using reclaimed products, in addition to reducing your home's impact on the environment you give new life to useful materials that may otherwise go to waste. All of these innovative building solutions come in a wide variety of different colors and styles that are sure to fit into your décor.