Create a Spacious Home with an Open Floor Plan
By Shira Linden, Direct from the Designers Contributing Writer
Open floor plans feature airy interiors, flowing designs and flexible living spaces that can be used for multiple purposes. Typically, the kitchen, living room, dining room and sometimes the home office transition into each other, resulting in a flowing design and wide-open space.
This theme may continue into the second floor, with upstairs rooms off a hallway having a view of the living room/great room or atrium below.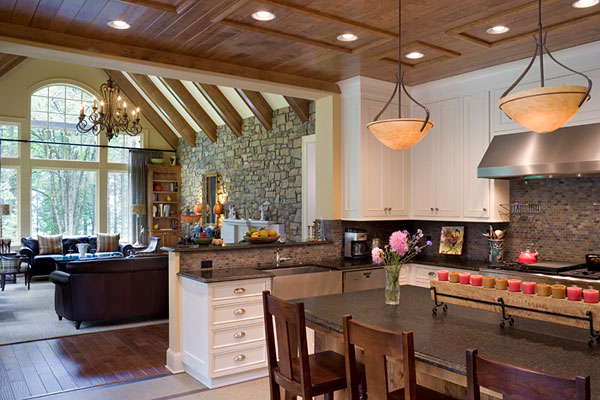 ---
The kitchen and vaulted great room of this rustic home create a comfortable and practical living space that's great for entertaining and interacting with family while preparing dinners. View additional photographs and the floor plan of this luxury two story mountain home by clicking here.

---
Lots of pluses
Homes with open floor plans convey an inviting, welcoming ambiance to residents and guests. Now, you can maximize all available space and eliminate wasted space, making small houses and condominiums appear more spacious. You will also ease traffic flow in your home and set up an atmosphere of casual living.
Thanks to fewer walls and obstructions blocking the natural light from sunny windows, you can enjoy lighter, more uplifting surroundings. You may want to incorporate a lot of glass to maximize this effect, to blur the line between indoors and out and visually extend the space. Vaulted ceilings can also add to the sense of brightness, spaciousness and openness.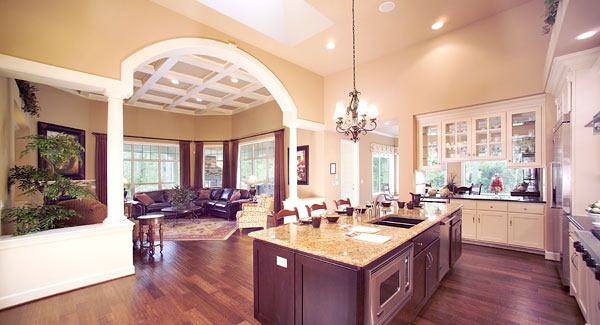 ---
The beamed great room of this one story ranch house plan with built-in fireplace and entertainment center, gourmet kitchen with its huge center island and multi-windowed eating nook create a spacious gathering area that opens to the wraparound outdoor living porch.
---
By opening up communal space, there are more opportunities for interaction. Food preparation, eating, lounging, entertainment and children playing all occur within the same undivided space. If you're a parent, you'll love open floor plans because you can prepare meals while continuing to supervise and talk with your children.
By the same token, if you enjoy entertaining, open floor plans make entertaining easier and more fun. Now, you can continue the conversation with your guests while cooking, setting the table or completing the final touches that will make your party or event a success.
Rising in popularity
Few homebuyers want houses with many, small rooms where furniture looks cramped or stuffed in. Since open floor plans are viewed as modern-yet-cozy, homes that are built or remodeled to feature an open floor plan are highly sought-after. These kinds of homes help residents and guests feel more relaxed. Small spaces seem bigger, airier and filled with light.
If you are downsizing, open floor plans offer a lot of advantages, as you can still accommodate a large gathering of family or friends despite reducing your square footage. Visitors can readily mix and mingle between areas. Best of all, you can set up a big table at holiday time to accommodate the same number of guests as larger, more traditional homes.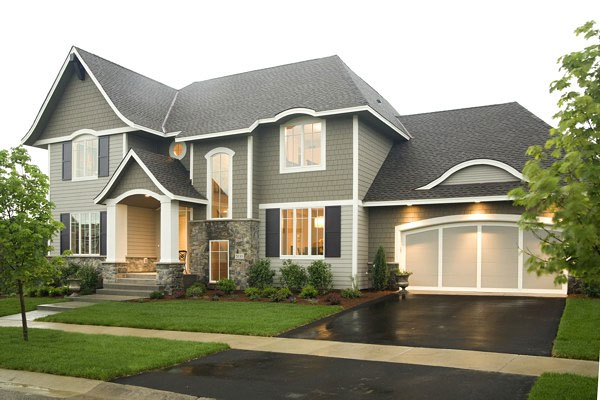 ---
This two-story house plan features a wide-open living space where the foyer leads into a huge great room, circular dinette, L-shaped kitchen and sitting area. View the floor plan and additional images of this traditional design by clicking here.
---
Divide the space your way
With an open floor plan you use furniture and light fixtures to divide the space and create functional areas. You can arrange sofas and entertainment units to divvy up the space according to your requirements utilizing architectural elements such as fireplaces, built in bookcases or bay windows as focal points.
A family with young children, for example, could create a play area while a retired couple might prefer a library or hobby center.
A more affordable home
Open floor plans usually cost less than traditional floor plans. Building expenditures will be lower as well, thanks to fewer interior walls and doorways.
With modern, efficient heating and cooling systems, you'll keep energy costs down while creating a very livable home that is comfortable in every season.