Creating a Bedroom that Grows with your Children
by Lauren Busser Direct from the Designers Contributing Writer
It's no secret—kids grow up. So how do you keep up with the clothes they outgrow, the shoes they wear out, and their ever-changing tastes? You can't always keep up with every change, but there are some ways to design a room that will easily transition with your child.
One often overlooked aspect of your design to consider is durability. Kids will be tough on floors, walls and furniture so making sure theirs are extra-sturdy should be high on your list of priorities. Consider flooring such as Bellawood® hardwood flooring for your kid's space, from Lumber Liquidators®. Warranted for 100 years, this flooring is sure to endure your child's wear and tear and beyond.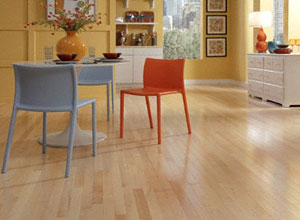 When selecting furnishings for their spaces you want to think about the furniture's longevity. You can consider a convertible crib if your child is really small. Not only do they turn into toddler beds but some can even go to a twin or full bed.
If your kid is older they might be doing a lot of schoolwork or have a hobby that their bedroom is also used for. For this reason storage and study spaces are important. For example, take a look at desks you can customize, such as one from PB Teen®. Whatever your child's age their bedroom will be a haven for them.
Whatever a child's age, as much as they tend to shift focus year to year going completely character-themed with your child's room is likely to be a headache. They'll love dinosaurs one year and then next year it's all about space, or football, or horses. You get the idea. We suggest rather than putting up themed wallpaper or other more permanent creative accidents, stick with a solid color and use things like lampshades and wall art/posters to add your theme. This way things can be easily switched out if and when your child's interests change.
If you want your child to do some of their own decorating you can create a fun extra like a chalkboard wall using Chalkboard Paint from Benjamin Moore®. Yes, you can now paint a real, useable chalkboard onto any blank wall. Not only does this paint allow your child to express themselves creatively but it is also comes in many different colors so that you don't have to stick to just a black chalkboard.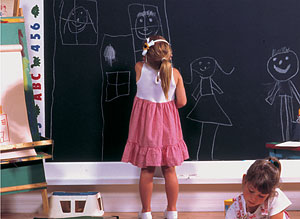 Whatever your child's age it is important to keep the design simple. You don't need to make the room a stark white, but try to use things like area rugs, lampshades, and wall art to get the overall effects you and your child will enjoy. Using durable furniture and flooring will also be a big help in designing a bedroom that lasts. As you can see, with a little careful planning and consideration it's really not difficult to create a room that your kids will love, and will grow with them for all the happy years to come.