Creating the Hi-Tech Home
by Lauren Busser Direct from the Designers' Editorial Director
Smart homes are on the rise and with tablets and smartphones giving people a user-friendly interface, smart appliances are more accessible than ever. Smartphones and tablets are at the center of every smart home system and key to using the smart appliance in your home. Apps and smartphones let you monitor your appliances, light, and climate control use (among other systems) on the go.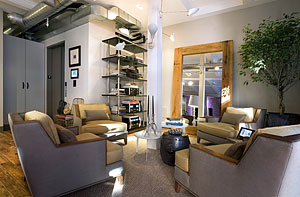 Smart Home Systems
For a home that is truly automated you want a smart home system. These systems offer everything from simple lighting controls to complete automation. Imagine having the ability to control any electronic device from a tablet or smart phone. You could preheat your oven before you get home, monitor any part of your property with web cams, or simply switch on the lights and turn up the thermostat after a weekend away. All of these are possible with a smart home system.
Companies like SAVANT Systems offer a complete and comprehensive platform that cohesively addresses automation and control of audio and video, telephony, digital displays and media integration needs as well as energy management, security and lighting control.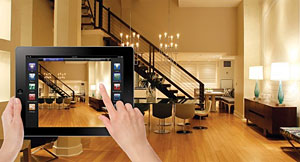 SAVANT's mission is to keep on pioneering the home automation industry by making technology work for you. SAVANT works with Apple® technology, leveraging it's familiarity and intuitive nature by using the iPhone® and iPad® iOS with their RacePoint Blueprint™ software platform to configure a new system easily with no programming codes required. Not only do they use Apple® products but they provide on-TV menu control with TrueCommand™, which transforms any HD television into a control portal. This in turn delivers a level of user interaction previously available only through dedicated touch panel services.
Smart Kitchen
There has been some debate over the years as to when the smart kitchen would arrive and it is safe to say that it has. There are lots of appliance suites on the market now to help you manage your menu and your food storage. The smart kitchen is still being innovated but there are plenty of suites that can serve your purposes well.
Wolf® and Sub-Zero® have designed the dream smart kitchen, including refrigeration and a smart oven. At the center of their suite is an app that lets you notify Wolf® and Sub-Zero® when a service is needed. It also identifies the need and sends specific data to a certified technician so that you can get faster service.
Dacor® is another company that is continuing to develop the smart kitchen. Dacor® recently announced its new Discovery™ iQ 48" Dual-Fuel Range. It's significant because among other things it's the first range to feature an integrated, wirelessly-connected tablet. The range incorporates the proprietary Dacor® iQ Controller and the Dacor® iQ Cooking application that gives users all the tools needed for precision cooking.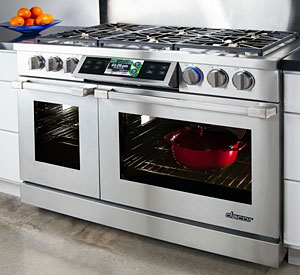 The release of the new Dacor® Remote iQ Cooking app also allows users to control the range with a smart phone or tablet from anywhere they are online. It is the perfect tool for busy, connected home chefs, letting them watch cooking tutorials, download favorite recipes, and access expert cooking advice right from the range. The app also includes a pre-programmed guide that takes the guesswork out of preparing a wide range of dishes.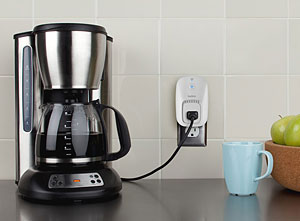 Small Appliances
It's not all about the smart home system and the large appliances. Small appliances are addressed as well. For a truly efficient smart kitchen you can add something like the WeMo system from Belkin®. WeMo is a family of simple but ingenious products that will make managing your home easier, simpler, and better. WeMo uses your home's Wi-Fi network and mobile internet to control your home electronics and small kitchen appliances from your smartphone. In 2014, Belkin® partnered with the Jarden Corporation, makers of Crock-Pot® and Mr. Coffee® for optimal efficiency.
With the right systems and appliances you really can completely automate your home. Whether you'd like simple controls and convenience in one or two rooms or want to completely automate your whole house, you're sure to enjoy the ease and convenience a smart home can bring.