Creating a Romantic Master Suite
With Valentine's Day around the corner, it's the perfect time to fall in love with your bedroom all over again. You'll find some romantic decorating ideas, including sexy and inviting touches for headboards, canopies, wall treatments and furniture. So get inspired by some of the most romantic bedroom designs featured exclusively from Direct from the Designers.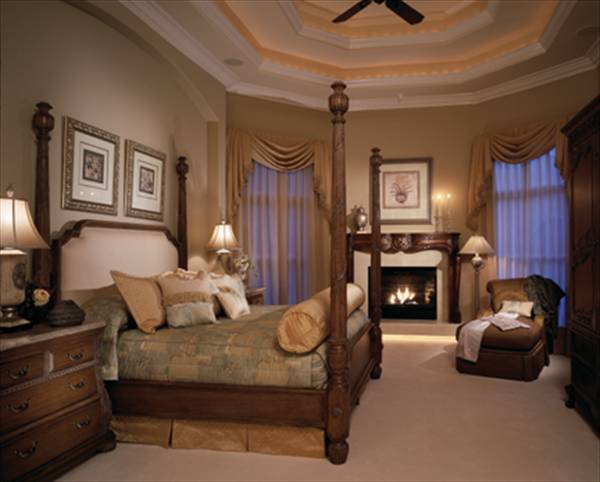 In addition to adding artwork to the bedroom, try adding decorative moulding and millwork by Fypon® to your bedroom design for a more elegant look. Break free from the "matched set" look by using a fabric covered headboard to accent the furniture and window treatments. It creates a much more personalized, custom and interesting style. You can enhance whatever light comes into the room by hanging flowing, gauzy curtains over the large floor to ceiling windows that flank the marble-encased fireplace. Faux finishes add depth to this design, which accentuates the octagonal ceiling with gold trim and moulding. Placing furniture closer to the fireplace area or near a window that gets lots of sunlight makes for the perfect place to snuggle with your partner or a good book.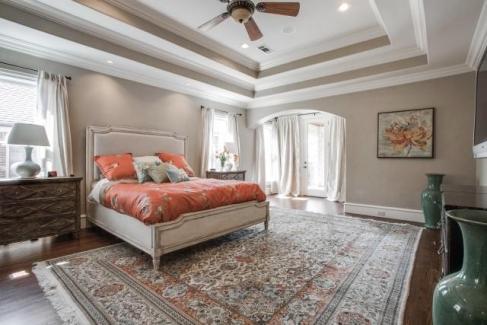 Coziness is essential when creating a romantic bedroom and you can quickly turn your bed into a sanctuary with some cushy bedding. Start by choosing a fluffy down comforter — a goose feather duvet is both light and super insulating. Or, if you're allergic or on a budget, opt for a synthetic version made with polyester fill. Use two comforters for an ultra-plush experience. Layers and pillows make a bed look both lived in and luxurious. You can take the stress out of a room by making the space clutter-free. Use charming storage baskets for books and magazines to keep them organized and out of your way. To reduce clutter in closets or the need for large dressers, you can even store items like socks or lingerie in baskets under your bed. Having a soft rug to step on when you get out of bed, instead of a cold floor will keep you feeling cozy all over as you start your day. If you really want to pamper yourself, consider adding radiant flooring under you hardwood floors and don't forget your bathroom.

Blue is a romantic color. It is known to symbolize peace, tranquility, trust and reliability. Simple accents like bed pillows, sheets, and accessories will add warmth to the room. The silvery blues that have overtaken home décor trends over the past year look magnificent when they are paired with sultry shades of brown or beige. The color combination is extremely romantic and is popular with both the male and female genders alike.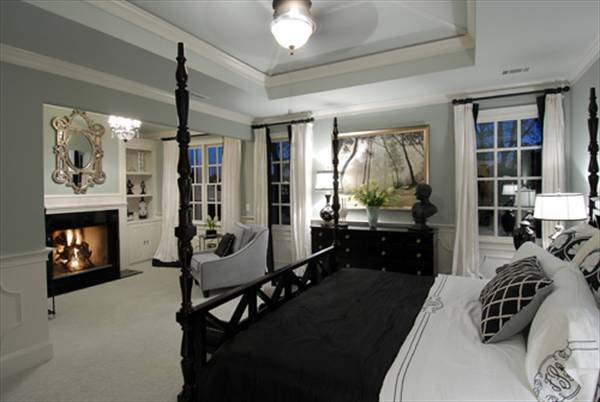 Dark textiles don't have to be dreary. These midnight-inspired accents take the room from elegant to extravagant. Paired with crisp white drapes and carpet, this master suite gives the feeling of a 5-star hotel that is fitting for both sexes. A "must have" item for homeowners looking to create a romantic retreat is a fireplace. You can easily convert the built-in into a wet bar, so you can unwind with a glass of wine or light breakfast in bed. To create the right ambiance, select elegant lighting fixtures that work on a dimmer. For added convenience, consider a remote control that can operate multiple fixtures, like the Maestro IR® Dimmer by Lutron®, which is available in a wide range of colors to complement any decor.