Elements of Spanish Revival Design
by Lauren Busser Direct from the Designers' Editorial Director
To celebrate Cinco de Mayo, we are taking a look at Spanish Revival architecture and décor. Spanish style homes are popular in Spain, Mexico, and the Southwestern desert. It is a beautiful architectural style that features elements like stucco walls, clay roof tiles, handpainted tiles, outdoor living spaces, and ironwork. This style has gotten so popular that it can now be found in all areas of North America. Here are some of the things we love about the Spanish architectural style.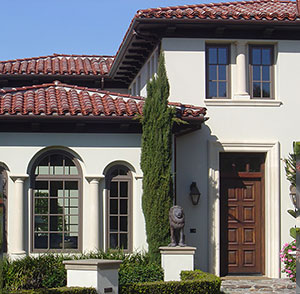 White Stucco and Clay Tile Roofs
Two notable exterior elements of Spanish style homes are colored clay tile roofs and beautiful white stucco. The clay roofing tiles give the house a rustic feeling and a bit of warmth. The ceilings can sometimes be multi-leveled to create a beautiful asymmetry.
The exterior is usually covered with stucco, a hand-applied mix of cement, water and sand that is later covered with white paint. It results in a beautiful, aged-looking Old-World surface.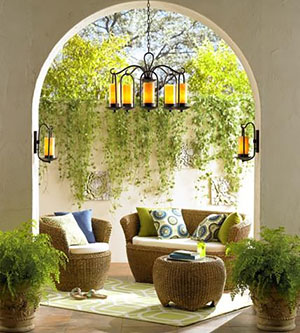 Wrought Iron Details
You are very likely to find wrought iron details on both the interior and the exterior of a Spanish style home. Everything from gates to decorative touches, light fixtures and railings can feature this handsome dark metal. Wrought iron products are extremely popular because they are meant to last for decades, but this needn't be focused on larger items. You could be subtle and use wrought iron in the form of curtain rods, door handles, and light switch covers.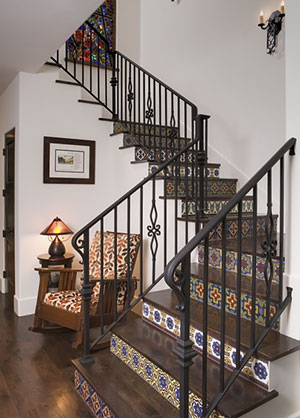 Hand-painted Tiles
A great decorative touch for a Spanish style home are hand painted tiles applied to stair risers. We love the options you can get from Fireclay Tile. Since all their tiles are handmade they are able to customize decorative tile in a wide variety of styles and colors. Designs like the one pictured above demonstrate what can be achieved by mixing colors and patterns.
In their hand painted tiles, you can select from over 150 classic and contemporary patterns and choose a color palette made to fit your décor and home furnishings. Then they hand paint the tiles right in their California factory using their proprietary wax resist technique. The result yields stunning custom tiles that are unique to your home.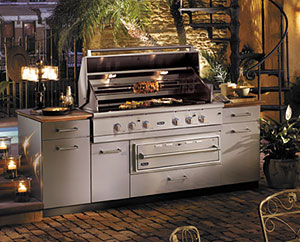 Courtyards and Patios
Because of the mild climate in the Mediterranean, outdoor living is highly encouraged in Spanish architecture. For this reason you will find that lots of Spanish and Mediterranean style homes include things like patios, lanais, courtyards, pools and even outdoor living rooms and kitchens.
Their abundant use of outdoor living spaces make them the ideal place to host a meal and an outdoor kitchen with a Viking® grill and stainless steel cabinetry helps you to relax and enjoy it rather than running back and forth to the house kitchen for things.
These handsome homes have a unique beauty all their own and we love this style for that reason. If you'd like to explore and learn more, take a look at the Spanish house plan collection to begin the search for your dream home.