Finding Your Window Style with Integrity®
by Lauren Busser Direct from the Designers' Editorial Director
Windows are important to a new home design. Not only can they effectively light your home during the day but they open up your home to the scenic views around your property.
When thinking about the "style" of your window you want to take into consideration the way the window operates. Some popular styles are double hung, casement, bay, bow, and slider windows.
To give you a better idea of the benefits of each type of window style, here's a look at the types of windows offered by Integrity® by Marvin® Windows and Doors. Integrity® by Mavin® offers three lines of windows to suit any need. The incredible All Ultrex windows not only look great but their 100% fiberglass construction outperforms and outlasts vinyl, aluminum, and composite materials. Wood-Ultrex combine real wood interior surfaces with an indestructible fiberglass exterior. Last but not least, IMPACT windows are ideal for coastal applications.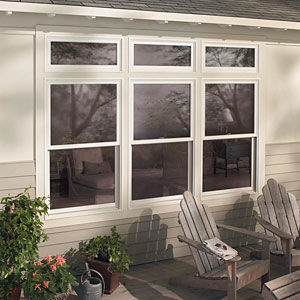 Different types of windows are available depending on the style but whatever you choose, Integrity® windows are definitely "Built to Perform®."
Double Hung
Double Hung windows are a classic and popular style the gets a contemporary twist with Integrity® by Marvin's® Ultrex fiberglass interior and exterior. You will love the high style and durable finish from every angle.
The windows operate with top and bottom sashes that tilt and remove easily for hassle-free maintenance and cleaning and the dual operating sashes open at the top or bottom. The low profile sash lock operates smoothly for ease of operation.
Double hung windows are perfect for second floor bedrooms or as part of a bay window combination. They come in traditional and colonial styles as well as equal, cottage and reverse cottage sash configurations so you can get just the right look for any room in your home.
Single Hung
Available in All Ultrex, Single-Hung Windows offer traditional styling and sleek sight lines. They match the appearance of Integrity® Polygons and these create a strikingly beautiful ensemble when paired.
Single-hung windows feature a low-profile, ergonomic sash lock and the sash tilts and removes for easy cleaning. There are two screen options available, single and full, and you can choose between equal, cottage and reverse cottage sashes.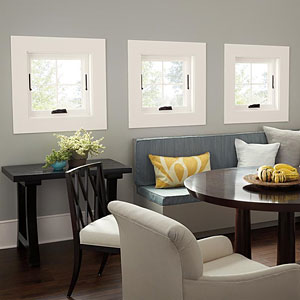 Casement
Casement and Awning windows from Integrity® feature sleek, contemporary frames to accommodate large panes of glass that swing open to let in fresh air. Casement windows operate by using a folding handle and dual-arm roto gear operation. Integrity® by Marvin's® Casement Windows are perfect for rooms in which the windows will be opened and closed frequently.
Glider Windows
A great alternative to casement windows, gliders are idea when a swinging sash is not practical. Unlike some others, Integrity® by Marvin's® Glider windows are not simply repurposed double-hung windows turned on their sides for horizontal applications. They're designed specifically for horizontal or vertical operation. The Ultrex fiberglass interior and exterior ensures a smooth glide that stays true on even the largest windows.
Bay and Bow Windows
Bay and bow windows can make a home feel more open and vibrant. Bay windows are made up of a composition of casement, double-hung windows and polygons. They are great for parts of your home where you'd want to take in panoramic views of your lot. With Integrity bay and bow windows you can bow up to five casement windows or combine double hung, casement, and polygons.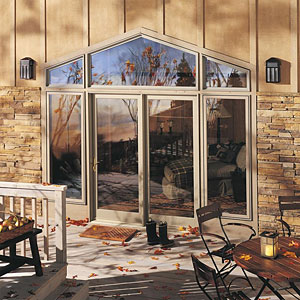 Polygons
Polygon Windows are a great way to create a custom window design. With more than eight unique shapes you have the freedom to create any window arrangement you desire. These windows don't open but they are great for maximizing views.
The best part of about these windows is that because Ultrex fiberglass is so strong, you can design a window to be as large as 49 square feet with a maximum span of up to nine feet, giving you ultimate versatility.
Round Top
A round top window is a great way to compliment a casement, double hung or single-hung window. It can add light and flair to windows, or even the tops of entry doors. They are available in quarter-round, half-round, and elliptical designs.
While you may be able to get similar shapes in some of these styles it is important to consider the quality and operational ease, as well as design and placement of your windows. Please consult with your contractor or a window installer to find the best windows for your home.