Getting Ready to Build a Duplex
by Lauren Busser Direct from the Designers Editorial Director
Appeal for multi-family homes continues to climb and duplexes are a great way to fill that need. Duplexes have many advantages and great appeal to first time homebuyers and renters. For homebuyers they can be an easy way to enter the homeowner's market and for renters they are a great alternative to renting an apartment.
A duplex is essentially a merger between an apartment and a house. When you build a duplex it is important to understand that you are constructing two distinctly separate living units that share nothing other than an adjoining wall. The being said, if you are considering building your first duplex there are a few differences to building a duplex as opposed to a single-family home.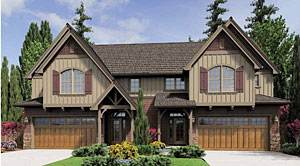 Your Land Search
The first difference comes in your land search. Unlike single-family homes, duplexes are multi-family structures and usually considered "Residential 2." Each town or municipality has its own rules regarding how different plots of land can be used so when you are deciding on a location for your duplex, make sure that you select a plot in a zone that allows for multi-family units. Once you find out what land can be used for what purpose you can begin to narrow down your land search.
Utilities and Infrastructure
Another consideration is infrastructure. Just like every other home, you have to consider things such as water, sewer, gas, and roadway development in your initial survey. The difference with duplexes is that you are working with those utilities on a larger scale. Remember you are building two separate units so if a task seems like more than you can handle, consider subcontracting it out to an expert.
---
If you like the idea of a duplex but don't like the idea of a symmetrical house, then you might like this duplex house plan. In this house plan, two very similar units wrap around and complement each other forming two similar living spaces with 1,346 feet to each. The open, yet cozy layout of each side of this duplex is sure to be a crowd pleaser.
---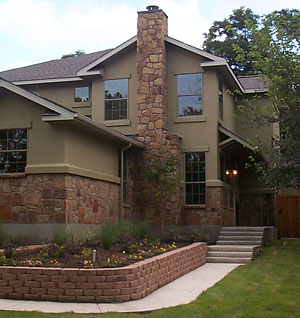 A Second Survey and Property Lines
After your duplex is built you will need to do a second survey. This is done to set the property line between the two halves of the duplex. This is also done after the duplex is built to make sure that no part of the building is inadvertently built over the property line.
Building a duplex has great appeal on the homebuyers market. The process for building one might require a few extra steps but it is worth it in the end. Take a look through our duplex house plan designs and you are sure to find beautiful plans that fit the neighborhood and will appeal to perspective homebuyers.