Hot Trends in Kitchen Countertops
by Lauren Busser Direct from the Designers' Contributing Writer
Your kitchen countertops need to be tough! Since they're the centerpiece of your kitchen, they can take a lot of abuse over time. When it comes to kitchen décor, you want something that will stand the test of time as well as compliment the appliances and cabinets you've selected. Lest you think your choices for a kitchen counter are limited to granite and marble, you might be surprised to find that there are lots of up-and-coming countertop materials that are sure to fit your style and still be built to last. Here are some of the more interesting kitchen countertop materials that are currently trending.
Concrete is a material you might think is best left to bridges and roadways but it can work really well as a countertop. Concrete countertops offer strength, style, and a timeless appearance. Couple that with a natural and organic look and you can make a concrete countertop the centerpiece of an earthy kitchen. Countertops made of poured concrete need to be sealed well, and this seal coat needs to be renewed periodically in order to resist staining. Once sealed, its appearance only improves with age. Another bonus of this material is that it can be poured into any shape and tinted to be almost any color you want, leaving nearly endless possibilities for customization.
Reclaimed wood and butcher block cabinets are another trend in kitchen countertops. Butcher blocks offer a classy yet casual look and are environmentally friendly, but their soft surface means that some maintenance is required. Ideally a butcher block countertop should be sealed and oiled once a month but during everyday use cleanup is a breeze. The only negative of a butcher block counter is that if it's not maintained it can dry out and crack. Reclaimed wood has similar features. Reclaimed wood is old lumber that has been salvaged from older homes and barns that have been renovated or demolished. This material brings similar qualities as a butcher block top but offers a warmer rustic, weathered appearance.
You might be surprised to find that cork is growing in popularity too. Cork is gaining steam as a popular flooring option, but it is now starting to grow as a kitchen counter trend as well. Cork is dense, sturdy, lightweight, and sustainable. All good points if you are looking for an environmentally friendly alternative. It is also resistant to water and heat, and has anti-bacterial properties making cork a very versatile option.
Metal is another option coming into the mix of countertop options. So many other things are going stainless as well. We see lots of stainless steel appliances and furniture accents, and now stainless is a countertop option as well. Stainless steel brings an up-to-date, modern look to any kitchen. It is resistant to water, heat, and germs, but over time can succumb to dings and scratches and tends to show fingerprints. Another metal making its presence known in the world of kitchen countertops is pewter. Pewter is actually an alloy made up of several metals. It is beautiful but not as sturdy as stainless. The appeal of pewter comes in its muted gray color which offers a softer and more homely look than stainless steel. Pewter is also a countertop material that can transition between traditional and contemporary homes.
With the kitchen design industry leaning heavily on environmentally friendly choices, it isn't surprising that recycled glass is on the list of countertop choices. Recycled glass countertops come in many styles and color options. While providing many different appearance possibilities the life expectancy of a recycled glass countertop is estimated to be around fifty years. They are easy to care for and clean but may require resealing every few years.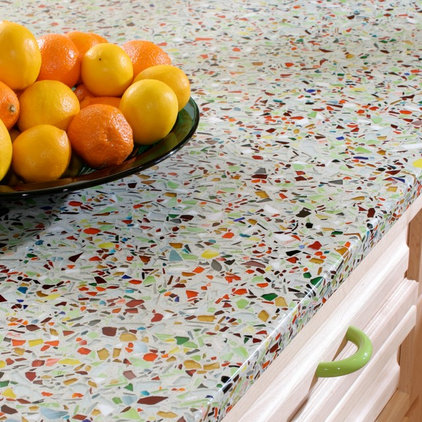 Slate is another material commonly associated with other parts of the house, like the roof or a walkway, but it's also another trending material for kitchen countertops. Slate is a natural, fine-grained rock that is softer than granite but harder than marble, and its naturally uneven surface is appealing to some homebuyers since chips and scratches are hard to detect. Slate is easy to maintain and resistant to bacteria making it an ideal choice for anyone who likes a low maintenance countertop.
So, have you found the perfect countertop for you? Do you think you want to go classic with a twist, or ultra-modern and high-gloss? Whatever you decide for your kitchen countertop, be aware that there are quite a few more options than there used to be. If you are shopping to find the perfect color or material to fit your décor, check out some of these options and you'll find a countertop that fits your home perfectly.