House Plans We Love
by Lauren Busser Direct from the Designers Editorial Director
If you are just starting your house plan search, you have come to the right place and we want to help. Our team of house plan specialists compiled their favorite house plans into this showcase. Whether you know what kind of house you are looking for, or if you are still on the fence about style and floor plan taking a look at some of our favorite house plans may help you find your favorite house plan sooner than you think.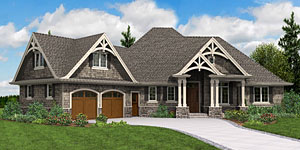 "I love this brand new plan because of its authentic craftsman detailing, huge curb appeal and terrific floor plan," says Tammy Crosby Direct from the Designers' Chief Operating Officer about this ranch house plan.
"A few of my favorite features about this plan are the roof line gables, foyer with 11' ceilings, the vaulted great room and outdoor living area with fireplace. The spacious and functional master bath, the home office, the Jack-n-Jill bath, the home office and the informal entrance door from the garage. A well thought-out floor plan and a beautiful façade!"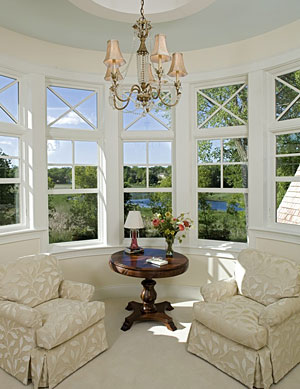 "This is my dream home! This beautiful home features fabulous curb appeal, ideal for a waterfront property as well as every amenity – fireplaces, an open floor plan, outdoor living spaces, a luxury master bedroom with sitting area and much more," says Christine Cooney, House Plan Specialist about House Plan #2288.
"The kitchen is perfect for one who loves to cook with plenty of space to create your favorite dishes while interacting with guests. For the kids there's lots of great places to hang out including a basement floor plan with an open recreation/game room and of course a basketball court that is sure to score extra points. With all its wonderful features, one will want to spend plenty of quality time at home."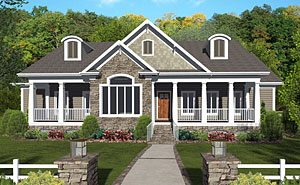 "There are many things that I like about this plan," says Lesley Finch, House Plan Specialist about House Plan #3090. "The split bedrooms offer everybody some privacy. It has a nice open floor plan with a decent sized kitchen and a pantry and good use of solar."
Among this house plan's other amenities are great workspaces and offices, a greenhouse, and outside storage.
"It would suit my lifestyle. The best part is the enclosed back terraced space….there would always be some shade and you would be protected from the winds," says Finch.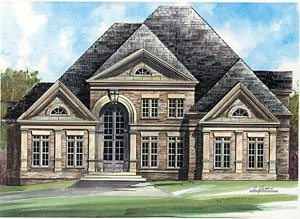 This Grand Georgian style home is a narrow lot design with many luxurious features. With everything from a grand salon with a bow window that overlooks a large private deck, to an open living area it's no wonder this house plan is one of our favorites.
"I like the Colonial Southern Plan #8091 for its casual yet stately look. I think the combination of Peak and Hip roof styles is extremely attractive," says Anita McCarter, House Plan Specialist. "The welcoming interior layout features a Grand Salon and a large open square kitchen. A benefit for family gatherings."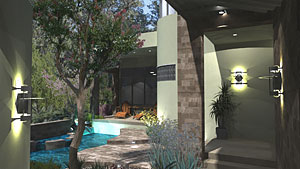 Angled and contemporary, House Plan #2082 is not just one of our favorites but its popular with our customers too.
David Jayne, our Copy Editor, particularly likes this house plan. "I just love this house plan," says Jayne. "Contemporary is my thing and this one takes me right to the beaches of Malibu. The soft curves and angled surfaces contrast with the hard lines in a very pleasing way."
This home is classified as an inverted two-story with the bedrooms on the ground level and the living area upstairs. By having the living room and entertainment areas on the top floor builders and homeowners can take advantage of their lots great views, particularly the roof terrace.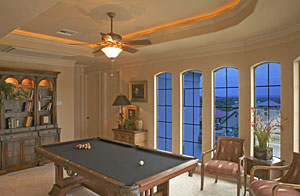 There is a lot to love about House Plan #8424. This Mediterranean style home features a covered patio that is great for outdoor living and ample windows means this home takes advantage of scenic lots. Cheryl DeBartolo, House Plan Specialist, loves this house plan for its layout and front elevation among other things.
"The windows are amazing and the front entry is grand. I like the idea that a bedroom is off the Master Suite, which makes it nice to convert to an office. The Master also has huge separate walk-in closets," says DeBartolo. "The covered patio for outdoor living is beautiful and the back of the home is all glass. The gourmet kitchen is open to the great room and breakfast room. The upstairs includes a home theater, game room and two bedrooms with private Baths and walk-in-closets. The garage has an area for a golf cart!!"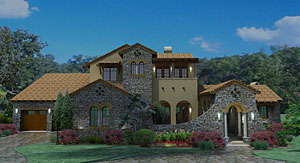 For a house plan designed for today's life style, take a look at House Plan #1888. You can find lots of room to enjoy the outdoors, cool breezy patios and courtyards for entertaining. But outdoor living isn't all this home has to offer.
"It's not just a house that you step in and out of, it's an experience," says Lisa Hefner House Plan Specialist. "Everywhere you can step out of the house, you enter into a potentially more inviting and interesting space. The home seems to escort you around itself with exterior corridors and invite you to stay close with water features and cozy courtyards. I can already visualize how I would fill the courtyards with things I love to make it mine."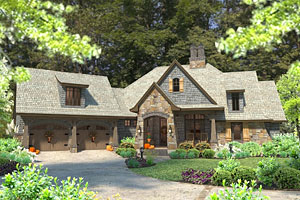 "I have always loved cottages and cabins and this house plan seems like the perfect house for me. Not only does the house have the warm, rustic details that I love but it has plenty of space and exceptional design," says Lauren Busser, Editorial Director about House Plan #5252. "One of my favorite features is the two-sided fireplace and luxurious master suite."