Keeping the Romance Alive: Crafting a Luxurious Master Suite
By Lauren Busser, Direct from the Designers Contributing Writer
To many a bedroom is an oasis. It is where a long day ends and they can unwind after a long day working or taking care of the children. A master suite can also include a sitting area with the perfect place to relax, read a book, or watch television without fighting other family members for the remote. More than just a bedroom, designing a comfortable master suite is a decision full of little details, both in construction and in design.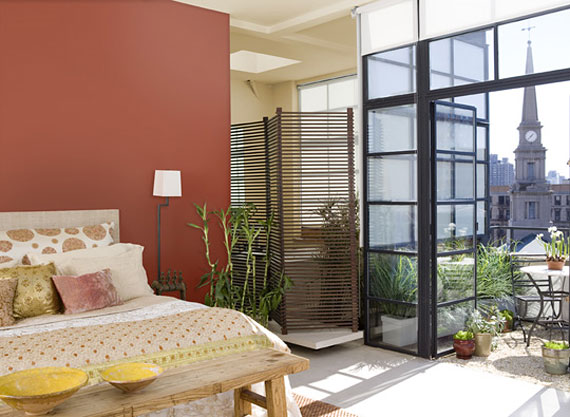 ---
This oasis bedroom from Benjamin Moore® is the perfect getaway. Here the colors used on the walls are antique yellow and Spanish red, with Spanish olive accents.
---
When it comes to defining features of a master suite, the bedroom often includes important features such as a walk-in closet, or two. Closet space is often a valuable commodity in most homes, and the master suite is no exception. It is recommended that a walk-in closet measures at least eight feet by six feet and be large enough to store clothes for all seasons. If possible, the closet should also be designed to hold extra items such as blankets or luggage. For help organizing the details of your closet, California Closet's® Bedroom Solutions will maximize your space.
On a less practical note, a fireplace can add a touch of ambiance to your master suite. If you are hesitant to add a wood burning fireplace to your home, gas fireplace inserts have become popular choices for master suites. Instead of putting labor into starting a fire, all you need to do is flip a switch and realistic flames will appear. As an added benefit, when the weather warms up, the fireplace is still a focal point in the room.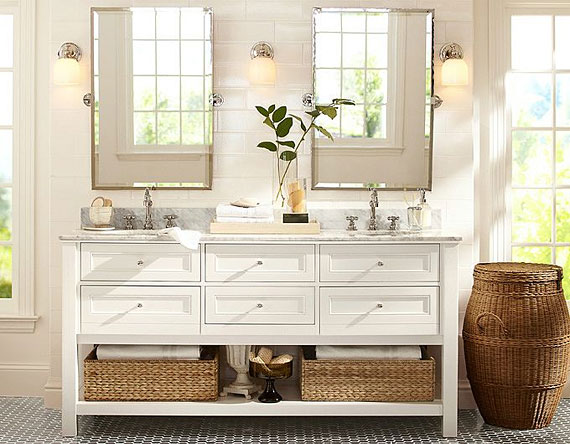 ---
This Pottery Barn® bathroom is a great place for couples to get ready in the morning or evening. The Classic Double Sink Console provides a clean and classic look. Paired with two Kensington Pivot mirrors, this bathroom is elegant and charming.
---
The master bathroom is another important part of the master suite. A master suite with his and hers sinks accompanied by a large mirror, or two smaller mirrors, is one of several popular bathroom trends because nothing beats getting ready together in the morning.
Aside from the his-and-hers trend, home spas are also popular. A bubble tub or whirlpool spa large enough for two is perfect for a romantic evening. Other ways to add luxury to your home are heated floor mats, like the ones offered at NuHeat® and a heated towel bar that provides warm towels and extra heat to your bathroom space.
Above all, your master suite should be your oasis. It should be a place for you to unwind and relax after a long day at the office or taking care of the kids. So, remember this one rule above all: Leave your work outside.