Light Up the Holidays
By Lauren Busser, The House Designers Contributing Writer
If you've ever been fortunate enough to turn on the radio when "The Twelve Pains of Christmas" is playing then you know the second pain of Christmas is "ringing up the lights." The character grows progressively more frustrated until he finally screams, "Fine! You're so smart, you hang up the lights!" It might seem like good comedy, but there is no doubt that a holiday light display takes time and patience, and then there's the added concern about your electric bill.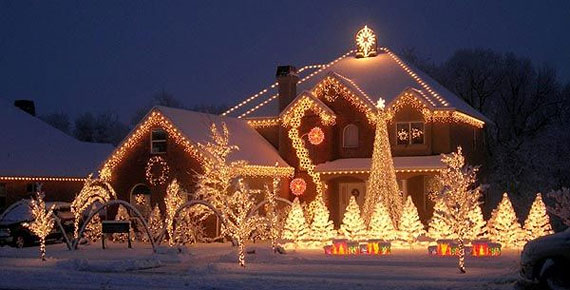 ---
Light up the winter night with festive snowflake shaped lights and icicle lights that outline this traditional two-story home. See our collection of European style house plans.
---
Now, you can let the sun do the work of lighting your Christmas display. On the market this year are sets of solar powered Christmas lights. These are ideal if your home doesn't have outdoor outlets; each string is powered by its own solar panel and collects the sun's energy to power your light display. The lights are usually activated by light sensors that tell the panel to stop producing power and turn on the LED Christmas lights.
In addition to being more expensive, solar powered lights are smaller than regular lights, and not as bright. Their increasing popularity, however, means they are available in a wide variety of shapes and styles, from hearts to igloos. With this myriad of choices, not only will your house be the envy of everyone else on the block, but also you'll avoid the added cost to your electric bill.
If solar isn't for you, standard plug-in LED lights are commonly available. The way these lights are constructed means that if one goes out the rest will stay lit, so you can breathe a little easier without the concern of entire strings going dark. They're also cool to the touch, and brighter than traditional Christmas lights.
Their cool-running nature means that LEDs are safe to use on all kinds of outdoor foliage as well. As an added bonus these lights are extremely energy efficient, meaning that they won't add much to the fifth pain of Christmas, "five months of bills." The only real downside to LED lights is that they are a bit more expensive to purchase, but they tend to stay lit for the lifetime of the product, making bulb replacement a rarity.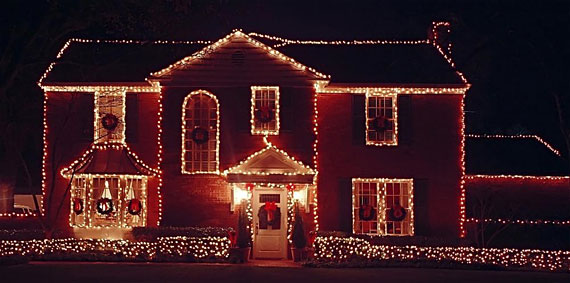 ---
This house features solar powered Christmas lights that are used to accentuate the lines of the windows and silhouette of the house. View our collection of two-story house plans.
---
Lights at Christmas are a spectacle for anyone who might be driving down the street during the holiday season, but it's also important to remember that outdoor lighting is just as important the other eleven months of the year. A well-lit residence increases home safety by warding away burglars but it can also highlight any lovely wreaths that you have hanging on your doors, particularly if traditional Christmas lights aren't for you. To keep your electric bill at bay try a floodlight with a timer so you can set the amount of time your light is on.
Seeing Christmas lights and decorations is part of the joy of the holidays, and while the electric bill for the next month might leave something to be desired, there is no reason that you can't have your cake and eat it too. It is possible to decorate your house with beautiful decorative lights without breaking the bank, and avoid the second pain of Christmas.