New Bathroom Trends for 2014
by Lauren Busser Direct from the Designers Contributing Writer
Looking at what's in style right now will only take you so far when it comes to building your new home. In order to help you stay one step ahead of the curve, we're giving you a look at emerging design trends for 2014, specifically for bathrooms. Sure, you're probably forming pictures of what you want your new bedrooms, kitchen, and living rooms to look like but what about the bathroom? In 2014, the bath is getting a makeover. Here's a look at the new bathroom trends for 2014.
If there's a phrase to describe the influences behind the 2014 bathroom, it's Japanese Minimalism. It's primary objective, besides being beautiful to behold is to encourage serenity. Prominent features in the 2014 bathroom will be large mirrors that will open the space up by reflecting light, modern cherry blossom lights that will cascade their glow down walls from ceilings, and waterfall showers.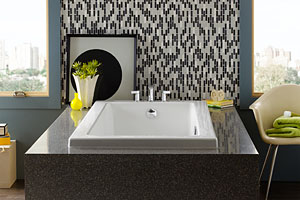 The style heralds a return to sleek and sophisticated design. Gone is the 'shabby-chic' look and in its place you will find a home spa. With luxury items like saunas and steam rooms steadily gaining popularity, in addition to whirlpool tubs and rain showers, the 2014 bathroom is intended to help you get away from it all without ever leaving your home.
Liquid and fluidity are key words to watch in the new 2014 bathroom. Strong, angular shapes are on the decline being replaced by soft curves. The result is a bathroom that appears to take on a calming demeanor. 'Floating' style sinks enhance simplicity and are sure to become a bathroom staple, as will vanities with ample space underneath to keep supplies hidden. Well planned-storage, eliminating clutter, is a key feature here.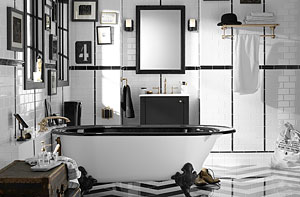 2014 will see a reduction of vivid colors in the bath. More muted, elegant palettes of neutrals are back in vogue but that certainly doesn't mean your surfaces will be flat and boring. While color might be out, texture is in. You will see plenty of mosaics and textured materials, both natural and synthetic that may be worked into your design.
We could be seeing the return of wallpaper in 2014, too. The trend may not work for everyone but finding the right subtle gray or white wallpaper will add a dash of sophistication to the space. If you decide to use wallpaper, we recommend using it perhaps as an accent or border piece so that moisture won't tend to accumulate under it.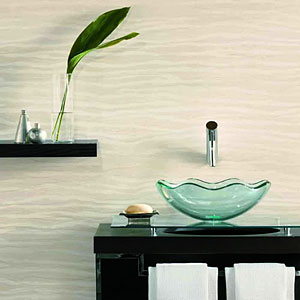 So if you are planning on renovating or building a new home in 2014, we encourage you to consider incorporating these design features into your bathrooms (particularly the master suite). With its Japanese minimalism influences, your new home spa is sure to inspire comfort and serenity without the hefty price tag of a spa weekend.