New Kitchen Trends for 2014
by Lauren Busser Direct from the Designers' Contributing Writers
If you are building a new home in 2014, the kitchen should be one of the things at the top of your priority list. The kitchen is the hub of your home and since it will be handling so much, you want it to be a place that you're going to love. When it comes to the 2014 kitchen you will find some trends still holding strong but kitchens are taking a more modern look as well with man-made materials, smart appliances, and sleek and sophisticated surfaces.
First, it should be no surprise that open floor plans are at the top of the wish list. Open floor plans are all the rage for some time now. It's no surprise that the trend will continue into 2014. This is one of the top selling points with a kitchen, since space is usually at a premium especially in a smaller home. Remember, you can swap out tiles, and cabinetry down the line, but trying to get more square footage on your existing floor plan is a little more difficult.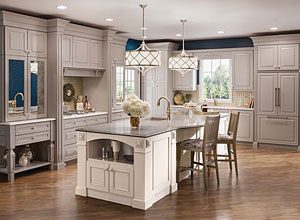 When it comes to kitchen colors, whites and off whites are the contenders but natural wood stains are also making an appearance. Grays are also on the upswings and touches of black add sophistication to a kitchen.
When it comes to the style of your kitchen, you want to think about adding some contemporary touches. Modern designs are also trending but with an appreciation for nature and natural textures. That isn't to say that natural materials are always being used though. Natural materials like quartz, granite, and natural stone are being overlooked for man-made options. Companies like Corian have risen in popularity but natural stone is not entirely out of the running. A giant flat slab of stone is going to look great regardless of whether it is natural or engineered.
Cabinetry is one of the biggest items and it is something that homeowners tends to splurge on since it gets used constantly. Darker cabinet finishes are in right now, in conjunction with oak, walnut, and birch woods. These premium wood types are known for their beautiful natural grains but they also provide homeowners with a durable cabinet solution. Woods such as these are expected to remain popular for years.
---
GE's® Artistry™ Series is the perfect blend of style and function. With appliances that have been stripped down the basic functions and sleek contemporary styling this suite is designed for first-time homebuyers and those just starting out. One look at the price tag and you will find that this appliance suite won't break the bank either.
---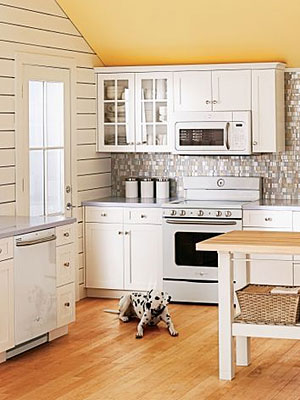 Simple cabinet designs are mixed with gourmet cooking appliances. Home cooks are also searching for appliances with convenient features. The interest in induction cooktops is surging. There is also a rise in interest for built-in and concealed appliances. If you want to invest in one big ticket cooking appliance, make it an oven or a cooktop. There are lots of clever appliances on the market now with features like built-in timers, autocook, convection in ovens, straightforward pull out racks, and precise temperature management.
When it comes to kitchen faucets the modern look means that these fixtures boast large curves and shiny surfaces. Polished chrome and stainless steel are two very popular options, although a number of other materials fit the bill as well.
Overall, the 2014 kitchen is an update on some timeless designs. You can find plenty of on-trend appliances and building materials for your 2014 kitchen through KraftMaid®, GE®, DuPont™ Corian, and Lumber Liquidators®.