Put Sizzle in Summer by Creating an Outdoor Kitchen
By Lauren Busser, Direct from the Designers Contributing Writer
As the spring stretches out into summer and into cookout season, sprucing up your outdoor space might be a new and worthwhile project to take on. You could simply upgrade your barbeque grille or you could take it up a notch and outfit your outdoor entertainment space with an outdoor kitchen. An outdoor kitchen is one of the hottest home building items in the last few years and its popularity continues to grow.
An outdoor kitchen can be a big time saver when you are entertaining friends. Instead of running in and out of the house with plates, utensils and glasses, you can spend more time chatting and talking with your guests, and doing so in a much more attractive space. Opinions on what constitutes an outdoor kitchen vary; it could be anything from an island constructed around a grill with some storage space to a larger area with a grill, oven, sink and countertops.
---
The Fire Magic kitchen uses the Fire Magic line from the BBQ Guys.com®. With appliances like a built-in gas grill and double boiler this is the perfect place to cook up a meal for family and friends. With a warming drawer, ample storage and luxury appointments it's sure to be the envy of the neighborhood at the next block party.
---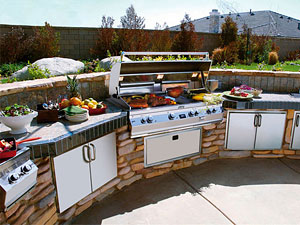 Careful planning is the most important aspect to a succesful build. This is much more than simply rearranging your patio furniture. Rather, think of it as putting an addition on your home. The project may take awhile to complete but will be worth it in the end when you are enjoying a new outdoor cooking oasis.
Positioning your outdoor kitchen is absolutely vital. Consider things like how close the kitchen will be to the house. Your outdoor kitchen will still most likely be a satellite to your main kitchen and the less distance you have to travel back and forth, the happier you will be. Also consider things like sun exposure and weather − you don't want to be standing at the grill with the sunset in your face, or have candles blowing out in the evening breeze. Proper orientation and arrangement of furniture can solve these problems. If you discover these issues after you have designed your kitchen, they can often be solved by simply turning the design by ninety degrees.
Otherwise, building an outdoor kitchen is just a bit more complicated than designing an indoor kitchen. For example when you are designing an indoor kitchen you need to select items like flooring, countertops, storage and appliances. The same considerations go into planning an outdoor kitchen, but there is one big difference: since it will be outside, everything has to be waterproof.
---
Enjoy the great outdoors in this luxury outdoor kitchen by Viking®. With Viking® outdoor appliances and granite countertops this is the perfect place to cook and eat. In addition to looking terrific, the appliances and building materials are made to take whatever nature can dish out.
---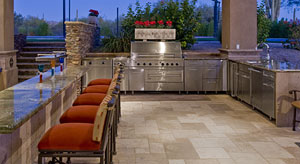 When designing an outdoor kitchen, it goes without saying that what makes it an outdoor kitchen is that you have a place to cook. With that in mind, the most important place to start is your barbeque grill. You can go with anything from a prefab to a customizable grille, or you can get a drop-in stove with six burners and a gas-kit. The exact design is up to you and depends on how simple or elaborate you want to go.
Likewise, you can also get appliances like an outdoor oven. For this, you may want to consider something more along the lines of a traditional brick oven for pizza. If this sounds appealing to you there are kits currently available. The kit consists of multi-piece manufactured masonry shell and other materials such as insulation. These kits have made building ovens such as this much more accessible to the consumer.
You can even cook over an outdoor fireplace. If you prefer to keep your outdoor kitchen more casual, you could opt for a firepit rather than an actual fireplace. Even if you don't plan to use the firepit for cooking, it can simply add ambiance and warmth to your space. Who doesn't love a good evening of campfire stories around a firepit?
Just like indoor kitchens you have the option of adding countertops and cabinetry. If you decide to add these features stainless steel is a great option, particularly if you're considering a sink.
When it comes to building an outdoor kitchen a little effort goes a long way. On warm summer nights you'll have lots of fun catching up with friends under the stars. Just remember that some careful planning will make the end result much more enjoyable and will save you from problems down the road.