Turn Your Outdoors Green
By Shira Linden, Direct from the Designers Contributing Writer
The finishing touches on your new home have just been completed. The interior is everything you've dreamed of. But when you look out your window, all you see is dirt and mud…
Cheer up! Soon, your grounds will look just as lovely as your new home.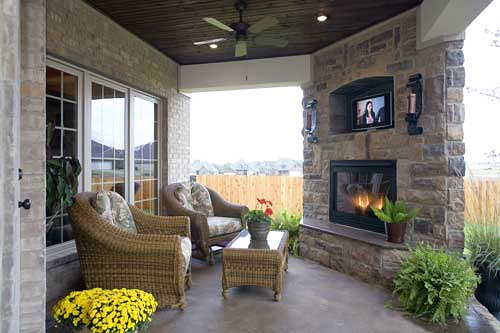 ---
Stone and brick veneer by Eldorado Stone® mix beautifully to create a rich exterior and gorgeous covered patio with stone fireplace and flooring. View additional photographs and floor plans for this European-influenced house plan from Direct from the Designers.
---
Start with hardscape
Create a blueprint of your property drawn to scale so you can determine where you would like to place your driveway, deck and paths. You can use graph paper (the old fashioned way) or a computer program.
Think about which materials will complement the design of your home. When it comes to decking, consider using recycled products for easy care. Trex is made from reclaimed plastic and wood - materials that would otherwise go unused in landfills.
Add charm and visual appeal to your exterior with bricks, pavers and stone veneer, such as an exterior stone wall with a built in fireplace for outdoor entertaining. If you are into sustainable products, you will find bricks and pavers from Boral cultured stone are made from natural materials.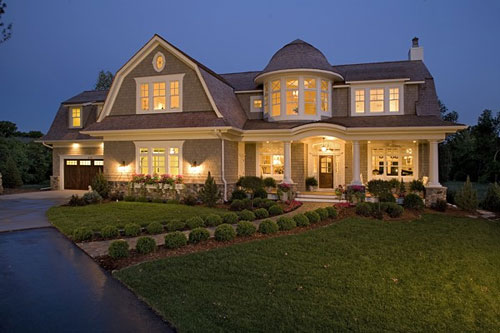 ---
The Olmstead House Plan looks gorgeous at night with its large windows, mix of stone and cedar shakes and perfect landscaping and lighting. View additional photographs and floor plans of this popular Craftsman house plan.
---
Draw up a landscape plan
Once your hardscape is in place, turn your attention to making your grounds into your private arboretum. But first, you need to define your goals. Do you prefer a shady yard with lots of trees and enclaves for reading and relaxing? A vast, green lawn for playing baseball or soccer? An herb, perennial or cactus garden? A pond with coy? The possibilities are endless.
Often, a well-reputed garden center can draw up a plan at no charge that is right for your climate and plot if you buy the landscape material from them. Or you can hire a landscape architect and purchase the plants wherever you wish.
Illuminate your exterior for style and security
Lastly, turn your attention to landscape lighting to spotlight focal points such as ponds or specimen trees. You can go green and save money with stylish, energy-efficient outdoor lighting.
Lamps Plus has a wide selection of porch and patio lighting, post lights, hanging lights, outdoor sconces and more. Perhaps a lighted ceiling fan will be just the thing for your patio or verandah.