Window Treatments 101: The Case for Custom
There's nothing that brings the room together like custom-designed, custom-made window treatments. If you've ever paged through an interior design magazine and wondered about that seemingly elusive quality that makes every room they feature look perfectly polished, we're here to tell you it's all about the windows and how they're covered. Sure there's a deft-handed professional stylist placing a vase or a bowl of fruit just so, but there's simply nothing like the tailored perfection of drapes, blinds or shades hand chosen, cut to fit and installed expressly for the purpose of optimizing the comfort, usability and beauty of a specific space.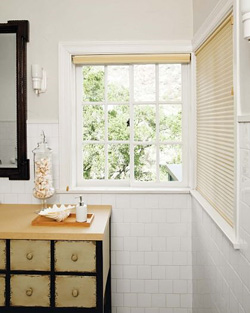 Borrow from the Design Pros
When you choose custom window treatments for your home, that extra touch comes through in spades every single day, morning noon or night. It doesn't matter if there's daylight streaming in through thrown-open drapes, the serene beauty of filtered sunlight, or the cozy warmth and comforting privacy of pulled shades at dusk – that perfect pick and perfect fit will improve your outlook day in, day out for decades.
Use Your Secret Advantage
Friends and family will likely wonder just what is that elusive quality that makes your home look extra special. It's up to you whether you tell them – or keep your secret to yourself. Either way, smith+noble custom window treatments will take the look of your entire home to the next level.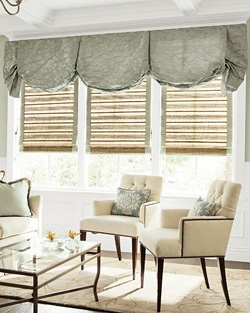 Get the Light Just Right
When you go custom, you're in complete control of your environment. The materials you choose, how you place them, how you operate them, and the multitude of ways you use them let you filter light, preserve a view, block UV rays, insulate, create privacy and enhance style. It's far easier to create the exact combination of performance and design using custom window coverings than it is fumbling with standard one-size-fits all treatments.
Find Your Singular Look
When you choose smith+noble's premium window coverings, you can be sure your combination is one of a kind. These aren't one-size-fits-all options – these are one-solution-fits-perfectly, period. With your choice of over 1,000 fabrics in a sweeping spectrum of materials, colors and patterns, you can find that one impeccable combination that plays into the specific features of your spaces.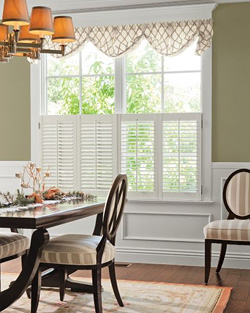 Capture Your Personality
Whether you dream it up yourself or work with one of our expert interior designers to conceive of the perfect solution for you, smith+noble window treatments are beyond versatile. With such a wide array of options, you can strike the perfect look for your distinctive taste – from modern to traditional, dramatic to quiet, colorful to neutral, structured to flowing – or any variation in between. Play as you will with complementary or contrasting attributes: tailored panels layered with flowing drapes beneath; natural-fiber shades pared with vibrantly colored beading; boldly patterned drapes with natural woven shades beneath; subtly patterned flowing drapes with optilight shades cut to fit window frames behind them; pleated shades below with printed roman valances above. The options are endless – and the opportunities for expression are boundless.
Enjoy the Return on Your Investment
Take the leap to create custom window treatments that truly optimize the comfort and style of each and every space in your home. Not only will the functionality and beauty of your window treatments hold up for the long haul, you'll smile every time you gaze toward your windows for years to come.