Window Treatments that Add Beauty and Privacy
By Shira Linda, Direct from the Designers Contributing Writer
If you are like most new homeowners today, you have created an open feeling in your home and used a lot of glass to bring the outdoors in. Now, you may be wondering how to preserve that openness while gaining privacy.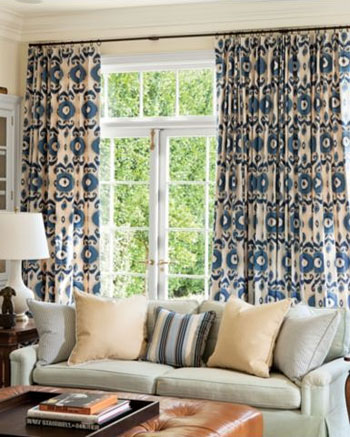 ---
Smith + Noble® offers an extensive collection of window treatments including single pleat denim drapery. Shown is the Ikat Flower with wrought iron. Samples are available for all of their treatments so you can make sure that they fit your home's decor before you buy.
---
Less is more
Consider an upholstered cornice. The cornice finishes off the window and still allows light to stream in. Visit www.decoratingden.com for ideas.
If you want additional privacy, you can combine cornices with pleated shades tucked underneath the cornice that still allow light to come through. Pleated shades from Smith + Noble®, www.smithandnoble.com, for example, are available in a variety of attractive colors and patterns from stripes to tropical prints, sized to fit skylights, arched windows and more.
Natural fibers are in
Wood blinds and woven wood shades, like the Provenance from Hunter Douglas®, www.hunterdouglas.com will filter light and add texture. They are attractive in any room without looking too heavy.
Or you might consider roman shades made of rattan or bamboo, which add visual interest and richness to a room.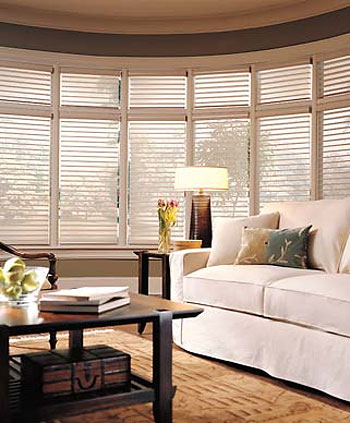 ---
Discover fresh ideas in custom window coverings and home decorating trends in Budget Blinds® FREE 40-page Design Guide. It contains expert advice and tips from Budget Blinds® consultants, along with colorful product photos, to help you find the right window treatments for your home. Shown is the Signature Series® Murano vertical fabric blinds.
---
Create curves
When it comes to kitchens, too much sun coming in can make meal preparation unpleasant. Consider offsetting the sharp angles of counters, cabinets and appliances with window treatments that feature soft curves. Curved cornices and gentle swags can even help small kitchens appear bigger.
Or try arching a valance, which works especially well over the kitchen sink.
Make it yours
Regardless of your decorating style, from formal to casual, traditional to contemporary, choose window treatments that will make you feel comfortable. If you are unsure where to start when decorating, your inspiration can be your favorite color, a special piece of furniture or a room you love in a magazine.
Then, make your window treatments stylish accents which picks up on colors or patterns you have used in the room, for a cohesive look.