Landscaping
0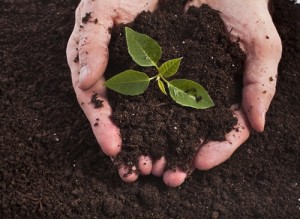 Making your own compost is a great way to save money on gardening supplies. It's also a more sustainable means of living, as table scraps are basically used to grow your gardens and make your dream home even more idyllic.
Prospective homeowners interested in green house plans may want to consider composting as part of an overall strategy to live sustainably. However, anyone can make their own compost pile, no matter the design of their home or the square footage of their land.
Making the pile
Despite what many people think, composting is incredibly easy. To do it, all people need do is toss organic piles in a container and give it a little bit of oxygen and water. You don't even need an enclosure. The only major tasks involved are sorting out your scraps to add to the pile and checking on the pile to see that it hasn't dried out or become too wet.
To start, HGTV recommended choosing a pile spot that gets a few hours of sun a day, is situated away from tree roots, which suck out nutrients from the compost, and is conveniently located. Grass should be dug up and removed or turned over as a base for the pile. After that, you can start adding organic material to the pile. The ideal size for the pile will be roughly 3 feet square at the base and 3 feet high, guaranteeing that the pile will cook while still getting oxygen.
As the pile grows, you will want to water it lightly but regularly so that is has the consistency of a damp sponge, according to Better Homes and Gardens. If the pile is too dry it won't decompose and if its too wet it will rot and begin to smell. You should also turn the pile once a week with a garden fork so that it gets plenty of oxygen.
Choosing materials
There are many different approaches to choosing and sorting potential compost materials. Some people will throw anything that's organic into the pile, while others are highly selective. Fruit and vegetable scraps, eggshells, coffee grounds and garden clippings are some of the more common materials that go into a pile. However, that list is far from inclusive, as TLC demonstrated with a list of 75 items that can be composted. Tea bags, stale bread, moldy cheese, preserves, paper cupcake cups, toilet paper, dryer lint and even cotton clothing ripped into pieces are all good materials for the pile.
Incorporating into your home
While it is possible to create a compost pile without an enclosure, many homeowners may feel that the look of an organic heap is probably not the most appealing backyard decoration. Fortunately, though, compost piles can easily be dressed up with a chicken wire enclosure or even a stout wooden fence. The design can even reflect the home, with a more wooden feel for traditional homes or wire for contemporary constructions. Given the needed size of the compost pile, it won't take up much space in even the smallest of lots.
The larger concern for homeowners, however, may be the hassle of sorting out scraps. All this requires is a small, separate bin next to your trash can where leftover food items can go. Even in an efficient kitchen such as this one, all that is needed is a designated cabinet for a small container. Because compost piles don't smell when done properly, you can even situate the pile conveniently next to that house's backyard deck. When the bin gets full, homeowners only have to take a few steps to empty it out.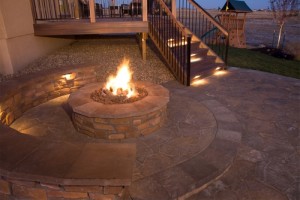 Campers can attest to the warmth and comfort of a good campfire. Around it, stories are shared, bread is broken and nighttime chills are kept pleasantly at bay. Fire pits are a way for homeowners to bring that cozy intimacy into their very own backyards – no tent required.
Fire pits today are so much more than the name implies, easily built into any shape and size and able to be fueled by your gas line. With so many options, it's important that homeowners take a look at just how fire pits can be incorporated into their home designs.
Design basics
The main purpose for a fire pit is communal, a place where people can gather and enjoy the flame whether on a winter day or a cool summer evening. As such, plenty of thought should be given to the design of the pit. It serves not just a decorative element in the backyard, but a centerpiece for parties and hangouts. Brick and stone are common, simple and elegant materials for a fire pit, often built in a circle a couple of feet high, though the pit can be any shape or depth you want. A good example of a classic fire pit is shown in the example of this country house plan. Even without a fire, the pit is still an attractive element of the backyard that matches the gray pillars and concrete floor of the house design.
While a 3-foot-wide fire pit may be a perfectly tasteful and modest size, homeowners should not feel limited by convention. If the fire pit is the main attraction of the backyard, it may be more enjoyable to go big with something as large as a 6-foot-wide fire pit. Conversely, if you have other attractions in your backyard, such as a pool, it may be better to scale back to a more manageable size.
Important considerations
When designing your fire pit, there are a few essential concerns you should address. First, you'll want to make sure there is enough room for people to sit around the pit comfortably. Second, you'll want to make sure that the fireplace is shallow enough that people can actually see the fire inside. While a well-designed fire pit can look beautiful without being lit, you still want the fire to be an attention-grabbing element. Finally, if you plan on having a wood-burning fire pit, you need to make sure it's deep enough to contain the fire, which is its original purpose in the first place.
Beyond the pit
Of course, technology and design have taken the fire pit well beyond its humble beginnings. Metal woks, troughs, tables and even gas-fueled rock piles are just some of the more modern approaches being used in new homes. That means a greater ability to customize a fire pit to a home. A chic, metal bowl design could be a good fit with minimalist contemporary house plans. Sprawling, graded backyards could make use of two small pits or troughs strategically positioned at different levels. Pool backyards could make use of a fire-lit grotto. If there is a design you have in mind, chances are you can find it or have it custom built.
You even have the option of blurring the line that separates indoors from the outdoors with full-blown fireplace, as seen in this elegant and luxurious patio design. With this particular patio, you can treat it as a secondary living room. Best of all, you, your guests and the fireplace are all protected from the elements, so you can enjoy the blaze come rain or shine.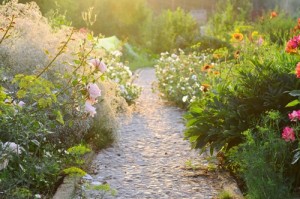 If you want your home to be picture perfect, then you should think of landscaping as the frame. The right exterior design not only showcases your home, it also has the ability to put it in the best possible light. Also like a picture frame, landscaping can cost quite a bit more money than you'd originally intended to spend.
Designing outdoor terrain wisely and economically is in many ways a unique response to lots and the floor plans involved. After all, you would never want to block an interesting detail lifted from modern house plans with shrubs, nor would you want to leave a two-story house's yard bare, making it feel exposed and imposing. Fortunately, there are plenty of ways to save money while still creating beautiful yards. To better illustrate smart design, here are some tips and how they would apply to one of our contemporary house plans were it built in the New England area.
Account for site
This particular plan is designed for a sloped lot, so that the front facade appears only to be one story, while the backyard reveals a sprawling first floor, a sizable basement and an interestingly asymmetrical design. Given the cutaway nature of the home, there is plenty of opportunity for landscaping all around the house.
Homeowners may be tempted to blindly landscape their yard with all of the plants and trees they love, but that can end up with a large bill for unnecessary design. Landscaping should be a response to the house's focal points and design elements. As such, trees in the front yard would unnecessarily obscure the grand pillared entrance and the interesting stone wall facade. Low shrubs may be a better choice. As you walk along the left side of the house, you can start to incorporate taller bushes and trees as the wall gets larger. Flowers can also be used strategically to emphasize walking paths, creating a strong visual element that doesn't require an entire flower bed. By choosing plants as a tool for showcasing your house, you can save more money than by just designing a pretty yard.
Buy natives and perennials
The kinds of flowers and shrubs you choose to buy will likely be the largest factor in your landscaping expense. Exotic flowers and shrubs that can't handle the climate are ultimately a waste of money. Stick to tried and true plants that will thrive in the region. Better Homes and Gardens provides a guide to the top native plants of the Northeast, many of which are easy to grow and maintain. Wild Anemone and Merrybells, for example, are both beautiful ground covers that can be used to line the sides of the house or demarcate the border of your property.
Also, you'll get more bang for your buck with perennials. They last longer than other types of plants and also generally cost less. Be sure to accent with at least some kind of tree, which can become an essential focal point on the back end of a house as sizable as our example.
Utilize mulch paths and built objects
This home boasts plenty of nooks and crannies. Laying down winding flagstone paths can be expensive and unnecessary, especially for a home that lends itself to a more humble landscaping approach. Mulch paths are cheaper than stone and match the country cottage vibe of the front-yard design.
Buy and plant at the right time
Plants and seeds change in cost throughout the year depending on the season and kind of plant. Research the cheapest seasons for those plants that interest you before buying. Also, you should plant at those times that best guarantee survival. Summer can leave flowers and grass without water to establish roots. In New England, you should also be wary of fluctuating temperatures in early spring that might frost and kill plants.