Plan Specification: HHF-3156
Total Square Footage: 1,779

Main Level: 1,779
Bedrooms: 3
Baths: 2
Garages: 2
Width: 42 ft Depth: 79 ft
Foundation: Crawl Space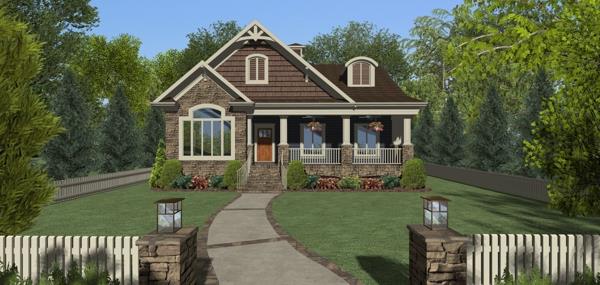 © copyright by designer

Plan: HHF-3156
This 1779 sq. ft. Cottage is one of our Lifetime Series:

A Lifetime Home...
Why It's Extraordinary...
Why It's Green:

1) Design Modules...Offer tremendous flexibility in this home design. Simple, even dimensions, central bearing points, and ease of size reduction or expansion offer innovative solutions to various homeowner needs.

Thinking Outside the Box...

Modifications: Design consideration is given to window and door openings, chases, etc. to easily accommodate future changes, minimizing teardown and reducing cost and waste.

You Have Options: Optional Design Modules may be offered to both enhance this design and meet today's rapidly changing, diverse needs.

6" SIP Exterior Walls are used in this design, providing enhanced energy performance over conventional framing.

Interior walls are faced with "Air-Renew" Drywall by CertainTeed to enhance air quality within this home.

2) Both Active and Passive Energy-Saving Technologies are accommodated in this design:

Active: South Facing Roof provides significant partially concealed area for both photovoltaic and water heating panels. A water source heat pump, open or sealed, is recommended where feasible, minimizing the need for electric resistance, gas & oil heating. A "Heat Transfer Mass" is provided by the water reservoir located in the garage. This reservoir also serves irrigation needs.

Hidden within the Cupola are two available options:

1) Gale Vertical Axis Wind Generator for power generation or;
2) "Wind-Finder" which will automatically rotate to direct airflow throughout the home for selectable living space or attic ventilation. Ductwork located in conditioned Space reduces demands of climate control systems.

Passive: A 'TURF-MAT' 20" sq. Grass Roof Tile System allows custom layout of 'The Green'. A hidden roof cistern provides irrigation for the grass tile, with overflow direct-able to the garage water reservoir. This system also replaces a great deal of landscape, whose benefits are traditionally sacrificed to the construction process.

The intent of the narrow, multi-use areas design is to maximize living spaces, both inside and out while minimizing the disturbance to the natural landscape. Covered porches provide shade and abundant outdoor areas. A large retractable awning provides additional shade for comfortable outdoor living, further reducing energy demands. The porches and retractable awning shade numerous windows in hot summer seasons. A Permeable tile field manages drainage within outdoor living area and provides easy access to supplemental field lines for a sealed Water Source Heat Pump system. A "Breathable" Roof underlayment system allows air to flow between roof tiles and decking to keep attic cooler.

3) Energy Star Appliances are recommended throughout as well as Water Saving Fixtures.

4) "Primary Point-of-Use" (PPOU) Tankless Water Heaters reduce wasted water during warm-up and heat water only on demand.

5) Skylights with foil-faced ducts routed from the dormer are used to provide light in areas without sufficient natural light.

6) Reading Areas...Growing and expanding one's most valuable asset through reading is less time expending energy on electronic media and entertainment.

Final Comments from the Designer...While many recycled, environmentally friendly materials, products and technologies are shown and recommended, the Designer is also sensitive to one's own "Green Assets" and recommends a Cost/Benefit Analysis of those items before purchase and implementation. Further, careful consideration should be given to construction location, climate and locally available materials, resources and service providers.





View Slideshow