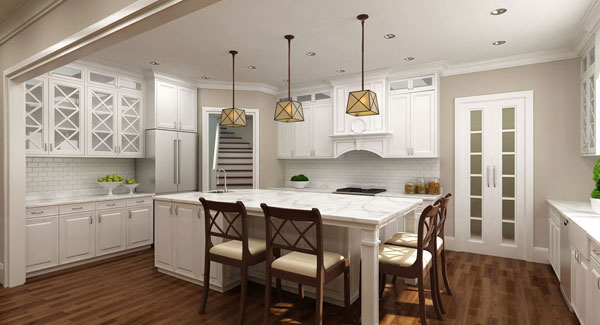 By Rachel Lyon, Contributing Writer for Direct from the Designers' House Plans

The kitchen is the heart of the home. Whether you're a hardcore party planner or simply enjoy gathering your family at mealtimes, there is a kitchen design that will fit your lifestyle perfectly. Make sure your appliances are suited to your culinary goals—double ovens are great for cooking for large groups during the holidays, and glass cooktops can give you some extra counter space if yours is lacking—and figure out what kind of space you want to work in. To get an idea of what kinds of kitchens people are enjoying nowadays, here are five fantastic kitchen home designs that are great for somebody who loves to cook.
For the Entertainer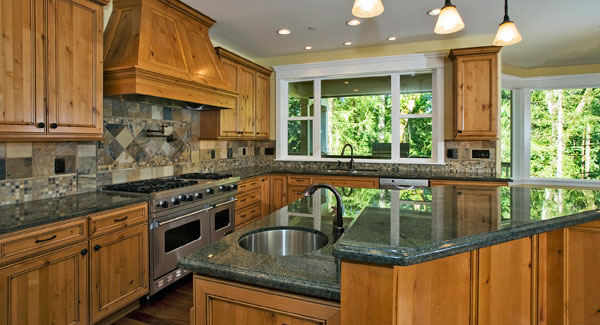 Somebody who enjoys hosting will make great use of the kitchen setup in Plan 3227. This spacious kitchen design faces out toward an open floor plan, which facilitates conversation and mingling between whoever is cooking and the rest of the party. More than just that, the raised counter on the outward facing portion of the island is perfect for laying out a spread. Just put the finishing touches on hors d'oeuvres and place them up there to serve—you don't have to navigate the crowd and juggle platters to serve your guests away from where the action is!
For the Team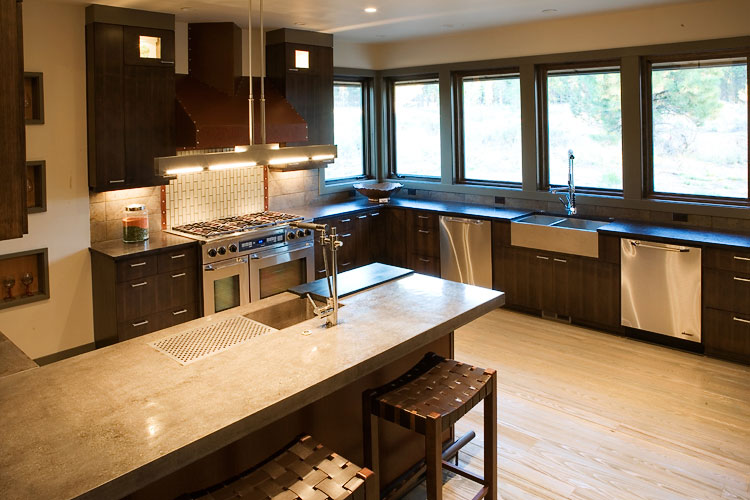 If you like to cook in tandem, then you need not only space, but a layout that allows for multiple people to function independently without getting in each other's ways. The kitchen in Plan 9067 is great for team due to its well-planned work zones. The double bowl apron sink by the window is perfect for prep and cleaning up, and the inclusion of two dishwashers ensures that all the dishes produced in a busy kitchen get done in a timely fashion. On the other side, the cooking station has its own, smaller sink, and you'll notice that the paths of the prepper/cleaner and main cook don't have to cross as they work. Each also has ample counter space to ensure that they can sprawl without encroaching in the other's zone. This is a well-planned design that will increase the ease of use for those who cook together.
For the Active Family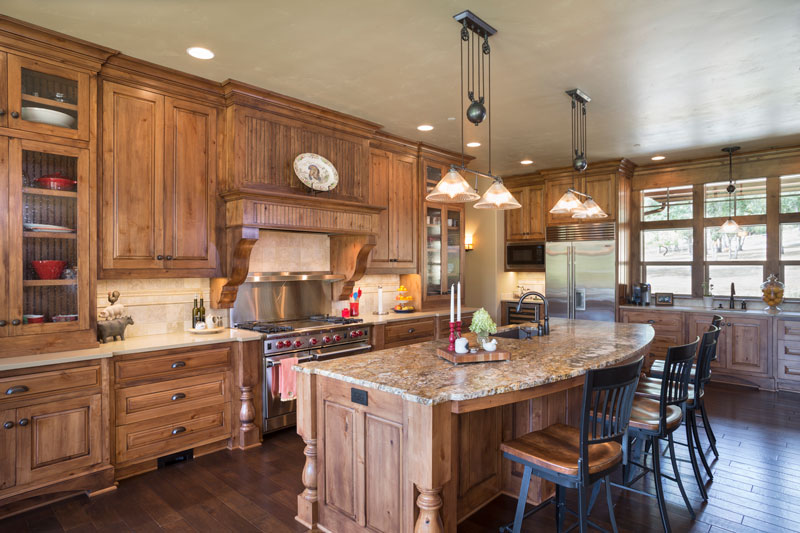 The kitchen in Plan 9215 is perfect for a family that's always on the go. The two sinks make sure that handwashing before meals is actually enforced, and the bar seating at the kitchen island means that it is easy to pass plates to the troops as soon as they are ready, thereby minimizing time while still creating a homey family atmosphere where everybody can share mealtimes despite their busy schedules. Also take notice of the grill on the stovetop, which can to used to make a large breakfast more quickly and without using multiple pans.
For Efficiency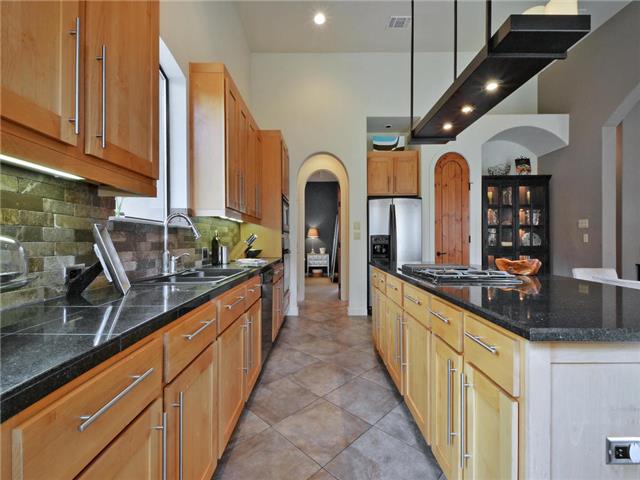 Galley kitchens are popular for those who don't have a lot of space to work with, but they are also increasingly common for anybody who simply wants to maximize their working efficiency. Take, for example, the layout of the kitchen in Plan 4224, which is a simple, classic galley-type setup. The straight counters housing all the fixtures and appliances necessary to cook a meal mean you only have to sidestep or turn around to get to what you need. This arrangement also makes preparing a meal and serving for a group very quick and easy—just set out plates and pass them down the line. Save time in an efficient kitchen and you'll get to enjoy eating that much faster!
For the Lone Wolf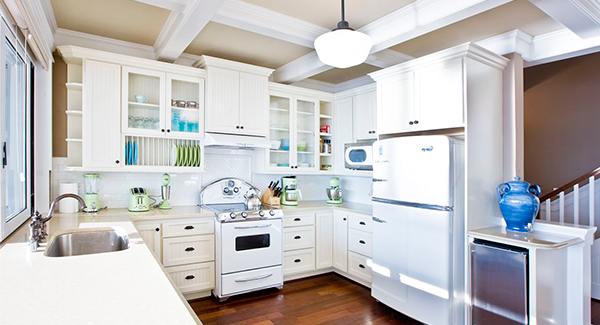 Are you more of a territorial chef who likes to take command and cook in your own element? A U-shaped arrangement, like the one in Plan 3352, is ideal for a single chef as it lets traffic by without directing it into the kitchen. It is the perfect setup for somebody to move around and make the entire kitchen a single work zone, which is a great use of a smaller space for a skilled cook. And if you're going to devote this part of your home to be used primarily by one family member, you can personalize the final design to suit that individual. The retro appliances used in this home were obviously hand-picked by a loving family chef who wanted to add a little flair to the place they would be spending a lot of their time—which is a great way to truly own space.