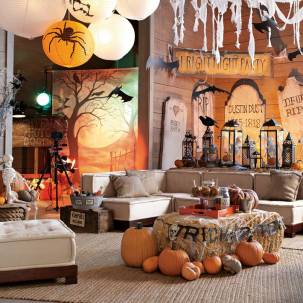 Are you excited for Halloween? Do you want to spread your enthusiasm for this fun holiday throughout your home, but don't know how to do it justice? It isn't as easy to decorate your interior as it is the exterior of your house, because you have already made so many design decisions that you don't want to overwrite, and the types of decorations that most stores sell are clearly meant to be used outside. Don't despair! The creative editorial team for Direct from the Designers House Plans have found some tasteful ways incorporate Halloween into your interior design!
Get  your Great Room into the Halloween spirit with ideas from this tasteful, yet elaborate display.

Create a Festive Display
Halloween isn't Christmas, and it definitely doesn't have a go-to exhibit like the nativity scene, but that doesn't mean you can't create your own little display. Make a ghost town as an arts and crafts project, or gather pieces of memorabilia from your favorite Halloween story to present as a scene. If you'd rather put forth a more abstract display, think about using candlesticks to create the right ambiance, and use some other materials at your disposal to make it interesting. Do you like books? Get some Halloween-appropriate classics—The Legend of Sleepy Hollow by Washington Irving, Dracula by Bram Stoker, Frankenstein by Mary Shelley, and the variety of works by Edgar Allan Poe and H.P. Lovecraft, for example—and make a little library that's perfect for the season. Or if nature is more your style, pumpkins and dried flowers can be put together to make a spectacular arrangement.
Get a console table or use a fireplace mantel, cover it with a tablecloth that fits with your theme, and let your vision come to life! A festive display area will classily show off your Halloween style and draw onlookers without overpowering the rest of your interior design.
A nice mix off white, black and gray make for creative dining room display.
Update Your Color Theme
Seasonal designing is just like general designing at the most basic level. If you have a neutral color palette that can be accented well with the hues of fall, then you're in luck! Swap out your window treatments and throws for ones in yellows, oranges, reds, and browns. Just like that, your space will suddenly look festive. You can even find fabrics that are Halloween-specific, like curtains that let some light through to show off the spooky pattern of tree branches and blankets that have fall landscapes or ghosts and ghouls printed on them. By incorporating warmer colors to mirror beautiful shades of changing foliage, you will feel like you are truly celebrating the season.
Have fun in your kitchen/dining room with some decorated pumpkins and  a few creepy spiders.
Dress up the Windows and Walls
If you're heartbroken that your outdoor decorations just don't work inside, be sure that you aren't alone. You can always swap out framed art to match your mood, but you can also utilize things like decals to add something more. There are cutesy ones that would suit a child's room, and there are also more refined styles that might fit better in common areas. Imagine putting up little bats around your festive display, or maybe a flock of ravens to watch the goings on in the kitchen.
Window clings are also an option, and they're great because they can be seen from the interior and from outside to unify your Halloween design. Whole window clings usually show a spooky silhouette on a single color and are fast and easy to put up. You can also use multiple smaller ones to create your own scheme.
The best thing about these decorations is that they are removable, so they aren't a big design risk. They are also inexpensive, so everybody in the family can get in on the action and even make their own scenes.
Fill up the Kitchen
The cornucopia is associated with Thanksgiving, but you could just as easily make one in October with the plentiful fruits and vegetables that are in season. Pick out some that are often used in Halloween, like apples and winter squashes, and make a centerpiece for your dining room table or your kitchen island. Who knows, with the bright variety right at your fingertips, you might even get inspired to make something new!
You can fill glass bottles and jars with perfectly benign substances, but be sure to label them with care. Call sugar bone dust, and say that pepper is ash. This way, normal things look like ingredients for a witch's brew, and you can feel like you're making something extra exciting for dinner. Get creative and try to name as much as possible, and these functional little decorations can be worked into your countertop display. Halloween is the perfect time to have some fun enforcing rules about treats, too. Put a skull to guard the cookie jar, or scatter artificial spider webs around the candy bowl.
As you decorate your house for Halloween, make sure you have fun with it. This is one holiday that doesn't have any strict guidelines, so you can truly make it your own. So heat up some apple cider, add some mulling spices, and get ready to make your home a tribute to the joys of fall and the Halloween season.