Kitchens are the heart of the home, so a truly amazing kitchen design really stands out and does more for a house's atmosphere than any other single room. Due to there being numerous fixtures and appliances, and so many ways to integrate them all, kitchen design is an ever-changing art and science that seeks to find the best layouts, placements, and finishing touches to make this part of the house the best that it can be.
Current kitchen trends are moving toward a distinctly modern look. Contemporary homes are being outfitted with bold, clean lines and little superfluous detail, focusing on minimalism before all else. In other types of homes, where such a strong style would do a disservice to the architecture and clash with the interior, transitional designs are introducing sleek appliances that add a touch of modern feel without overpowering more traditional cabinets and countertops.
Beside overall appearance, kitchens in 2015 also saw some major appliance upgrades. Hands-free faucets have been around, but now there are new technologies that smarten ovens to make them compatible with your phone, and allow them to remember recipes and instructions so you can recreate your favorite dishes perfectly every time.
But what about actually seeing some of these great kitchens? We've put together some of our favorite kitchens that were added to our extensive house plan collection in 2015. If you appreciate a great kitchen and would like one of your own, check out what current kitchen designs have to offer!
This kitchen in House Plan 9625 is a great example of simple elegance. The refrigerator is paneled to help it blend in with the cabinets, keeping the fresh, white design cohesive.
If you like a clean, beachy look wrapped up in a Mediterranean-style package, the new House Plan 9625 house plan offers the best of bright, open spaces with a main level master suite and two bedrooms upstairs. Of course, it also boasts an understated yet sophisticated kitchen that connects instantly to the surrounding living and dining rooms, absolutely perfect for entertaining or for families who gather for regular meals.
The white cabinets and light gray backsplash and countertops offer a distinctly modern vibe that is well-balanced with exposed wooden beams overhead that add a touch of rustic charm and instill a certain personality in this kitchen. Its symmetry is also quite unique, and it is achieved by paneling the refrigerator to hide it against the back wall. The island is in the center of the room, with the sink situated in the middle, with the stove immediately opposite on the exterior wall. The arrangement is even and orderly, and with light pouring in through the large windows at the front of the house, it creates a free, airy atmosphere that keeps this kitchen feeling like a breath of fresh air among stuffier traditional designs.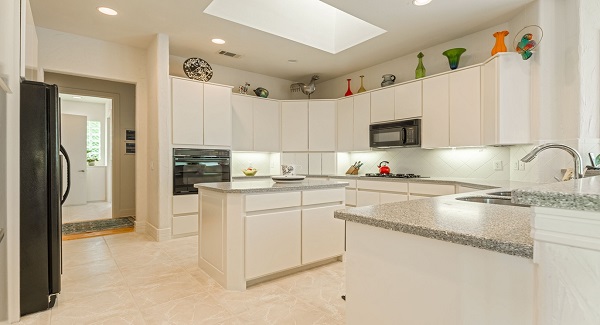 Pairing luxury and utility, the kitchen in House Plan 9512 is large and features spaced-out appliances to prevent any one area from becoming too cramped.
A modern villa with all the amenities, House Plan 9512 is a sight to behold, but it is the distinctive kitchen that helps it to make our list. It does not fall into one of the standard kitchen shapes, instead choosing to employ four walls to surround a central island, creating an exceptionally spacious work area.
The majority white hues are offset by stark black appliances, highlighting the different zones of this kitchen in the most unambiguous way.  Each of the four walls features one major fixture—refrigerator, sink, stove, oven—which has easy access to ample counter and cabinet space as a result of this setup. Imagine never stepping on toes when multiple people occupy the kitchen. Somebody can grab a snack from the fridge without passing where dinner is being prepared, and the oven is easily accessed separate from the stove to allow easy preparation of multiple dishes. The island in the middle is key to the overall flow—just place something down on one side, and it easily transitions to another—perfect for working in teams!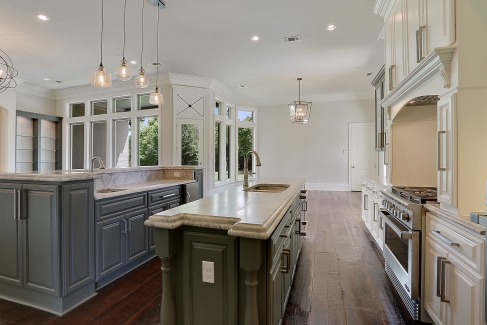 House Plan 9627 sports a kitchen that combines gourmet functionality with traditional style, providing the perfect workstation for those who prefer a more old-fashioned look.
With a great master suite and a separate bedroom suite both on the main floor, House Plan 9627 is a European country house that makes multi-generational living that much easier. And with more traditional raised panel cabinetry, beautifully shaped counter edges, and extra little details all around, it has a kitchen that appeals to people who like classic design.
Perhaps most notable is the layout, which is basically a double-galley with two islands separating the main cooking space from the great room. This uncommon design divides cooking from preparation, and preparation from serving, to keep everything moving smoothly. Each island has its own sink to add even more ease and efficiency, ideal for working in tandem. The outermost portion of the outside island is raised to create an eating bar, which can be used to put out a buffet—making this a kitchen for a serious host who has great aspirations!
Rocking a three-color palette, the kitchen in House Plan 9633 is the pinnacle of contemporary design in a very modern home.
For the most chic modern spaces, look no further. House Plan 9633 is full of clean lines and high contrast everywhere you look, and the kitchen is definitely no different.
What makes this kitchen stand out is the very bold use of black, white, and red. The refrigerator fades away into a wall of black cabinets, while black drawers create a natural shadow effect under white countertops. Red bar seating provides a pop of color to add extra dimension, and the sleek pendant lighting overhanging the island brings it all together. On the spectrum of design, this is a kitchen that resides on one extreme, and it showcases how to do it well.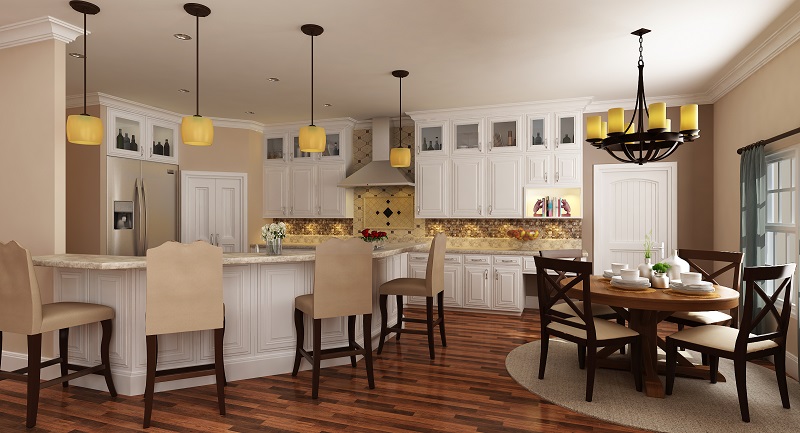 The kitchen in House Plan 2015 is homey and open, with very functional spaces that are perfect for a family.
House Plan 2015 is a plan inspired by the best-selling House Plan 2297, but with all of the most requested modifications. What you get is a great layout with everything you need, and some very nice extras, all in a more modest home than you would expect!
The almost G-shaped kitchen actually has a second entrance that can be opened or closed, great if you want to work alone or invite others in to help. With a walk-in pantry beside the refrigerator and a long wall of cabinets, storage isn't an issue, and a fully-stocked kitchen will serve a busy family well. The extra appeal of this kitchen lies in its ample sitting space, from bar seating to the breakfast area, and the built-in desk near the entrance to the master suite. This is a kitchen that aims to please and will accommodate a variety of personalities who have things to get done, truly making it the heart of this home.