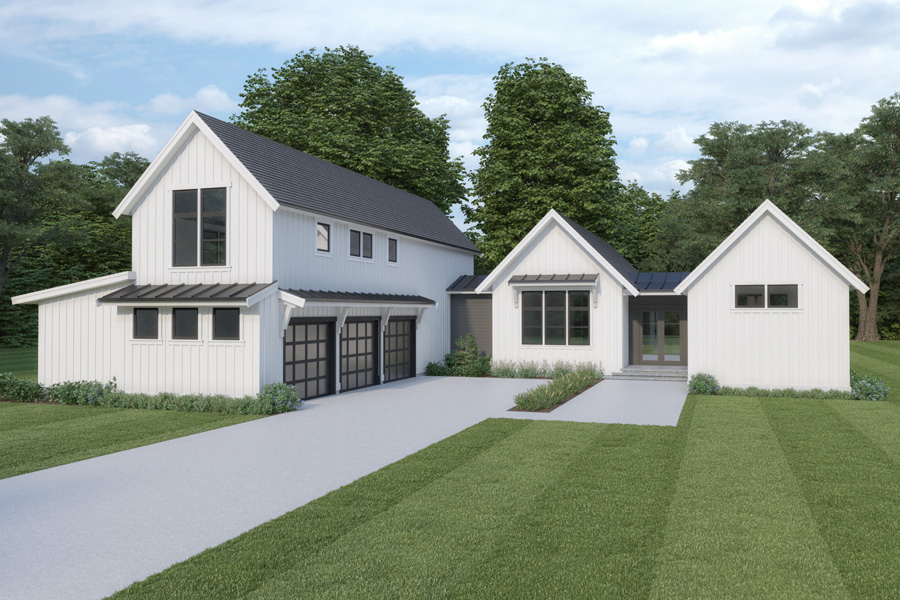 The country-style house plan encompasses all sorts of architecture originally used in rural locations. Similar to and loosely based on traditional farmhouse styles, you'll find plenty of designs with simple lines and shapes. Others may have more European or cabin flair. This really is a diverse category! Country house plans often feature distressed/rustic elements, muted colors, and natural materials on the exterior and interior. Expect to see outdoor living, too, with covered and screened porches. Whether you plan to build out in the countryside or the suburbs, you'll find plenty of beautiful house plan options at Direct from the Designers!
Fresh Country House Plan Picks
The interiors of these county homes are rustic yet have the modern touches that we all look for today. Take a look and see how you like them!
House Plan 8645 has a beautiful cabin exterior and a stunning interior built around a cathedral great room with open beam trusses. And with totally clear sightlines from the kitchen in front to the living in back, this design is ideal for hosts! It offers split bedrooms with the master suite and another bedroom near a hall bath on one side and more bedroom suites on the other. If you want an awesome family vacation home, look no further!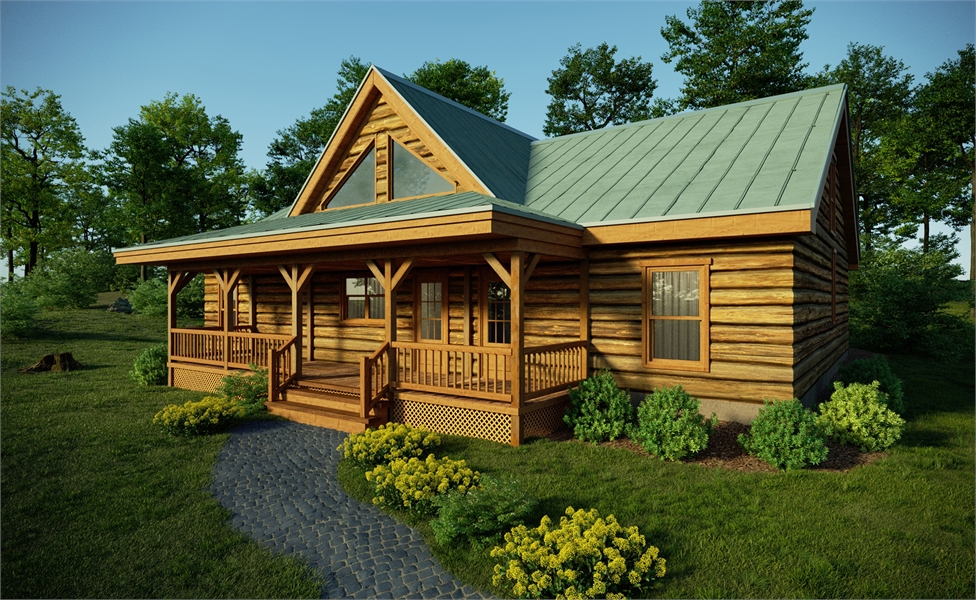 Perhaps you want a country home with more volume that can maximize views? House Plan 8786 has a compact footprint with simple gables and a unique two-story window design in back. As you can see, this plan really brings the outdoors in! It also has split bedrooms with the primary bedroom on the main level and two others upstairs for privacy.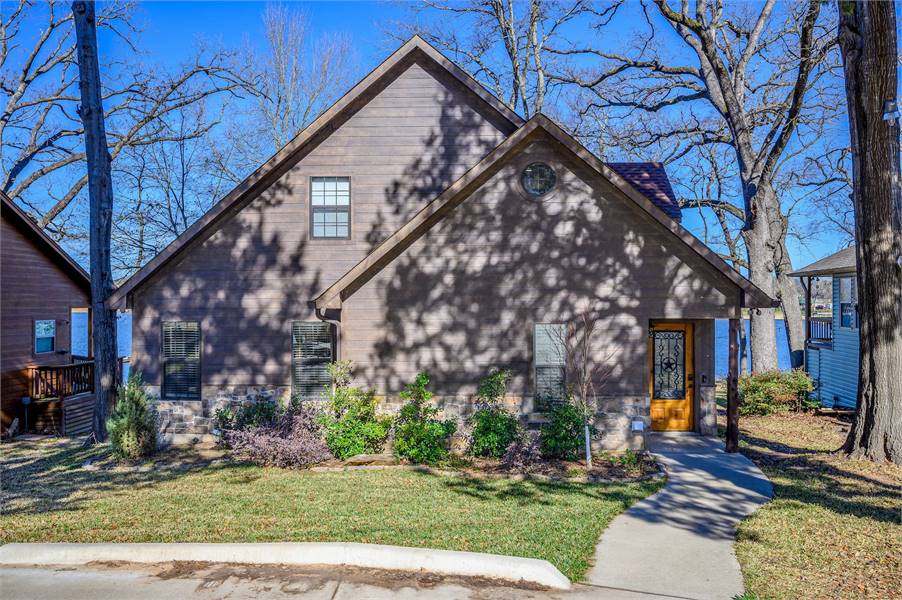 Barndominium-Style Country House Plans
The barndominium is another kind of country house plan. Aptly named, it has the shape of a barn that has been converted into a livable dwelling, but ours are designed to look this way from scratch! These "barndo" plans offer today's owners a more unique place to call home.
House Plan 9101 keeps things simple inside and out. The nearly rectangular footprint is topped with a gable roof with an angled overhang for the front porch and an intersecting gable over the patio in back. Inside, you'll find completely open spaces, like you might find in an industrial building. The three bedrooms are split with the master suite beside the garage and the other two on the far side. Be sure to notice the boot room off the laundry/mudroom and how the master bathroom connects–it will make laundry and clean up a snap if you come home filthy!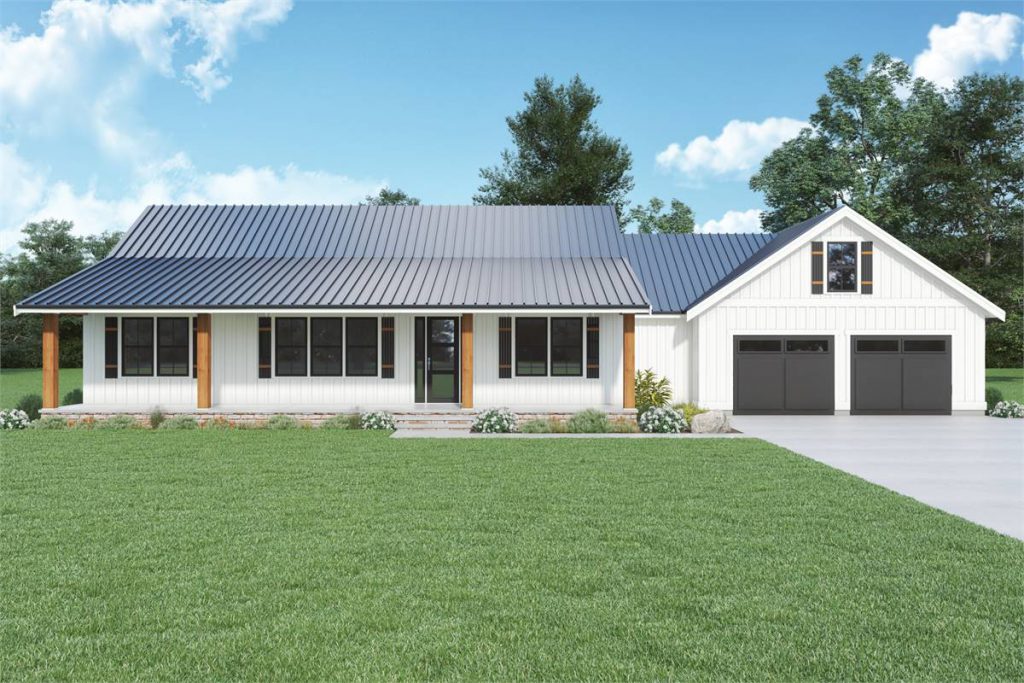 Not the look you want? Rest assured we have all kinds of barndominium designs to serve the growing need! Just consider the bold two-structure look of House Plan 8854, the naturally bright and sprawling layout of House Plan 5168, the rugged and rustic appearance of House Plan 1063, and the unmatched simplicity of House Plan 6506 with its rectangular shape and single gable roof.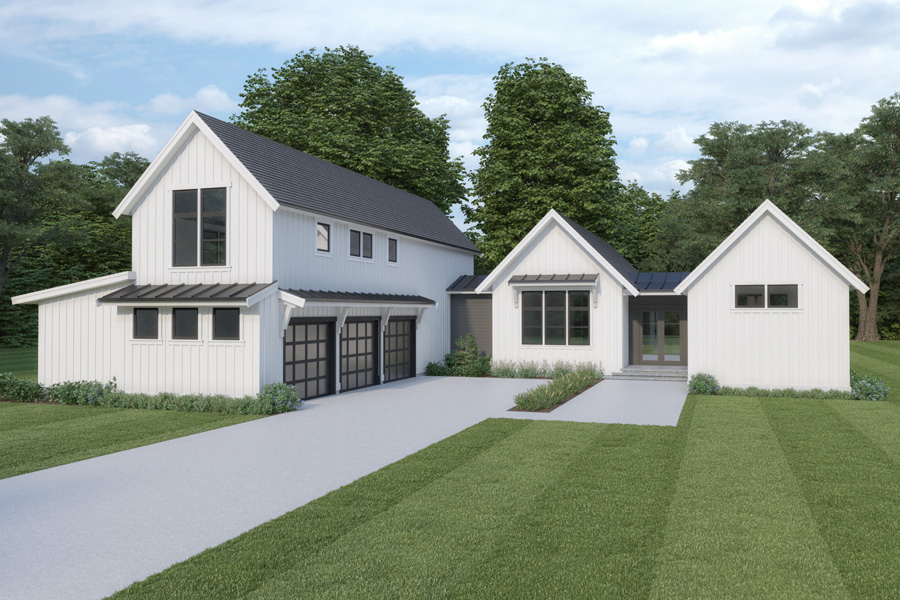 With just a touch of country charm and hospitality, these welcoming homes are perfect for growing families. Front porches, gable and shed roofs, and natural finishes create great curb appeal in these special country house plans.
You can find these and many other plans at www.dfdhouseplans.com.