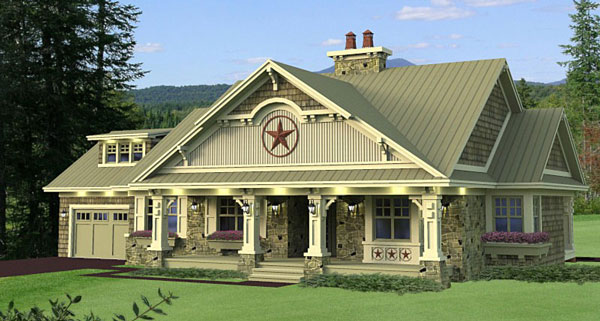 Craftsman homes are a favorite style for both new homeowners and empty nesters. Developed during the Arts and Crafts movement of late 19th-century England and early 20th-century America, these homes are known for their beautiful rustic, naturally crafted looks. Craftsman house designs typically use multiple materials on the exterior such as cedar shakes, stone, and shiplap siding to achieve a balanced picture. Common features include low-pitched roofs with wide eaves, exposed rafters, and decorative brackets; porches with thick, tapered columns and stone supports; and windows with divided lites and occasionally leaded or stained glass. Inside, dramatic beamed ceilings preside over open floor plans with minimal hall space. Favoring quality and character over mass production, it's no surprise that Craftsman house plans remain popular in this day and age.
Craftsman-style house plans continue to impress with their outstanding use of natural materials and their flowing, well-designed interiors. People love how unique these homes are—depending on the types of siding and the colors you use, you can make every build of the same design look completely different. Anybody invested in curb appeal need not look any further!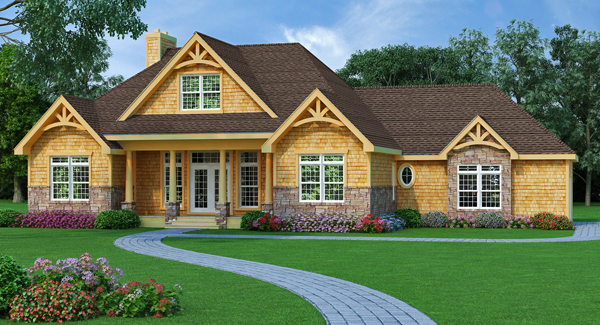 DFD-9233 – A Beautiful 3-Bedroom Craftsman Ranch with a Cozy Country Feel
Why You Should Build a Craftsman House Plan
Do you want your home to stand out from the streamlined modern crowd? For a large number of homebuyers today, Craftsman house plans bring back feelings of simplicity and practicality. They offer a familiar, comfortable vibe hard to find in other styles. Rather than a sharp and clean finish, you will enjoy a cozy ambiance. While their exteriors may stand out the most, a Craftsman home is also defined by its interior. Everything from inviting hearths, to wide windowsills and trim, to built-in cabinetry, to informal layouts help create this awesome living experience.
DFD-5252 – 4-Bedroom Craftsman with a Study, Two-Sided Fireplace, and Tons of Storybook Charm
There are four main styles that fall can under the Craftsman category: bungalow, Prairie, Mission Revival, and American Four Square. While these may seem like very different kinds of architecture, you will find similarities in their finishes. Certain regions gravitate toward specific kinds of Craftsman house plans, but don't feel limited in your options. Elements of these styles can even be incorporated into one cohesive design!
It's important to balance modern design with historic features. Even with an open floor plan, you can define rooms with an opening supported by columns or some short cabinets. In larger spaces, don't skimp on trim; generous woodwork replicates historic architecture and provides warmth. Make sure to do some design research and find the perfect solution for your aesthetic tastes.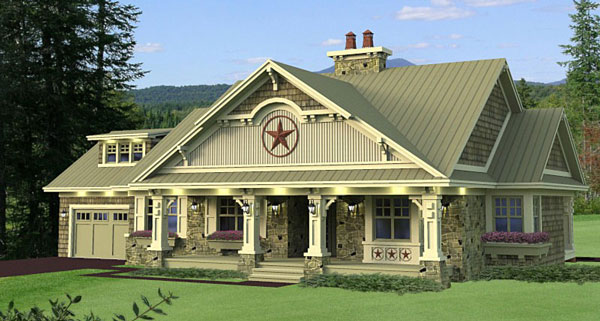 DFD-9664 – 3-Bedroom Craftsman with Bungalow Flair
If you are interested in Craftsman house plans, you can find hundreds in our collection. Come visit us at www.dfdhouseplans.com for assistance finding blueprints for your new home!