For many modern  families, the kitchen is the heart and hearth of a home, where food is prepared and quality time is shared. Its social value makes its layout one of the most important factors when considering house plans. While the kitchen work triangle has long been the standard principle for kitchen design, it is by no means the only way to make a fun and functional space.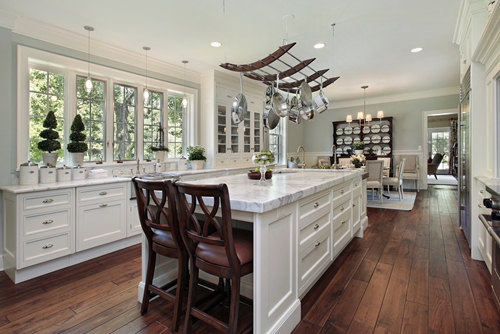 Geometry 101
The kitchen work triangle involves arranging the three most important kitchen appliances – stove, sink and refrigerator – strategically set apart from one another in order maximize efficiency and comfort while cooking. These three appliances form the points of a triangle, hence the name.
This has long been the prevailing approach to kitchen layout, and facilitates the cook's ability to move easily and comfortably between each spot without feeling too crowded. Usually countertops, cutting space and cabinets help space out the three appliances so that there is some movement. Galley or U-shaped kitchens are most practical for this kind of layout, with one appliance at the bottom of the U, flanked by refrigerator and stove.
A perfect example of the work triangle is the kitchen in the Southborough Cottage house plan, however, L-shaped kitchens can also work, with two appliances on one wall, and the third on the other arm. Island counters can also be used to make a triangle, with dishwashers built into the island across from the refrigerator and sink.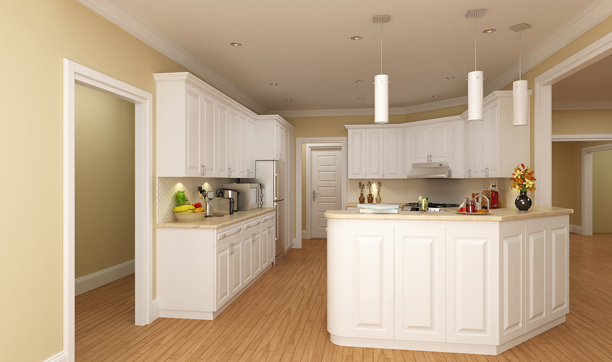 Besides the point
This traditional layout is a great way to maximize cooking efficiency, but, as expert designer Susan Serra of Cultivate notes, the kitchen is no longer just the place where the cook works. Rather, it is becoming an increasingly social space in American households. That means homebuyers should consider what kind of kitchen experience they expect to have and design accordingly.
If a kitchen is crowded with children, for example, it may be worthwhile to move the refrigerator further away from the other appliances so that family may grab snacks without interrupting cooking, according to Serra. You may also prefer to break up the triangle with seated island counters, meaning a more social meal prep that relies on help from the whole family. Your family may not even like to cook, and so can get by on a single-wall kitchen, which bears no resemblance to the triangle.
The perfect kitchen for your family is really only dependent on your imagination and your floor plans – those looking to build a new home should take advantage of the opportunity to design the kitchen of their dreams.