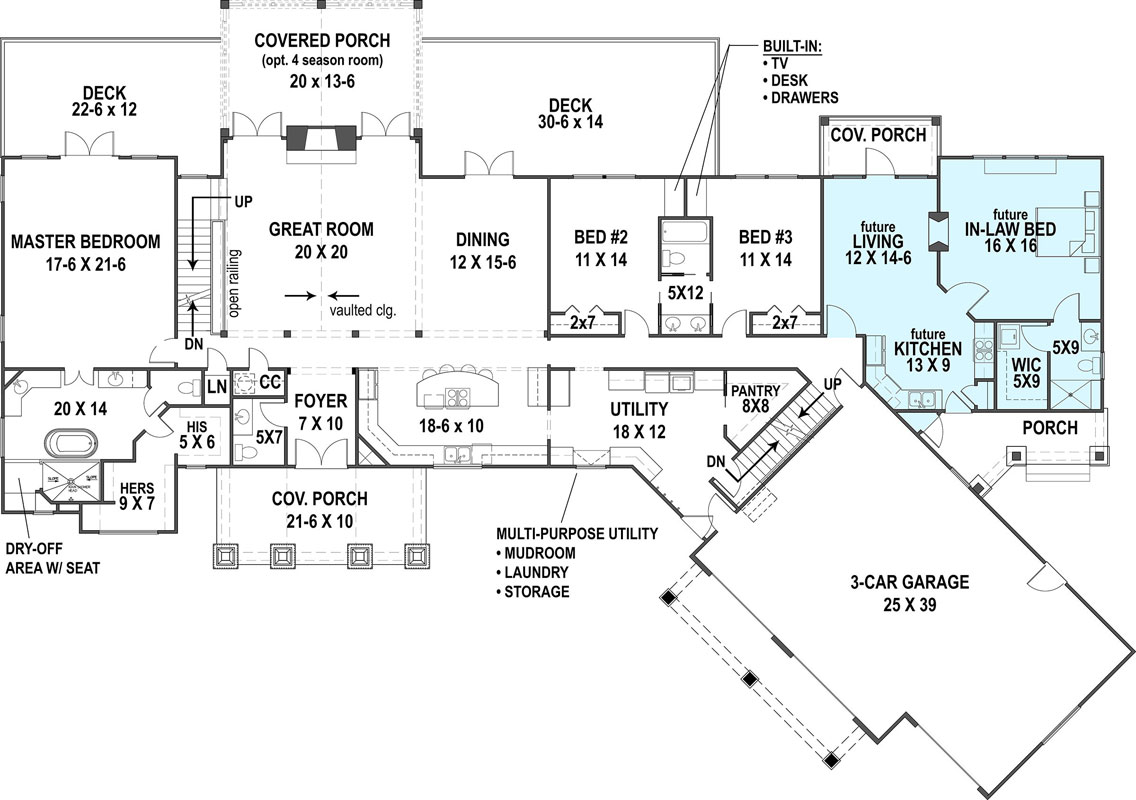 Maintaining your personal space while having a live-in guest can be incredibly challenging. You can enjoy your home while giving your loved ones the privacy and security they need with any of these home plans. Whether you're looking for a full separate apartment, or just a room for them to call their own, we have the perfect house plan and in-law suite to fit your needs!
View a full collection of our Home Plans with In-Law Suites if you want more options.
Mountain Cottage with Large In-Law Suite Apartment
House Plan 1443 is a beautiful open-concept home plan with so much to offer! The master suite creates a tranquil and elegant getaway. Access to multiple decks and covered porch spaces from the home's main living area allow for easy entertaining. The large kitchen invites you and your family to enjoy a meal together around the island or in the formal dining space. And you'll never lack for space or storage with an incredible utility room!
Your live-in guest(s) will fall in love with your new home's in-law suite. They'll enjoy their own separate living room and master suite, which includes a full and relaxing bathroom. The full kitchen will let your loved ones feel a sense of independence, while staying close by. The lovely private front porch provides a separate entrance, and the back covered porch invites them to enjoy a cup of coffee and the view each day.
Mid-Sized Four-Bedroom Home with Two Masters on Main Floor
House Plan 9786 is a beautiful farmhouse with over 2,300 square feet of spacious living. The semi-open concept living space keeps entertaining easy, while giving everything its proper place. The eat-in kitchen sports plenty of seating between a large island and the nook where you'll put your table. The main floor master, just off of the kitchen, has direct access to a generously sized screened porch and deck area. Through the en-suite, you'll find a perfectly sized walk-in closet with large windows that make getting dressed in the morning feel like a fashion show! And in the two-car garage, you'll enjoy tinkering and caring for your home with the shop area with plenty of counter and storage space.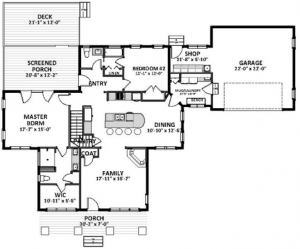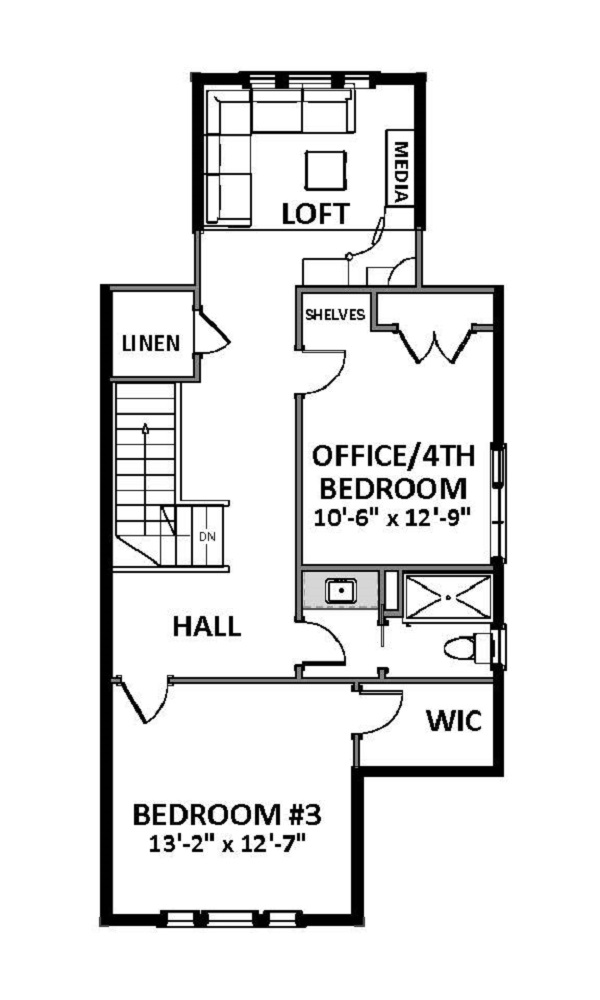 This four-bedroom home includes multiple options for an in-law suite. Two suites on the home's main floor make this a great home plan for any live-in loved ones. Although this extra room is a great option, if your live-in guests would prefer some added privacy, the second floor works perfectly as an apartment! There are two upstairs bedrooms, a full bathroom, and a loft that can act as a living or lounging space!
Large and Luxurious French Country Home Plan
Our House Plan 2286 is a luxurious and spacious option – a perfect addition to any neighborhood! With nearly 4,000 square feet of space, this large home allows the entire family to enjoy a bit of privacy. Meanwhile, the large main living space, and equally spacious game room, are incredible places to gather together, enjoy a meal, or entertain. As a bonus, each of the five bedrooms in this home have access to a full private bath. The grand master suite and the main living space have access to an outdoor lounging area – perfect for outdoor entertaining! The master suite also includes access to the home's study, which is given character by large overhead beams.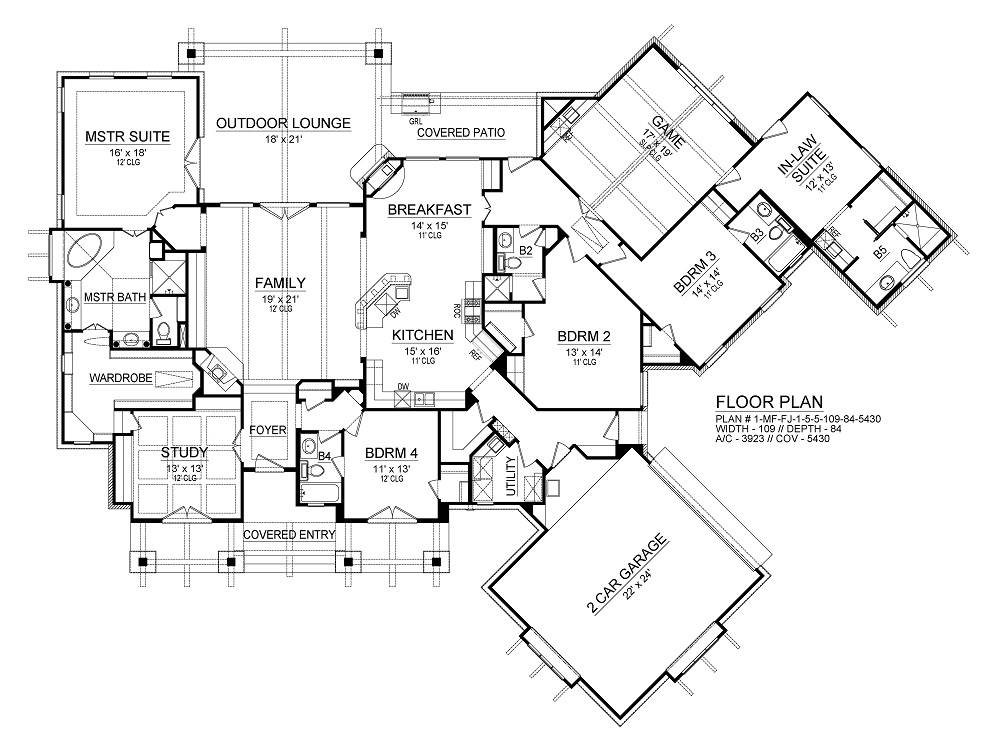 Perfectly placed, just off of the home's large game room, sits a beautiful and private in-law suite. With private access to and from this space, your loved ones can live independently, while still enjoying the security of nearby family. Our customers often use the home's game room as a second family room, where in-laws can entertain or lounge. The in-law suite of course includes a lovely en-site with walk-in closet.
Beautiful Cottage-Style House Plan with VIP Guest Space
At about 2,700 square feet, House Plan 7055 provides ample space for family, friends, and guests. This lovely cottage home plan includes a detached two-stall garage with second-story guest quarters. This guest space is an amazing option for those looking to have loved ones close by, but still living independently. They'll enjoy independence with a private entry, a full bathroom, and plenty of square footage for sleeping and living space. Don't forget to cozy up next to the Murphy bed and enjoy a book window-side!
If your loved ones need to be closer than "next door" this house plan takes care of that need as well! With a master on the first and second floors, there is plenty of space for everyone in the family! The first floor of this home includes a gourmet kitchen with incredible butler's pantry and prep space. The kitchen overlooks a completely open-concept dining and living room space with fireplace for the focal point. An incredible walk-in closet and three-piece bathroom make the home's main floor master the place to be! The second floor includes two bedrooms and a second master suite, complete with a four piece en-suite. Not to be overlooked, both floors of this home have independent laundry spaces – no need to bump elbows when laundry day arrives!
Spacious Country Ranch and In-Law Suite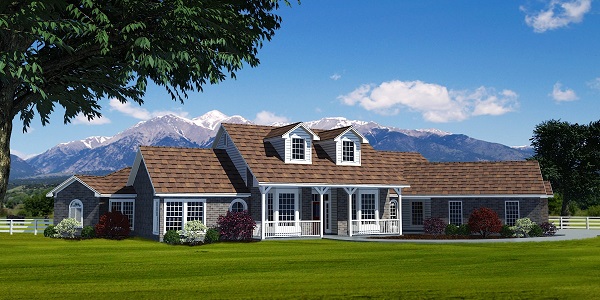 House Plan 4427 is a customer favorite! Not only because of its welcoming front elevation, but because the spaces in this home are so flexibly used. This one-story home boasts just over 3,000 square feet and a generous three-stall garage! An adorable set of gables and front porch welcome you into this home's entry and formal dining space. Continue on to see an open-concept kitchen and living space with breakfast nook, available for casual seating. The master and en-suite keep their privacy on the home's left side, and three additional bedroom spaces easily double as office or library space, too.
The home's right side perfectly secludes the guest or in-law suite. A designated area for seating is included in the generous bedroom. Just off of the bedroom is a private terrace, as well as complete en-suite. Those who live here can remain independent with the kitchenette, tucked away to maximize square footage. All of these wonderful features give your loved ones the privacy they crave, while giving you the comfort of having them nearby.
Take the time to enjoy our useful collection of homes with two master suites. And always be sure to check out our builder-preferred house plans to see what a contractor will be excited to build for you!