Make a splash with our incredible collection of lake home floor plans! These lake houses have everything you need to enjoy lakefront living. We've gathered some of our most popular, affordable, and view-worthy lake homes below. Our customers love these plans, they're also builder-friendly, and you may just find the home you've been dreaming of! But best of all – these amazing home plans are perfect for a budget!
Click HERE for more lake- and beach-worthy home plans to see what catches your eye!
Home Spotlight: House Plan 1445
House Plan 1445 is just over 1,200 square feet with two bedrooms and one full bath on one level. The perfect blend of contemporary and classic style, it offers an incredibly spacious and open kitchen, living, and dining area. Huge windows cover nearly the entire rear-facing wall, and lead to a large back deck complete with outdoor kitchen area. This space aches family get-togethers and summer parties!
You can make cooking fun again and entertaining a breeze with counter space that never seems to end and a large island overlooking the living room. An impressive ceiling-high fireplace feature is set to be a lovely focal point in this home… if you can take your eyes off the view, that is!
A Compact One-Bedroom Home with Loft
Who doesn't love a cozy lake cottage? House Plan 2487 is the perfect little getaway. This home boasts the open-concept kitchen and living area that people crave. Each of the 950 square feet is used perfectly in this home plan. Everything has its place, and every space is maximized to its fullest potential. Our customers often use the second floor bonus space as a second bedroom or office, making this home incredibly versatile! Plus, the big windows and spacious porch in front make this the perfect cozy cottage for beachfront living!
A Two-Story Cottage to Entertain In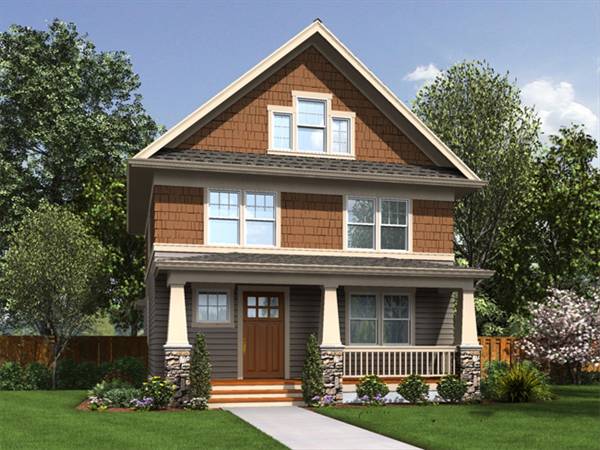 House Plan 2293 is an incredibly affordable and open-concept, two-story home. This cottage is one of our most popular lake homes because of its versatility! With three bedrooms upstairs, including a large master and en-suite, this home is great for family living. The spacious kitchen and living room make it a dream to entertain in. You can gather for a more formal dinner in the dining room, and wander onto the patio to enjoy the breeze off of the water.
Fishing Lodge: Simplified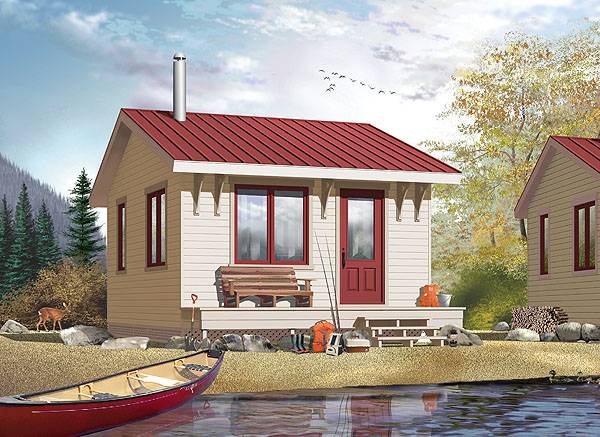 Keep things simple with House Plan 1489. Who needs all of the frills of fancy living when you have the water to spend the day with? Use this tiny home as a fishing lodge or as a perfect little getaway after a morning on the lake. Relax on the home's front porch, or head inside to the open-concept living room and kitchen. Cozy up at a table for two after prepping the catch of the day. Then, rest peacefully in the home's bedroom, large enough for two twin beds if needed.
A Super Sunny Open-Concept Home
What better way to enjoy the view than with an abundance of windows and an additional sunroom? House Plan 1166 may just be one of our very best lake homes. With windows along the entire front, and the side-facing sunroom, views can be enjoyed from nearly anywhere in the house. The included walkout basement is ideal for a sloped lot and helps boost living spaces. And of course, the all-important lakeside deck covers the entire front face of this home so you can enjoy the breeze.
Any of these dream lake homes could be yours from Direct from the Designers! Can't get enough? Browse our full collections of beach homes, lake homes, and cottages that meet all your waterfront needs!