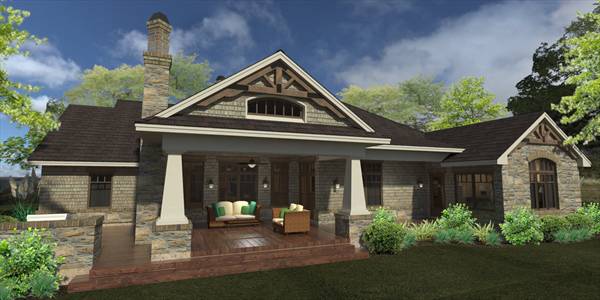 Our popular collection of Customer Preferred House Plans has done it again with House Plan 9167, a redesigned Craftsman house plan boasting one of the best outdoor kitchens available. The split-bedroom design and open concept living room and kitchen make this home a must-see, as these features remain at the top of everyone's wish list. Check out more of our incredible collection at DFDHousePlans.com!
Complete with an outdoor fireplace, this outdoor kitchen begs for an evening filled with friends and laughter. Sitting cozy by the fire isn't all you can do in this outdoor living space. A BBQ porch and large lanai are also included in this home – there's plenty of seating for everyone!
2,905 Square Foot Craftsman with Outdoor Kitchen
Maintaining the Craftsman-style exterior of this home plan was an obvious choice. Craftsman house plans have remained among the top selling for years, and rightfully so! Their eye-catching features and bold designs easily draw us to them.
You may have noticed that we lowered the roof pitch of House Plan 9167 to make it more affordable. However, our team was careful to maintain the striking exterior our customers have come to love. Smartly done, the now front-facing 3-stall garage made way for a generous mudroom just inside. You'll love how it helps to de-clutter your home so easily.
The Home Plan That Inspired Our Team
As always with this growing collection, we've taken one of our top-selling house plans and made modifications based on customer reviews and their most common requests. Check out the plan that inspired our team, House Plan 2297.
Besides the outdoor kitchen, the interior entertainer's kitchen and spacious master bath are favorite features in this home plan. In the kitchen, you can keep busy cooking and stay a part of the party! Check out the way this area remains focused, while remaining open. Now, check out the master suite's bathroom. Refreshed even further in our remodel, the master boasts a 5-piece en-suite with a large walk-in closet and attached exercise room.
Formal Dining Room with Double-Sided Fireplace
This warm and inviting double-sided fireplace feature has breathed new and exciting life into the dining room. But we didn't just revamp the fireplace. As always, we used our customers' reviews and most commonly requested modifications to make this house plan even more family- and budget-friendly.
A good fireplace feature can bring not only warmth, but also charm and elegance to a home. So why limit that appeal to just your living room? Spread the love to multiple rooms in your new home with a beautiful double-sided fireplace.
Eat-In Kitchen & Country Kitchen
However small, important tweaks were made to the eat-in kitchen. Most notably, our customers requested that we expand the breakfast nook, and we did so happily! This breakfast nook is now a much easier place to have an intimate or family meal. Plus, the French doors leading to the spacious lanai and plenty of windows let in wonderful natural light. In addition, flattening the nearby rear wall creates easier flow from this country kitchen to the casual dining area and even more room for tall cabinets. As always, the lovely bar-style peninsula provides additional seating and entertainment options.
Generous Bedroom Spaces
From the spacious master suite and its tall ceilings, to the functional Jack-n-Jill family bedrooms, this family-friendly house plan doesn't disappoint! Each bedroom, including the study/guest room, enjoys direct access to a full bathroom.
The redesigned master en-suite helps to make this home even more functional and affordable. Flattening the exterior wall of the master bath made this area of the home more affordable to build, and it created an arguably better bathroom layout as well. Plus, by re-envisioning the previous exercise room, the master suite now enjoys his-and-hers closets and a spacious utility room.
Now take a look at the Jack-n-Jill family bedrooms. Well-designed, this pair of bedrooms share a bathroom while also providing private dressing areas! Our team ensured that both of these family bedrooms offer privacy, while also remaining budget-conscious with a single bathroom space.
Browse thousands of homes by Architectural Style, or with an advanced search, to find your dream design!
Or why not check out our YouTube channel where we showcase the best and the newest house plans on the market!