Painting your home's exterior is just as intimidating as going into the paint store and picking out a new color for your bedroom wall.  No lying, it is a big project, and while you might be overwhelmed with color selection, here are a few tips to help you choose the colors your new home will be.
More than one color doesn't have to be expensive.  When it comes to getting that paint job you see in the paint catalogue, know that the use of more than one color does not have to cost a fortune. Unless you plan to paint with numerous hues the price tag won't break the bank.  So if you happen to like the way that the red painted shutters will look with a new shade of navy, go for it.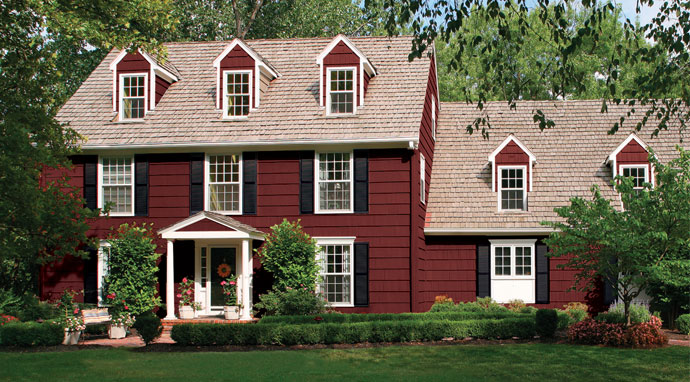 Use your accent colors wisely. One of the big mistakes that homeowners make when painting the exterior of their house is highlighting the unattractive elements such as the gutters, downspouts, and a protruding garage door.  Remember, your home's paint job will be one of the first things people see, and the last thing you want them looking at is your air conditioning unit or an unevenly placed window.
Don't ignore your neighbors.  The color scheme of your house should not clash with the neighbor's house.  To make sure that all the neighbors are happy choose a color scheme that blends with the neighborhood or stands out in a subtle way.
Don't forget your lawn.  What really ups the ante when it comes to curb appeal is a nicely manicured lawn. Take a moment to consider different flowering shrubs or flower gardens in compatible colors.
Look at paint chips outside.  Colors look their best out in natural light, and since you are painting the exterior of your home, viewing chips in the sunlight is the best way to gauge how the color will look once it is on your house.
It might take a while for you to decide on the color, but once you decide on a color you will find that a fresh coat of paint does wonders for your new home.  If you have no idea where to start, take a look at some of Direct from the Designers collections for inspiration.