Enhance Your Home with Attention-Grabbing Accents!
Decorative Interior Millwork
You'd like to set your home's interior apart from the ordinary. You're looking for an easy, stylish, affordable way to add some striking decorative elements that will draw the attention of your guests.
You're in luck! Companies like Fypon
®
offer beautiful features like crown moulding, louvers, brackets and window surrounds that won't break the budget!
Fypon
®
is a manufacturer of decorative urethane millwork for the interior and exterior of residential and commercial projects. The material is a urethane foam that expands under pressure to any desired shape. Polyvinyl chloride (PVC) is also used for some products. These synthetic wonders allow Fypon
®
to bring you decorative accents affordably and flawlessly!
This one photo shows numerous uses of interior millwork, including door casings, column surrounds, baseboards, decorative beams and crown moulding. Note the wall panels that add interest to the area below the stairway railing.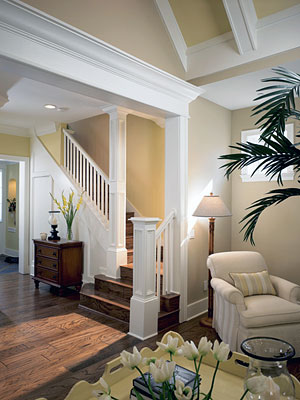 Perhaps most importantly, the products aren't made of wood, so no trees are cut down! You'll feel good about using these earth-friendly products.
Moulded millwork is a high-density urethane trim that is well suited for detailed, decorative designs and complicated shapes. Money and time are saved, by reducing labor. These new products require less effort than their wood counterparts. They are already white, and are ready to install.
There are even more advantages to synthetic millwork. For example, it can be placed directly against masonry without fear of decay or absorption. In fact, it resists not only rot and mildew, but also insects, warping and splintering. Moulded millwork is lightweight, yet durable. It requires very little maintenance. In addition, the decorative items may be painted, stained or faux-finished.
Elaborate crown moulding gives a finishing touch to this elegant bedroom. The eye is drawn upward immediately, so you may forget to notice the tasteful window surrounds and baseboards.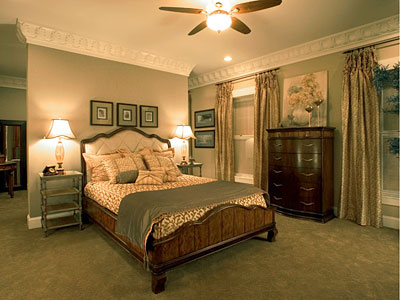 And, amazingly, Fypon
®
offers 1,800 different moulded millwork items!
Let's take a tour of some of the things you can do in your home with moulded millwork.
Use crown moulding to add elegance and interest to any room, where the walls meet the ceiling. Lightweight new moulding choices are sensible and cost-effective improvements over traditional wood or plaster mouldings.
Top off interior windows with a pediment above a window surround. The window casings or surrounds serve to frame your lovely outdoor views, while adding a look of durability. They can be as simple or detailed as you wish. You'll appreciate the character they bring to your windows.
Upgrade the look of a boring kitchen island by adding decorative brackets or corbels as accent pieces. Brackets may also be added beneath display shelves that show off your collectibles and other knickknacks.
How about adding decorative beams to a ceiling to draw the eye upward? You may even opt for the look of a coffered ceiling, with beams creating a waffle-like pattern. Although coffers are usually square, you may wish to consider other regular geometric shapes. Special coffers are available that improve the acoustics in a room with a high ceiling. For a low ceiling, you can create a modified-coffered look by using flat boards instead of beams.
Door casings give a finished look to any room, but also protect from drafts. You'll probably want to match the door casings to other accents in the same room, like window casings, baseboards and trim. With many styles available, it's easy to match the dacor of any room. For an extra touch, adding a keystone to the top of any interior door gives an elegant look to the room.
Place a large sunburst window pediment above a bed to serve as a decorative headboard. Top off a standard bookcase with an impressive acorn pediment to add style to any room.
Duplicate a masterpiece! Select moulding and millwork for your home inspired by the Biltmore House in Asheville, N.C. The Biltmore Collection from Fypon
®
includes entryway surrounds, domes, mouldings and decorative accents.
Of course, interior millwork made of wood may still be found. But we think you'll want to at least consider the alternatives.
Surf the web for hundreds of additional ideas for using interior millwork in your home. We hope you've been inspired to add striking accents to your new home making it unique and magnificent!