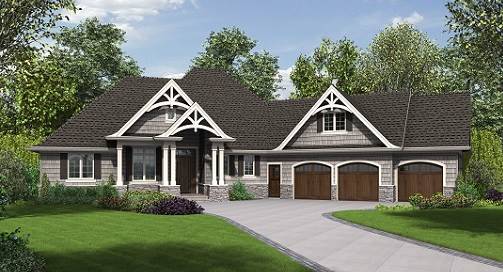 Here are some new 3 stall garage house plans we love! A 3 stall garage is a welcome addition to any home; homeowners can add a garage workshop, protect an additional vehicle from harsh weather, or simply enjoy some extra storage space. Plus, you'll find such homes with open floor plans, family friendly designs, and curb appeal for every style and budget!
Want to see more? Check out this extensive list of 3 stall garage house plans from DFDhouseplans.com, your trusted source for high quality home plans.
"Why didn't I think to add another stall to my garage?" said every homeowner with a 2 stall garage EVER! It may just be me, but there is never enough room for tools and lawn equipment in my 2 stall garage. We trip over the lawnmower to get to the toolbox. We barely squeeze out of our vehicles because the snowblower blocks the car door. Trust us and add a 3rd stall to the garage of your new home build!
Low Cost, High Reward
In regards to cost, there is little difference between building our 2 and 3 stall garage house plans. Other than some additional material, that 3rd stall will cost you nearly nothing – and it gives back endlessly. If you've found a 2 stall garage house plan you love, ask your builder if their team is able to add your 3rd stall. Or, contact one of our home plan specialists – we have a modification team ready and willing to help.
Multi-Purpose Storage and Work Space
What will you do with that space? Create a woodworking shop, keep your tools and lawn equipment organized, store the family bicycles – it's the garage that keeps on giving! Plus, imagine the pure joy on your teen's face when you tell them they can park in the garage tonight – no brushing off all of that snow in the morning!
Even More 3 Stall Garage House Plans We Love!
Don't Miss the Hottest New House Plans For Spring 2019!
Take virtual tours of the hottest new house plans by following us on Youtube!
Find a home plan you love, but curious about modifications? Check out Modifying a Home Plan – The Real Story.