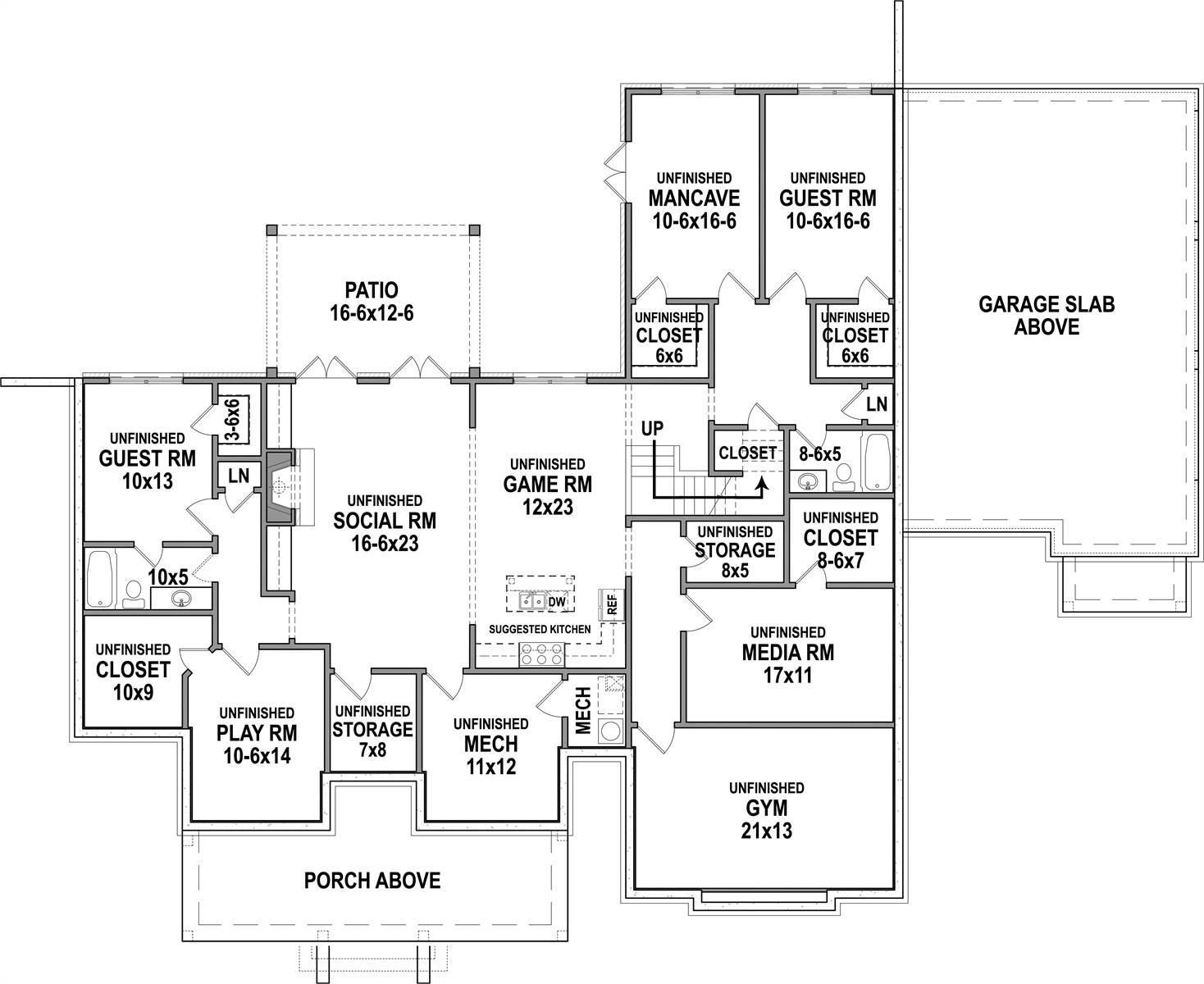 So, you've decided to have a new home built—congratulations! It is a rewarding and fun process as you move through the steps from choosing a house plan, to groundbreaking, to picking out finishes and finally moving into your new home. Along the way, there are plenty of opportunities to tailor your home to your personal preferences so the finished product is a reflection of your taste and design. It truly is your home!
Optional Future Basement Plan
Some may choose to finish their basement as part of the initial home build, and DFD House Plans provides options for the finished basement on a number of designs. For example, House Plan 1895, a beautiful Craftsman-style home with 2,091 square feet on the main level, provides two different potential basement plans depending on the homeowner's desired stair access location. However, it's not unusual to leave the basement as a blank slate, which is a cost benefit at the time of build. This provides the homeowner with future DIY projects!
Future Basement Considerations
You can turn your basement into living space with the layout options provided with the original blueprints or your own layout design. Regardless of how you would like to eventually finish your basement, there four main items to consider during the build process. These four items are:
The placement of your utilities, such as the electrical panel, furnace, water heater, and in some cases, the pump/water tank if you have a well. Consider your basement layout and make certain future room and wall placements won't interfere with the location of utilities.
The runs for your plumbing, electrical, and furnace ducting. Wherever possible, you want these up and inside your floor joists to allow maximum headroom for your basement ceilings.
Plumbing for a future bathroom in the basement. If you know that is part of your plans, then have the plumbing in place before the basement floor is poured. Otherwise, you will incur added time and expense in the future to break open sections of the floor to lay the required pipe. Cost wise, it is much less expensive to have this done upfront even if the actual finishing of the bathroom is a few years away.
Egress windows. If you intend to add additional bedrooms in your basement, they will require egress windows to meet code. Again, this is an item that will cost less to have done during the build process than afterward.
Plan Early to Save on Your Basement
Bottom line is, don't forget the basement as you layout the vision for your new home. Most homeowners look forward to having that additional space to grow into as time goes on. Whether utilizing the wonderful options provided by DFD House Plans or going with your own layout vision, consideration upfront can make those projects less costly down the line. So, give it some thought and discuss options with your contractor.
Tom Shields is a retired engineer/manager from the office furniture industry. A general "handyman" with experience in electrical, plumbing, and basic construction, he and his wife Annette built their retirement home in 2016. In retirement, Tom now does various remodel jobs for local clients as well as continuing to put the final touches on his own home, including finishing out the basement and adding a swimming pool/outdoor space.