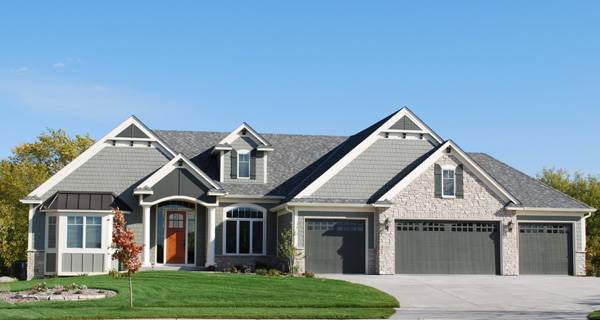 Accommodate everything and everyone with these new 4 car garage house plans! With today's family cars, lawn equipment, and recreational vehicles growing larger than ever before, we simply need more space. The traditional garage spaces of yesterday no longer work for our modern lifestyles!
They say that the simplest things bring the most joy. Arriving home should be one of these moments—a welcoming and relaxing experience. However, this beautiful moment is often shattered by squeezing and maneuvering out of your vehicle. You don't want to dent your door on the lawnmower or a child's bicycle! Now let's imagine a world where getting the groceries from the car to your door doesn't feel like a game of Twister—it sounds simply lovely, no?
Don't spend another day squeezing in and out of your garage. Browse fresh and popular 4 car garage house plans now!
Featured 4 Car Garage House Plans – They Have Breathtaking Interiors!
This beautiful Craftsman-style house plan boasts not only the 4 car garage of your dreams, but so much more! Large families love this home. With the included finished basement option, it offers nearly 7,000 square feet of living space and up to 6 bedrooms. The architect's attention to detail when drawing this home provides an air of craftsmanship in every room. Tall ceilings and sleek lines add elegance while exterior gables and large windows bring the at-home comfort we crave.
So many people love beautiful single story homes with walk-out basements! How do you like this one? It has outdoor and indoor kitchens fit for a true chef, a generous master and en-suite, and did you see that wine cellar!? Yes, please! This traditional Craftsman gives you and your family the wiggle room you've been aching for! You'll keep the clutter at bay with a large multi-purpose mudroom easily accessible from the main living area as well as from the spacious 4 car garage!
It has too many incredible images to share here. See incredible new photos of House Plan 8320 now!
Bold and bright! It's likely that you, like so many others, searched endlessly for that perfect piece of land with the perfect views. Consider modern house plans that come alive with numerous large windows on every possible wall. You can take in that view from every corner of your home with the large windows and spectacular outdoor living spaces of House Plan 5550.
It's not only bright, but beautiful and elegant. Luxurious features such as the master's 5-piece bathroom let you bring the spa home. Meanwhile, the kitchen's oversized appliances and generous storage/countertop options are like something from a chef's dream!
French Country house plans are effortlessly appealing, and it doesn't go unnoticed. Old-world charm brings artful elegance while inside, simple floor plans allow for family-friendly and open-concept areas. Natural materials—hard wood flooring, beams, and artistic stonework—bring warmth and comfort to these homes.
This 2-story house plan checks all of the "must-have" boxes. Open-concept main living spaces are perfect for family time or entertaining. A large master suite, office space, and full guest suite are easily accessible on the home's first floor. Clutter and intimate family time are kept upstairs. Two family bedrooms share access to a Jack-n-Jill bathroom. A large sitting area also provides an incredible play room for younger children, or a private hang out for older kids!
Elegant & Traditional – 4 Car Garage House Plans
Marry modern amenities and traditional spaces with these large and elegant house plans. Open-concept homes are incredibly popular, but traditional spaces have remained a staple for good reason. Individual rooms allow for unique decorating schemes, privacy, and intimacy. Luckily, our architects see the benefit of both of these popular interior layout types, and have created these innovative homes just for you!
Love the idea of having a formal living area, along with your casual living spaces? Check out these hidden gems we think you'll love – House Plans with Formal Living Rooms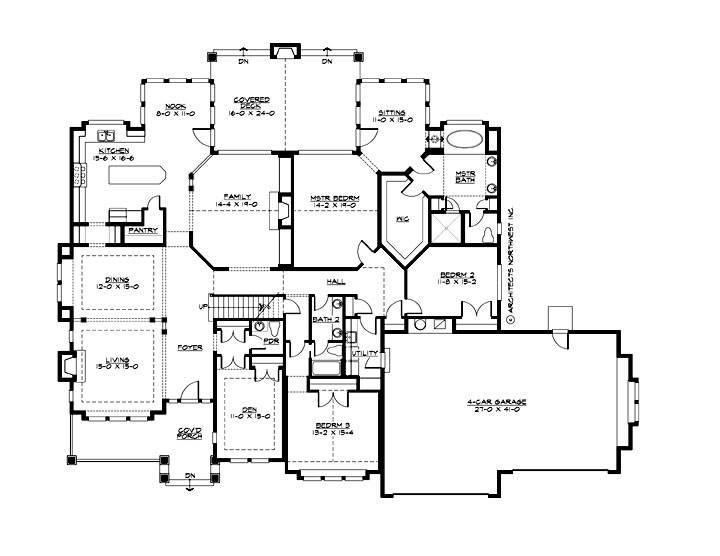 Family Friendly Floor Plans – 4 Car Garage House Plans
Searching for and finding family-friendly house plans can be an especially challenging task. Every family comes with its own style and must-have list, so how can you find the perfect home plan for your growing (or already complete) household? Look no further than these family-friendly and spacious 4 car garage house plans that can accommodate the kids' cars too!
House Plan 9734 – 2 Story with Casual Family Eating Area
Many modern families find there is no longer a need for a formal dining room in their homes. Check out the way this architect gave the dining area its own unique space, while still embracing the open-concept design customers are looking for!
Keep your family's clutter upstairs—yes, even your own. Quit running around, cleaning up everything in sight, just because someone is stopping by. You can easily have your home "guest ready" at all times with upstairs bedrooms!
This French Country style house plan impresses on its first floor, but make your way downstairs to find something truly fantastic! Any entertainer would be happy to find an extremely spacious theater room, accompanied by a bar and even its own wine closet!
You can't truly understand the beauty of a sunroom until you've experienced this special space for yourself. Be "outside" without leaving the comfort of your own home. Enjoy the morning sun without putting on a jacket, or sip wine while the sun sets without those pesky bugs ruining the night. We love a good home with a sunroom, and we think you will, too!
Looking for more? Don't miss out on the hottest new house plans on the market! New Must-See House Plans of 2019!
Worried about staying on budget? Who isn't!? See 5 Tips to Build Your Dream Home and Stay on Budget.