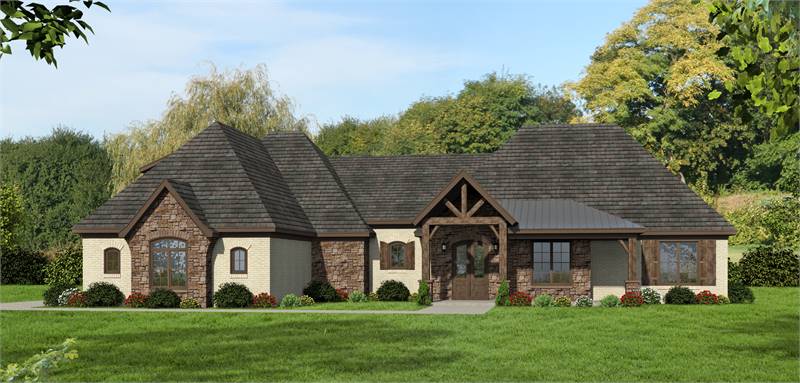 With so many different architectural styles available to us, identifying the style of home plans you like can be a daunting task. Let's clear up the confusion and break it down! Check out these clear-cut examples and key features of today's most popular architectural home styles.
Browse the different architectural styles and discover what you love. Then it's time for the fun part! Start your home plan search by browsing our 5,000+ house plans by architectural styles!
Beach Style Homes
Let's go to the beach! Finding that perfect beach house plan is an especially exciting process! Building a beach home means creating that special getaway or retirement home you've been dreaming of – but what does that look like to you? Check out this article on "Choosing the Ideal Beach Home" to get the most out of your new vacation residence!
Beach Home Identifying Features:
Generous Windows – You're on the water, so enjoy that view!
Outdoor Living Spaces – Deck and porch spaces are key to an awesome beach home. An outdoor kitchen, fire-pit, or additional lounging area could add even more!
Second Story Views – Things like trees or neighboring homes can block your incredible view. Build a second story to make the most of your waterfront location!
Cape Cod Style Homes
Cozy and classic. Cape Cod homes have been warming America's neighborhoods for decades. We can't help but be drawn to these inviting homes. The curb appeal is obvious here, with their symmetrical designs, welcoming front porches, and adorable gables.
Browse our full collection of Cape Cod House Plans now!
Cape Cod Home Identifying Features:
Large Front Porch: Large front porches help to create the inviting atmosphere that we love from a classic Cape Cod design.
Gables: Alongside porch space, rooftop gables are an important and welcoming staple on Cape Cod homes.
Symmetrical Design: Symmetry is found throughout these homes. Window placement, porches, gables and often even the home's interior are kept symmetrical.
Craftsman Style Homes
Craftsman style homes continue to be the most requested, and most popular of all architectural home styles. "The Craftsman is all about a boxy nature and reviving beautiful decorative art. It's well-designed, well-crafted," explains Marika Snider, of Snider Architecture.
Craftsman Home Identifying Features:
Natural Elements: Embrace nature with exposed beams, rafters, and stonework both inside and out!
Covered Porches: Expand your home's square footage past your front door – while adding curb appeal!
Pitched Roofs & Gables: Decorative gables, dormers, and beautifully pitched roofs are key to these incredible exteriors.
European Style Homes
Live your fairy tale! European style homes, with their multi-textured exteriors and varying rooflines, feel straight from a storybook! Classic features bring old-world elegance to these real-life castles.
European Home Identifying Features:
Multi-Textured Exteriors: Stucco, stone, and brick all work together to create old-world elegance.
Unique Rooflines: Hip and valley roofs with varying heights and pitches often feature swooping, flared edges.
Ornamental Detailing: Arched or bay windows, dormers, and metalwork add a nice touch.
Farmhouse Style Homes
We are naturally drawn to the warm and welcoming architecture of farmhouse design! You'll know a farmhouse when you see it, because of its large covered front porch and adorable gables that welcome guests and loved ones. Meanwhile, natural wood elements bring character to the home's family-friendly floor plan. The ever-popular modern farmhouse marries raw and homey elements with modern comforts. Check out more from this video, then find your perfect farmhouse floor plan!
Farmhouse Identifying Features:
Large Covered Porches: Front porch swings and outdoor fireplaces help bring warmth to these welcoming areas.
Gables & Dormers: Adorable rooftop windows brighten your home!
Family-Friendly Designs: Open floor plans and family-friendly spaces are perfect for today's busy households.
Modern Style Homes
With the elimination of a few traditional rooms, modern home plans enjoy open entertainment and living spaces. These open rooms and spaces make it easy to enjoy a day filled with family and friends! Check out some lovely options in Contemporary Home Plans – Sleek, Sophisticated, Yours.
Modern Home Identifying Features:
Sleek Exterior: Sharp rooflines create modern flare.
Windows: Numerous large windows often cover as many exterior walls as possible – and should always be energy-efficient!
Smooth Exterior Materials: Whether metal, glass, or stone, modern home plans remain sleek and sophisticated.
Spanish Style Homes
For our warm, dry climate lovers, these Spanish style homes are ideal! Not only are these homes created to endure hot southwestern days, but they embrace them. Become one with your surroundings – and look good doing it – in one of our popular Spanish House Plans!
Spanish Home Identifying Features:
Stucco & Clay Exterior: Get that classic Spanish look with a stucco and/or clay exterior.
Clay Tile Shingles: Clay S-shaped shingles are most often found on these homes, providing the traditional look with incredible durability.
Arches & Tiles: Rounded doorways and windows are often accented with elaborate tilework.
Victorian Style Homes
There's nothing quite like a classic Victorian home. Their ornate elegance is so uniquely charming – and quite striking! Start the exciting process of building your own fancy, elaborate home by browsing our collection of Victorian Style House Plans now!
Victorian Home Identifying Features:
Decorative Rooflines: Multi-angled roofs with multiple trim-filled gables create eye-catching appeal.
Towers & Turrets: Rounded "princess-like" towers with decorative turrets are prime examples of a Victorian home must-have.
Columns & Porches: Welcoming and elegant front porches are decorated with columns & arches.
Which of these different architectural styles are you drawn to?
Love everything?! Then let's check out the newest house plans on the market! – Hot New House Plans!
Identifying the different architectural styles around you can be a challenge, but we hope that using these tips and tricks will help you along the way. Still confused? Not a problem! Use our advanced plan search or reach out to our helpful and friendly staff anytime via LiveChat!