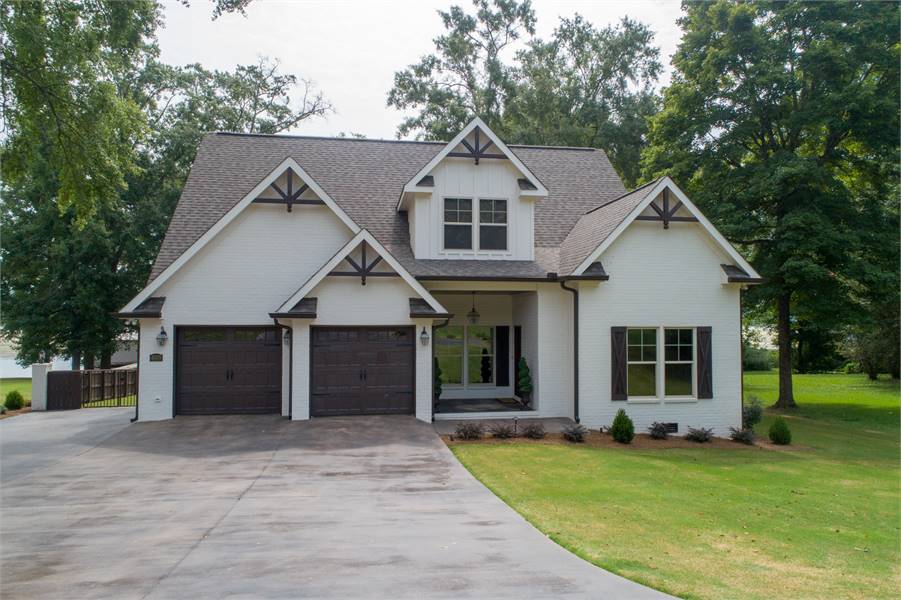 When you choose from our selection of chef-ready gourmet kitchen plans, you open up a whole new world of opportunities. From entertaining and dinner parties to hosting family gatherings and more, these designs are sure to amaze! And not only are these kitchens gorgeous, but they also showcase some of the most innovative features available.
Explore and see for yourself just how many things there are to love in a kitchen. As you look through the options, take note of features you like. Our team of expert designers is ready and willing to help incorporate all of your wants and needs into the perfect home for you.
And once you find the perfect design, we're excited to help you find the best appliances, countertops, and everything else that you can dream of. Just check out our New Home Resources page! Our gourmet kitchen plans include many award-winning designs, so find your dream kitchen today.
The Island and Other Eye-Catching Features
Just like with a home's curb appeal, you want a kitchen that leaves an instant impression. Whether it's a guest walking in for the first time or you returning home from work every day, your kitchen should 'wow' people. Having a stunning island is one of the easiest ways to do this.
Island kitchens have become increasingly popular, so consider taking yours up a notch. Instead of treating it as just a bare slab of stone, think about finishing it to be both functional and gorgeous. Ideas include include:
A stove top
An undercounter microwave or oven
A sink
A secondary preparation station
Extras to tailor the kitchen to you!
Many people also add bar-top island seating to create an eat-in environment in the kitchen. It's less formal yet highly functional, and great for quick meals with the family!
There are other great ways to add eye-catching details to chef-ready gourmet kitchen plans. Many customers love having unique cabinetry, or investing in a beautiful hood above their stove. This is also a good opportunity to get creative with your fixtures and appliances to create a truly custom space!
Functionality Meets Style
Your kitchen is only as strong as its layout and offerings. Don't spend so much time finding all the perfect little things that you forget to focus on functionality!
Many of today's home designs feature open layouts, and for anyone who loves to entertain, this is a must! Open layouts help promote natural flow throughout your home, and they visually connect the kitchen to living spaces. There is nothing worse than trying to prepare a big meal and feeling cramped, crowded, or left out. When you choose an open layout for your gourmet kitchen, this becomes a worry of the past!
When choosing your perfect kitchen layout, it is also important to look at the spaces provided nearby. Would you like a walk-in pantry, extra storage or fridge space, or even a second prep kitchen, which can be found in some more extravagant plans? Make sure to envision yourself in every kitchen you look at. As this is one of the most frequently used areas in a home, it deserves careful consideration.
Know exactly what you want? Narrow your search to find the chef-ready gourmet kitchen plan tailor-fit to you and your budget!
The Perfect Finishing Touches for Your Gourmet Kitchen
Once you've found the perfect kitchen layout, it's time to complete the look with fixtures and finishes. A fashionable farmhouse sink or sleek cabinet handles can make a world of difference.
Your appliances are also crucial area. Learn about some of the best in the industry with our kitchen design articles. Make sure to invest in quality craftsmanship to ensure that your kitchen is functional and fashionable for many years to come.
Looking to get more refined or sleek? Consider talking with your designer and builder about putting cabinet paneling over your fridge and dishwasher. Many homeowners love this seamless look that is both classy and custom! Finishing touches like this are a good way to express your style.
If you have any questions or need help finding your dream home or kitchen, feel free to let us know. We're always happy to show you what homeowners across the country consider to be some of the best kitchen plans available. Happy hunting!