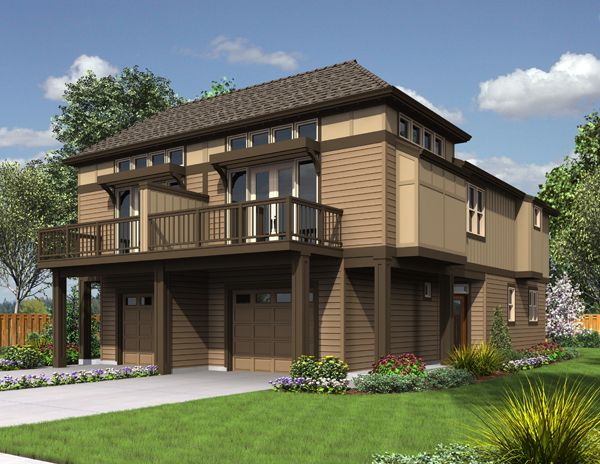 Explore all of these new modern duplex house plans, brought to you by Direct from the Designers! Why, you ask? Building a multi-family home is a uniquely rewarding experience with its own challenges, but just consider what duplexes have to offer. They have everything you'd want in a single family home, but with two units that are more affordable to build, you can get another residence to keep family members close by, or set up for rental income, too! Whether you're on the hunt for a spacious duplex, one that works on a narrow lot, or even one featuring a drive-under garage, we've got the options that you're looking for!
Check out our full collection of duplex home plans, or talk with a home plan specialist. Our highly trained staff can help you find exactly what you're looking for. We also offer free modification estimates to help make your home truly one-of-a-kind!
We know builders especially focus on duplexes. So, if you're a builder looking for blueprints for your next project, did you know that we offer a special builder discount? Consider signing up for our Preferred Builder Program, which can also help drive potential customers your way!
Comfortably Spacious Duplex House Plans
Looking for a bit more room for the family? Well, now you can add some thanks to our new, more spacious modern duplex house plans! We've expanded features including things like formal dining to give you the option to host larger get-togethers. Imagine cooking a Thanksgiving meal in your new kitchen as your family gathers around the table. Or everyone packing into the spacious living room on Christmas morning. These spaces are what can truly make a house a home, and duplexes should be no exception.
Our customers can't get enough of this modern duplex that comes with a finished basement! In each unit, the primary living areas and the master bedroom are found on the main level, while two family bedrooms are in the basement for added privacy. One of our favorite parts of this home is the extra family area in the basement. There are so many ways to use this space — maybe you'd like a playroom, a media area, a game room, or just a secondary living room for the kids? The choices are endless!
This is one of the largest duplex plans available on the market. The first unit has 2,888 square feet while the other has an amazing 3,000 — you won't lack for space on either side! Having 2 bedrooms per unit means that there's ample room for large suites. Plus, you'll fall in love with the incredible walk-in closet(s) in the master! A shopaholic's dream, just imagine getting ready every day with this kind of style.
Narrow Lot? No Problem!
Choosing a narrow lot can sometimes make homebuilding harder, but we encourage you to not be afraid of the challenge. We've included several narrow lot friendly duplex plans for you to find some inspiration!
Don't let lot limitations restrict your home's potential or take away from your must-have list. With this expansive collection of homes and our free modification estimates, we can help you find the duplex you want and your lot needs.
Check out another great example for the basement lovers out there! This moderately sized duplex is perfect for many different families.
No two families are alike, so home designs and their ability to be multi-functional should reflect that! This plan's main floor includes the master suite and large, open living areas, which makes it ideal for parents or empty nesters. As you travel down the split staircase, you'll discover a multi-purpose room. Consider using this level and its two bedrooms for the kids or as a separate living space for visiting guests.
Pictured above, DFD-6264 is wonderful for those who need a stylish yet budget-friendly home. The sleek roofline defines this two floor, nearly-square design, and the economical layout makes this an incredible option for first-time owners or downsizers. You can entertain guests on the first floor before retiring upstairs to the bedrooms. Additionally, the basement offers the option to add another bedroom and bathroom, along with some extra space for your imagination to run wild!
Modern Duplex House Plans with Drive-Under Garages
Choosing a drive-under garage can help you use your lot to its fullest potential. You get the ease of sheltered parking and storage below, and an enjoyable home with boosted views above! Drive-under garages are very popular for multi-family homes because they consolidate the roof and foundation for extra affordability. Between their flexibility and functionality, it's no wonder that these are some of our most popular duplexes.
When you place the garage beneath a home, the amount of potential living space you have on the lot increases drastically; none of it goes "just" to the garage! Whether you're building a modern duplex plan for yourself or as a rental property for tenants, everyone will love the additional square footage.
Look through all of our drive-under home plans now!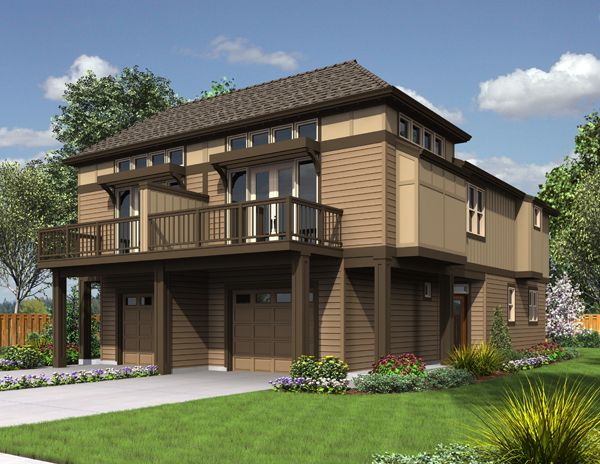 Fashionable, affordable, and builder-friendly, this midsize 2 bedroom duplex is a dream come true. Each bedroom is placed privately on its own level. On the main floor on the upper level, you'll see the vaulted living spaces and gourmet eat-in kitchen, and the deck is great for taking in a breath of fresh air. The single-stall drive-under garage is deceptively large and offers plenty of storage capabilities.
Feel free to check out even more modern house plans and find the perfect one for you!
Keep in touch to make sure that you are up-to-date on all the latest trends, home tours, and all of the brand new homes hitting the market! And as always, if you ever need help or have any questions, please reach out. We are happy to assist!