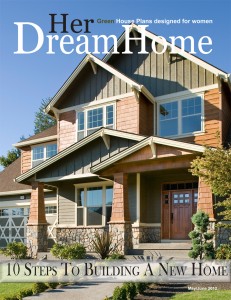 The newest issue of Her Dream Home magazine from Direct from the Designers House Plans features a step-by-step guide to building your new home. This guide includes important information consumers need to know before they begin this exciting project.
From creating a home building budget to knowing what to expect during each building stage, 10 Steps to Building A New Home is a "must read" article that will assist homeowners every step of the way.
This issue also features a small sampling of Direct from the Designers most popular house plans, which combine the latest in green building techniques and products. These designs also feature open floor plans, large gourmet kitchens, luxurious master suites and comfortable outdoor living spaces to accommodate the demands of homeowners.
One of the most popular architectural styles is the Craftsman House Plan. DFD House Plans extensive collection features homes in a wide range of sizes with classic Craftsman styling touches like front porches, dormers, plenty of interior woodwork and warm earth tones to create a charming design inside and out. To view the entire collection, click here.
Enjoy fabulous photography of two brand-new home plans: the Riverside House Plan is a sleek, one-story contemporary design, and the Randolph House Plan is a two-story classic with lots of natural light featured on the magazine cover.
Direct from the Designers House Plans recently created their DFD House Plans boards on Pinterest to showcase photographs of their best-selling house plans, as well as added the "Pin It" button to all their house plan images to make it easy to add to your own boards.
Stay connected by signing up for Dream Green, a free weekly newsletter where consumers and builders can learn about the latest sustainable interior and exterior home building products and design trends and tips to build a new home. Click here to sign up.