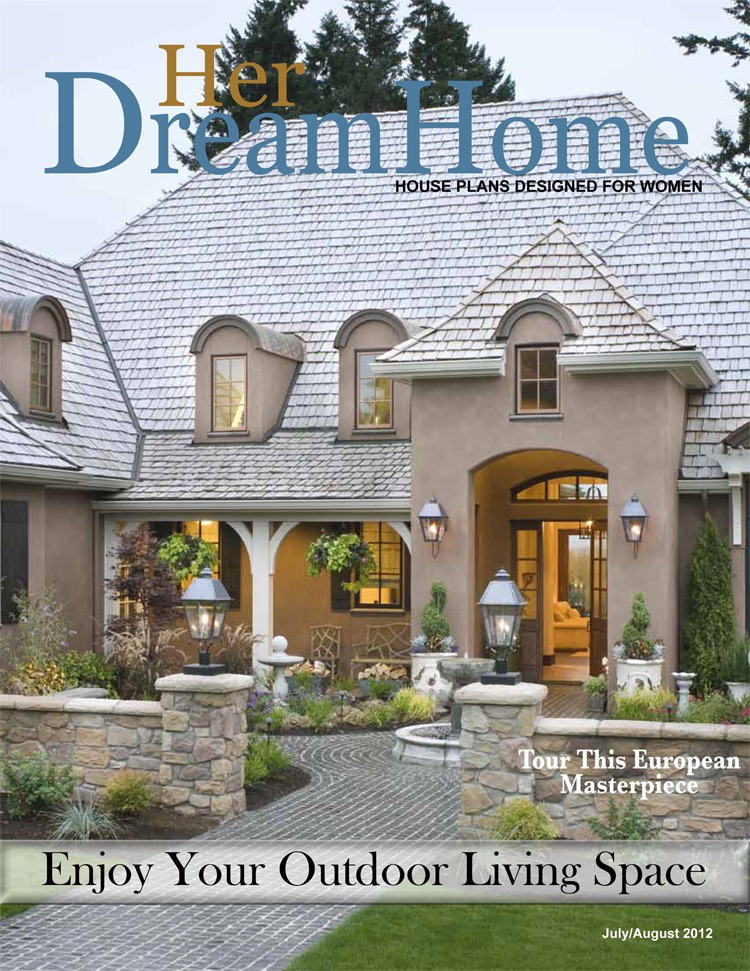 Now that summer is in full swing it is the perfect time to think about cookouts, backyard swimming and creating outdoor living space to enjoy with family and friends.  Something as simple as a covered patio or a grilling station or as extravagant as a fully functional outdoor kitchen with a dining area and fireplace that surrounds a custom pool and patio, can increase the amount of time you spend outdoors.
This issue of Her Dream Home features house plans with our best outdoor living spaces to inspire you to design a new outdoor area or to redesign your existing space. You'll find everything from covered patios, grilling stations, dining and sitting areas, fully equipped gourmet kitchens, custom pools and much more in a wide range of architectural styles. A personal favorite is the Terrebonne House Plan featured on the cover. This two-story European-styled home is absolutely gorgeous inside and out and features plenty of photographs.
You'll also find some great articles including Stepping Outside: Creating an Outdoor Living Area featuring innovative design ideas and tips including helpful suggestions for lighting, patio furniture, decks and more!  To inspire the cook in all of us, there's 5 Sizzling Tips for Cooking Outdoors so you can create the perfect grilled dishes.
This is also the perfect time to think about building a new home or remodeling your existing home. The key to a well-designed house plan is one that offers flexibility with an open floor plan and bonus spaces. Learn about all the benefits of an open floor design in Create a Spacious Home with an Open Floor Plan.