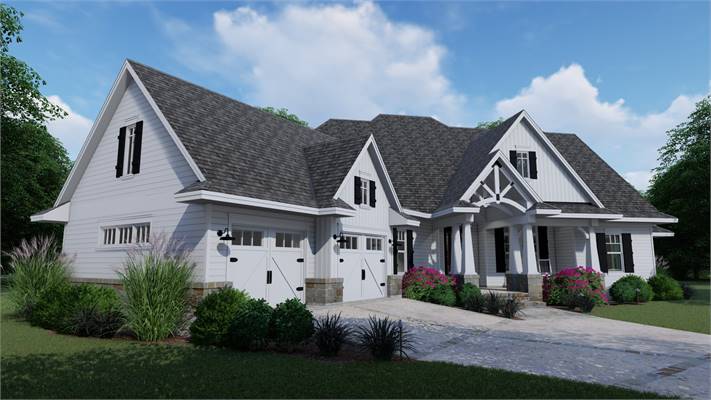 The location of a home's garage can actually make or break a house plan for you. It comes down to your lot and access most of all, but also to style. If your lot allows, consider shopping house plans with an angled garage for the beauty and functionality that they offer! You'll find that these designs have many benefits, and we have plenty to choose from.
The Purpose of House Plans with an Angled Garage
Many plans with traditional, front-facing garages are smaller than they look because the garage takes up so much square footage. An angled garage helps you maintain that square footage, as it bumps parking out into its own wing. Many people also prefer this in terms of curb appeal because the garage doors don't face the street and other elements can stand out more. Additionally, angled garages are often large (and easy to make larger through modifications) and many include a workshop or hobby space for your convenience,
As seen in DFD-1941 (above), angled garages also create larger driveways and more spacious front entries. By choosing a garage at an angle, you can get an appealing facade with plenty of parking to boot! Here are some more plans from this designer, who is known for pairing amazing angled garages with breathtaking architecture.
Ample Style for Any Home
Some people think that angled garages are only for huge homes or sprawling mansions. This couldn't be further from the truth! Angled garage house plans come in a wide variety of shapes, sizes, and styles. With so many options to choose from, you'll find something for every person and budget!
Whether you're looking for a cozy cottage, a simple farmhouse, or an elaborate modern home, there are definitely house plans with an angled garage out there for you.
Our angled garage house plans range in size from under 1,400 square feet to 5,000 square feet and beyond! Explore some homes for yourself to be inspired. You may just find what you didn't know you were looking for!
These plans are just a few examples of what we offer in terms of size and style. Feel free to browse Direct from the Designers to find plenty more from our world-class architects and designers! And be sure to use our Detailed Search to easily find exactly what you're looking for.
Storage All Around
You never know what you'll find in our angled garage plans! Another hidden bonus of theirs is that they often have extra storage spaces. Whether it's a bonus room overhead or a workshop with plenty of countertop space and shelving on the back wall, having a garage that easily offers more than the basics will help you make the most of it..
Take some time to look through the options and find the home that is right for your needs. And just think of all the space that you will retain and function that can be added when you choose from the house plans with an angled garage. You might thank yourself later!
Have any questions? Feel free to reach out to us and let us know how we can help find your dream home.