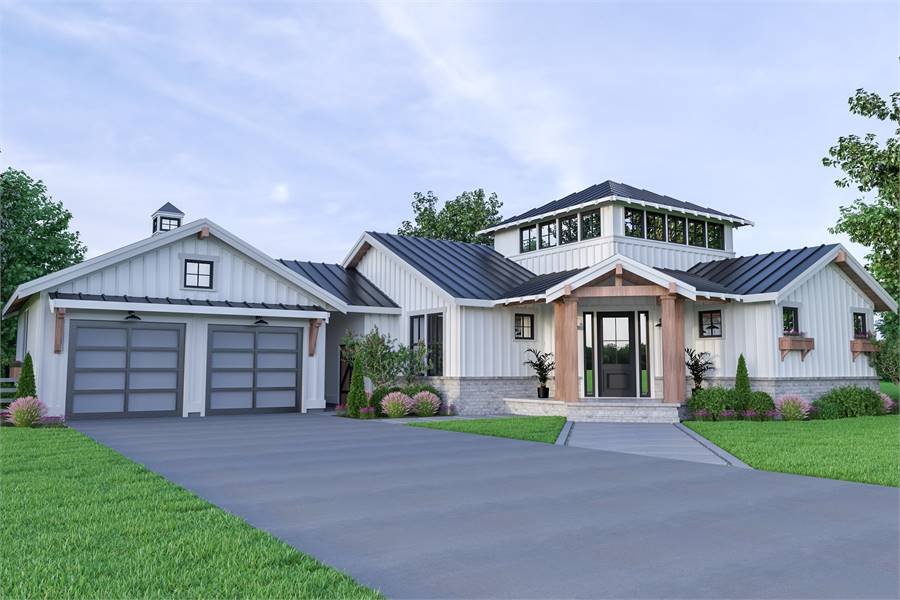 As you begin the journey towards finding your dream house, consider house plans with detached garages. While many homeowners may be quick to overlook such plans, we encourage you to consider all the unique functions they can provide. From flexible spaces to unmatched customization potential, you may be surprised at all of the options that a standalone or a detached garage can offer.
When you choose to build or design a home with a detached garage, you open the door to a level of customization that most attached garage plans simply can't provide. Think about all of the unique enhancements and style that you can add separate from the main house, making your dream home truly one-of-a-kind!
House Plan 7055
2,697 Square Foot, 4 Bedroom, 3.1 Bathroom Home

Detached Garage of House Plan 7055
We are excited to share some of our favorite homes – some popular designs that already come with their own detached garages, and others we've paired with separate detached garage plans. You'll be amazed at their unique functionality, so explore what awaits when you choose a home with a detached garage. Wonderful options and countless benefits are at your fingertips!
Popular House Plans with Detached Garages
Clutter-Free Comfort
One of our best-selling homes, this popular country farmhouse comes complete with its own detached garage included in the blueprints. It flaunts charming style and beautiful design throughout, so there's no wonder why this is a customer favorite. As an added bonus, the detached garage comes with your own private office space.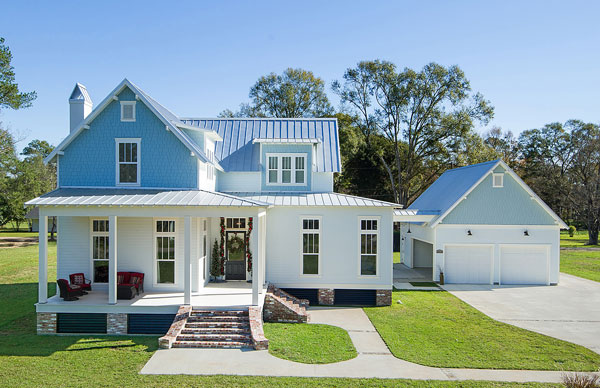 Take note of how house plans with detached garages such as DFD-9772 are enhanced by the detached design. You can choose to modify your detached garage to serve as a guest suite, or even a mancave or play space for the kids – the possibilities are endless! No matter what use you choose, your home will feel less crowded and more clutter-free than ever before.
To take storage and organization to the next level, talk with your designer about adding things such as built-in shelving and overhead storage. Regardless of your needs, your detached garage can be customized to fit your lifestyle.
The Beauty in Simplicity
Adding a multi-level, fully customized detached garage isn't for everyone. Sometimes, simplicity is key when it comes to meeting your needs. When searching for the perfect detached garage, look for plans that offer benefits that will enhance your home without costing a fortune.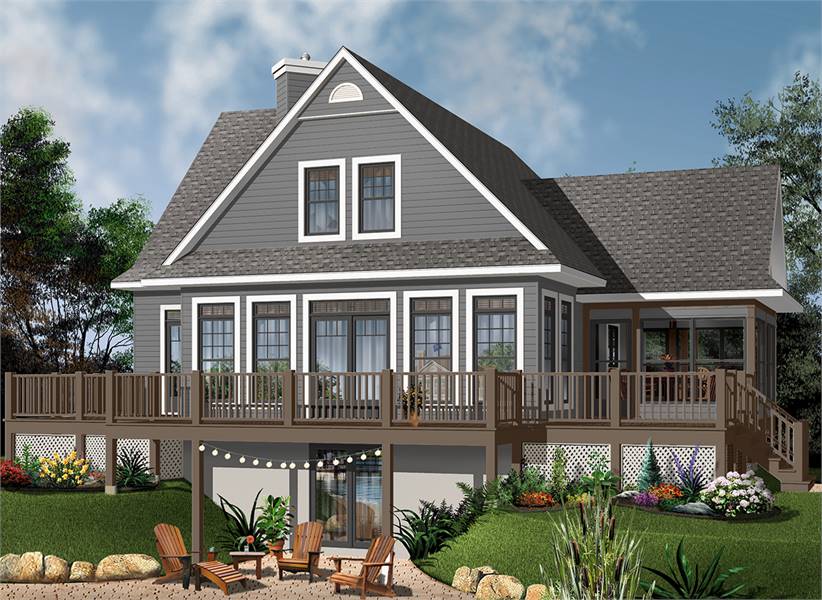 A popular plan for lakeside living, DFD-7366 (shown above) is the perfect waterfront getaway, but it's missing a garage. Consider the extra storage needs that a lake house or beachfront home may have. The garage plan DFD-4681 (shown below) pairs perfectly with this home, offering affordable parking for vehicles as well a boats or other watercraft.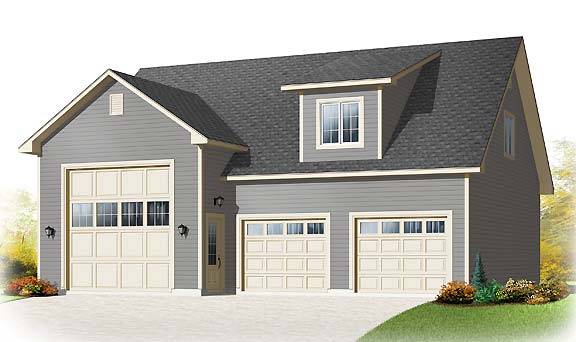 If you are looking to add functionality without going over budget, take a look through our collection of standalone garages. Many have unique features that you are sure to love.
Multi-Functional Hosting Spaces
The pairing between DFD-5188 and DFD-1994 (both shown below) is one of our all-time favorites. The attractive beauty of the Craftsman bungalow is enhanced by the addition of this garage plan. Here, the detached garage offers an additional full bedroom and bathroom, as well as a kitchen! Think about all of the possibilities that adding such a plan can provide. Whether it's space for the in-laws or a possible rental unit for extra income, you are sure to love it.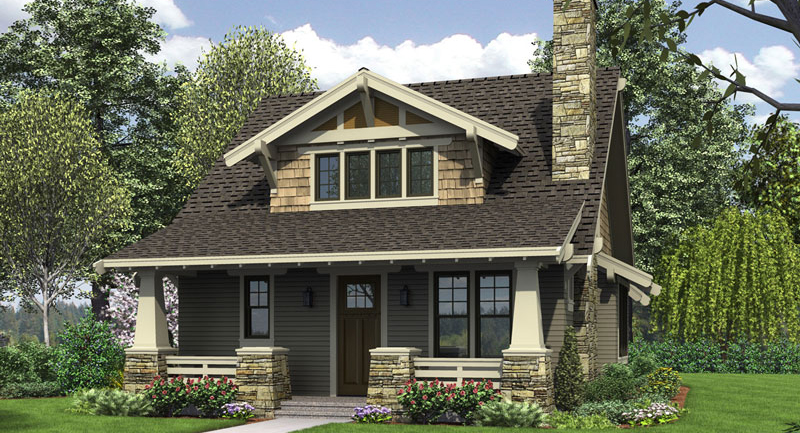 Detached garages with living spaces can enhance your dream home. Here, the extra 938 square feet of living space and parking for 3 cars will help your home to never feel crowded again.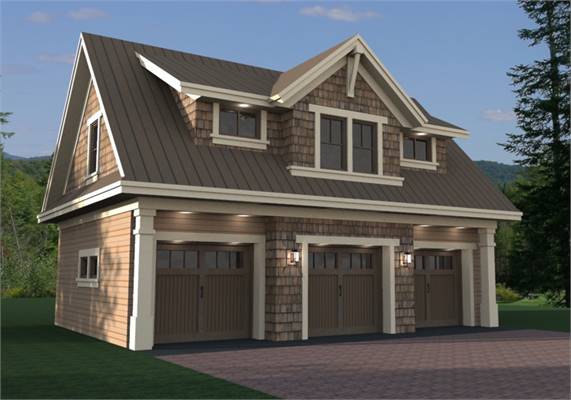 Search through our detached garage plans that feature second-floor living spaces. Not only do they compliment most home styles, but they can certainly increase your property value from the very beginning, too.
FAN FAVORITE SECTION
An increasing number of homeowners choose to add a detached garage plan to store things such as RVs, boats, golf carts, and even ATVs. In a traditional garage, many of these wouldn't fit. This problem can be a worry of the past thanks to our specialized garages. From drive-through boat storage, to oversized parking for RVs, explore our many detached garage plans to find the right one for you. If you have any questions, feel free to ask one of our house plan advisors for assistance.
For many homeowners with acreage, large machinery and equipment can get in the way, and it's difficult to store well because traditional garages simply don't offer enough space. If you find yourself in this situation, consider one of our many detached garages that take after a barn. Large swinging doors and ample space are perfect for tractors and mowers, and anything else you may have. Regardless of your reason, choosing to build a detached garage plan can enhance practically any home.
Take some time and explore our many homes that come with a detached garage, or make your own perfect pairing.
If you ever have any questions or need some help, please feel free to contact us. We are excited to help you on this fun journey!