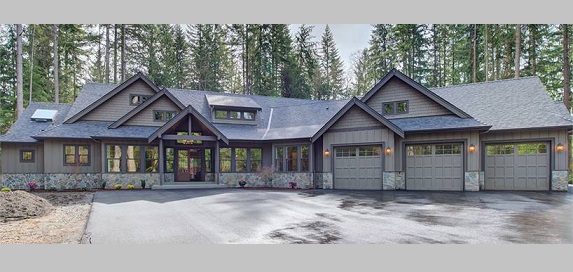 Simply put, one story home plans offer incredible benefits for you and your family. From the day you move in, and for years to come, you'll enjoy the great resale value, a family- and mobility-friendly design, and how a one story home accommodates all residents. Let's go over the top 5 reasons to choose a ranch style home like this for your next build. We'll also cover the hidden downsides to this type of home design. As always, please enjoy a showcase of some of our top selling and newest single story designs from DFDHousePlans.com.
With every size, architectural style, and layout you can imagine, we're sure to have the perfect home for you. Check out our full collection of One Story House Plans now!
One Story Home – Everyday Tasks Made Easy
It really is the little things in life that make it all worthwhile, that make life manageable, and that bring the light into the little moments of your day. In a ranch style home, the laundry on the main level is a major bonus. Take a moment to consider the fact that you'll never have to lug the vacuum up or down stairs again. Heavy-footed children overhead won't wake you from your beauty rest. It really does come down to the little things – they make all the difference!
Family All on One Level
There is always a market for family-friendly homes, and the demand for single story designs is big, too. Marry these two sought-after home plan features and resale won't be an issue. So, whether you have a family to house now, or you're considering your future finances, a one story home makes a smart choice. Kid- and parent-friendly, a single story helps parents to keep an eye on the little ones – even while doing dishes or getting a rare moment to relax. As a parent, I urge you to also check out our collection of split-bedroom designs; these homes allow parents maintain their much-needed privacy.
Good for Limited Mobility
When considering the features of your new home, mobility is important to keep in mind. Luckily, the growing popularity of open floor plans means that many new and popular blueprints are mobility-friendly from the start. And if you don't need to modify for accessibility, you can save money! Even if you don't have an immediate need for a mobility-friendly home, consider the fact that your needs may change over the years. An accessible house is fantastic for resale, too.
Browse our collections of Accessible Floor Plans and Open Concept Home Plans today!
Vaulted Ceilings Soar in a One Story Home
Tall ceilings add a touch of class to any room. The height allows for additional windows that bring more natural light to your space – a welcome addition to all homeowners. One story homes offer vaulted, cathedral, and other kinds of high ceilings that give those inside a sense of freedom, a sense of space to breathe and move. Mix all of this together and you'll have a beautiful place to entertain, to live, and to enjoy.
Let your ceilings soar high and check out our collection of Vaulted Ceiling Home Plans. You'll find that a lot of these houses are only one level!
Modifications and Add-Ons Made Easy
Change is inevitable, so ready yourself for an ever-changing family and lifestyle by building a one story home. No matter the home you build, you'll need to consider load-bearing walls. However, with no second story involved, wall removal and remodeling is much more affordable in ranch style homes. Plus, you can add skylights much more easily – so let the light shine in!
The Downside to One Story
Okay, so nothing's perfect. Let's face the facts and note the downsides of building a one story home.
A single story home is more costly to build for its size. Assuming similar finishes and products are used, a one story home just demands more. The foundation, roofing, and even land cost is higher because the square footage is spread out.
When building a home on land with a view, a two story home is usually a better option. A second floor allows its owners to see over the tops of nearby trees or buildings, and lets you see farther in all directions.
There is also something to be said about having a separation between living and bedroom spaces. In multi-level homes, it is common to have all of the family bedrooms upstairs, while the main floor has rooms for gathering such as the kitchen, dining, and living rooms. This can be beneficial, as daily mess is kept out of sight of unexpected guests.
A single story home may provide everything you need, but if you're particularly focused on budget-friendly designs, we'd love to showcase our "Beautifully Simple Ranch House Plans" to you.
We're always here to help. Contact us via LiveChat, Email, or Phone (877-895-5299) anytime!