Whether getting ready for work or brushing teeth before school, families inevitably spend a lot of time in front of the bathroom sink. Yet, for something that doesn't get much consideration, the type that you install throughout the house can depend largely on which bathroom it's going in, the allotted floor plans and the overall aesthetic of the home. Homeowners may want to review the following basic sink styles and the advantages of each.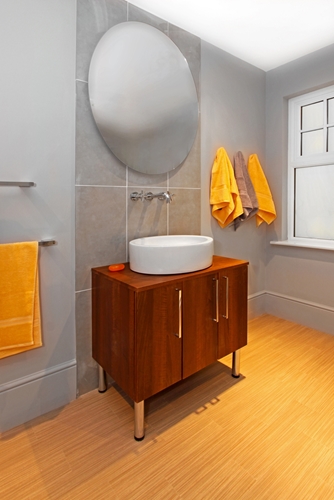 Simple fixtures
Basic wall-mounted sinks can be one of the simplest fixtures for homeowners. Without a vanity underneath or a countertop on either side, these sinks provide the most open space. They are usually great for smaller bathrooms where storage space is minimal or unnecessary.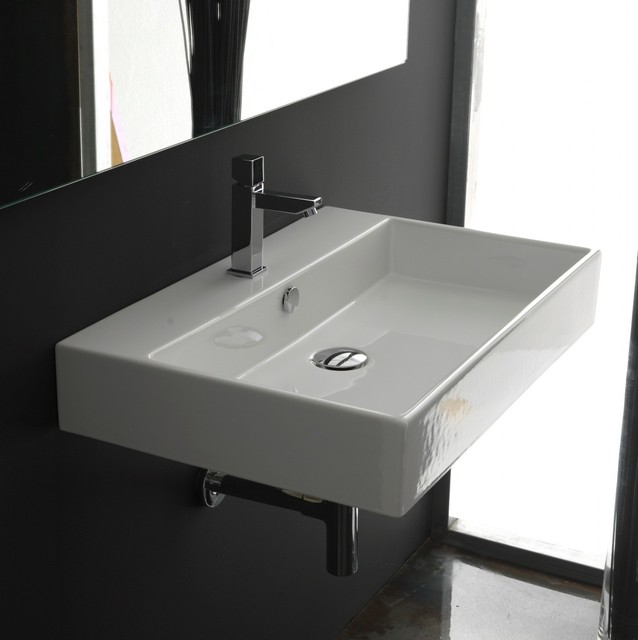 Source
For families with modern house plans bordering on the European, a purely functional wall-mounted sink is the perfect choice for wet rooms – tanked bathrooms with a waterproof shower. Vanities and other more elaborate sink designs would only lend themselves to mold in this kind of environment. An equally economical sink design is a basic frame stand-alone sink, which rests on four legs but still lacks a counter or closed cabinet space underneath.
The disadvantages of these sinks are that the water pipes are often exposed and that they lack storage underneath for cleaning products and bathroom supplies. A medicine cabinet can take care of some items, but a closet elsewhere will be necessary. Otherwise, you will need to get creative with shelving.
Stepping up
Pedestal sinks – basins that rest on a column – are an immensely popular design that feels a little more traditional and elegant than basic frames and wall mounts. The selling point of these sinks is that they hide piping in a styled column of the homeowners choosing, from neocolonial to minimalist. Like their exposed counterparts, these sinks also cut down on storage space. The overall effect is a more pleasing aesthetic that can be customized to match house designs.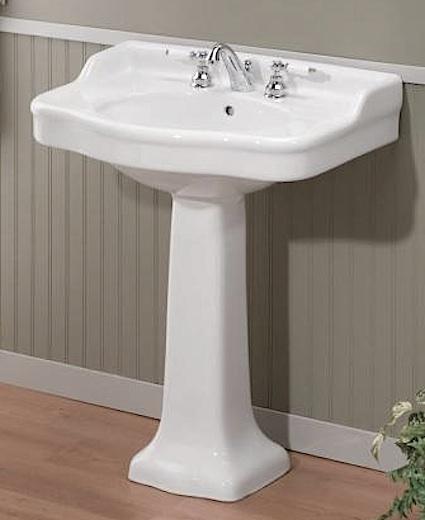 Source
Above or below
A vanity is the cabinetry built to house the sink and provide storage and a countertop. A vanity-mounted sink is the most versatile option, as it gives families an all-in-one workspace where they can get ready in the morning. While perhaps not the best in the smallest of spaces or wetrooms, they are more efficient in their use of space beneath the sink that would otherwise be wasted. The cabinetry also allows for a higher level of customization of doors, drawers, counters and knobs.
There are two basic options for a vanity sink: sunken or above-counter. The former is the more common option, with the basin submerged below the plane of the counter. Sunken sinks are a more seamless design, but they also eat up storage space within the vanity, and often come with fake top drawers. Above-counter sinks are trendy and a touch more old-fashioned and elegant. The basin usually resembles a bowl that sits on the counter, freeing up space in the vanity. It is, however, the bolder choice.
Making the decision
These are just some of the most basic sink options – each kind of sink is vastly customizable to personal taste. Homeowners selecting a sink should consider not only their style preference, but also the location and kind of bathroom where the sink will be placed. Faucets for laundry or craft rooms may only need a basic work basin. Bathrooms for guests and general use are perfect places for pedestal sinks, where an expansive vanity is not necessary. Family and master bathrooms are usually the largest bathrooms, requiring vanities to accommodate frequent use.
The Ambrose Boulevard house plan is a clear demonstration of prioritizing your bathrooms. The guest room bath features only one sink and minimal floor space. However, the master bath has his and her sinks, a glass shower and a separate tub. A third bathroom on the second floor features two sinks, for the people residing in bedrooms 3 and 4.