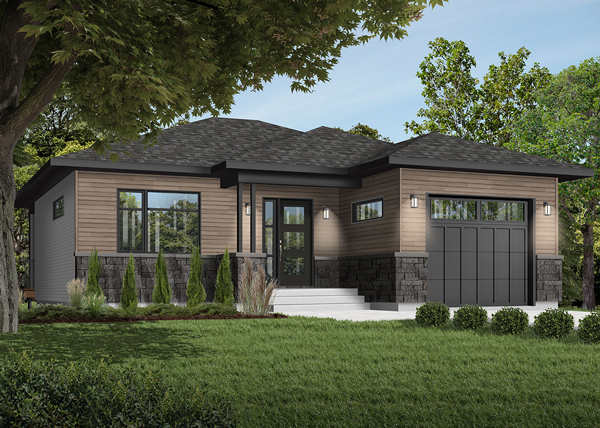 Avoid stress and clutter (and stick to your budget!) by incorporating storage ideas for small homes when you build. We've highlighted some of our favorite smaller home plans to show you how. Whether you're downsizing or building your first home, these plans come packed full of storage necessities!
Many people think that choosing a small home means they'll have to sacrifice the things they know and love. This couldn't be further from the truth! Practically every small home design comes with the amenities you want, just sized down for a more affordable price tag. This means you'll still have storage for your things and some extra money saved in your pocket. A win-win all around!
From a fashionista's wardrobe to a hobbyist's collection of tools, these homes can fit just about anything. Check out some of our small home plans and take note of how they creatively use space to offer awesome storage solutions. If you like what you see, we'd love to help incorporate your favorite storage ideas into your new dream home.
It's All About Getting Creative!
Moving homes is stressful enough. When you choose a design that incorporates some of these storage ideas for small homes, you can take a deep breath. You won't have to spend all your time worrying about downsizing your belongings to the bare minimum. Instead, think about how to creatively store the things you love!
A storage-centered home throughout, DFD- 7558 is perfect for an individual or couple who wants to keep things affordable. Notice how every area and room has functional storage solutions. This compact plan even has an attached garage with enough depth for a car and lawn equipment! With plenty of room for all of your belongings, a small or even tiny house plan like this can feel spacious.
Take inventory of what you need to store. We can help find the plan uniquely suited for you and your belongings once we know what you have to accommodate!
Dreaming of Clutter-Free Living? Make It Your Reality!
Keeping your home clutter-free is one thing, but knowing where everything is poses another challenge. Don't want to frantically search through overfilled tubs in the garage or attic? You don't have to! You can avoid clutter and stay optimally organized even with a small house. And your dedication to affordable comfort will really pay off for years to come.
DFD-5750 shows how great some of these storage spaces can be! Even though this home is under 1,500 square feet, it comes with an optional third bathroom (attached to the master) that could be a home office or craft/hobby room. It even has its own walk-in closet for storing just about anything. Areas like this allow you to tailor a home to your wants and needs!
Always look for convenient spaces that work for you. And then plan how to organize them to your heart's content! From the pantry to the garage, kids' clothes to decorations, there are so many creative storage ideas out there. Make sure that your home has space ready to implement these solutions!
Storage Comes in All Shapes and Sizes
Whether it's a chic modern one-bedroom home or a country-style charmer, our small house plans come with top-notch storage solutions. Rest assured you'll find plans of all kinds with awesome storage potential!
Want to keep family close or take in rental income? DFD-5517, a duplex with a dynamic modern look, is ready for your consideration! Combining two homes together with a shared wall results in a more affordable build and even reduced utilities. And take note of the large closets and storage spaces this duplex makes available on all 3 levels! Homes like this can save money and still offer great spaces, making them good all-around plans.
With a well-balanced floor plan and a traditional Southern look, DFD-6336 is a customer favorite design. It provides 3 bedrooms in a split arrangement, and each has a large closet full of accessible storage. The master even has 2 walk-in closets for all of your clothes and accessories!
If you see a storage idea or space in one home that you want to incorporate into another, we'd love to help. Our goal is to help you find or customize a dream home that you'll love for years to come, no matter the size, shape, or style.
We hope these storage ideas for small homes have inspired you. Feel free to reach out if you ever need help making your ideas into reality, whatever they are. Let's think outside the box together to help make your new house the perfect home!