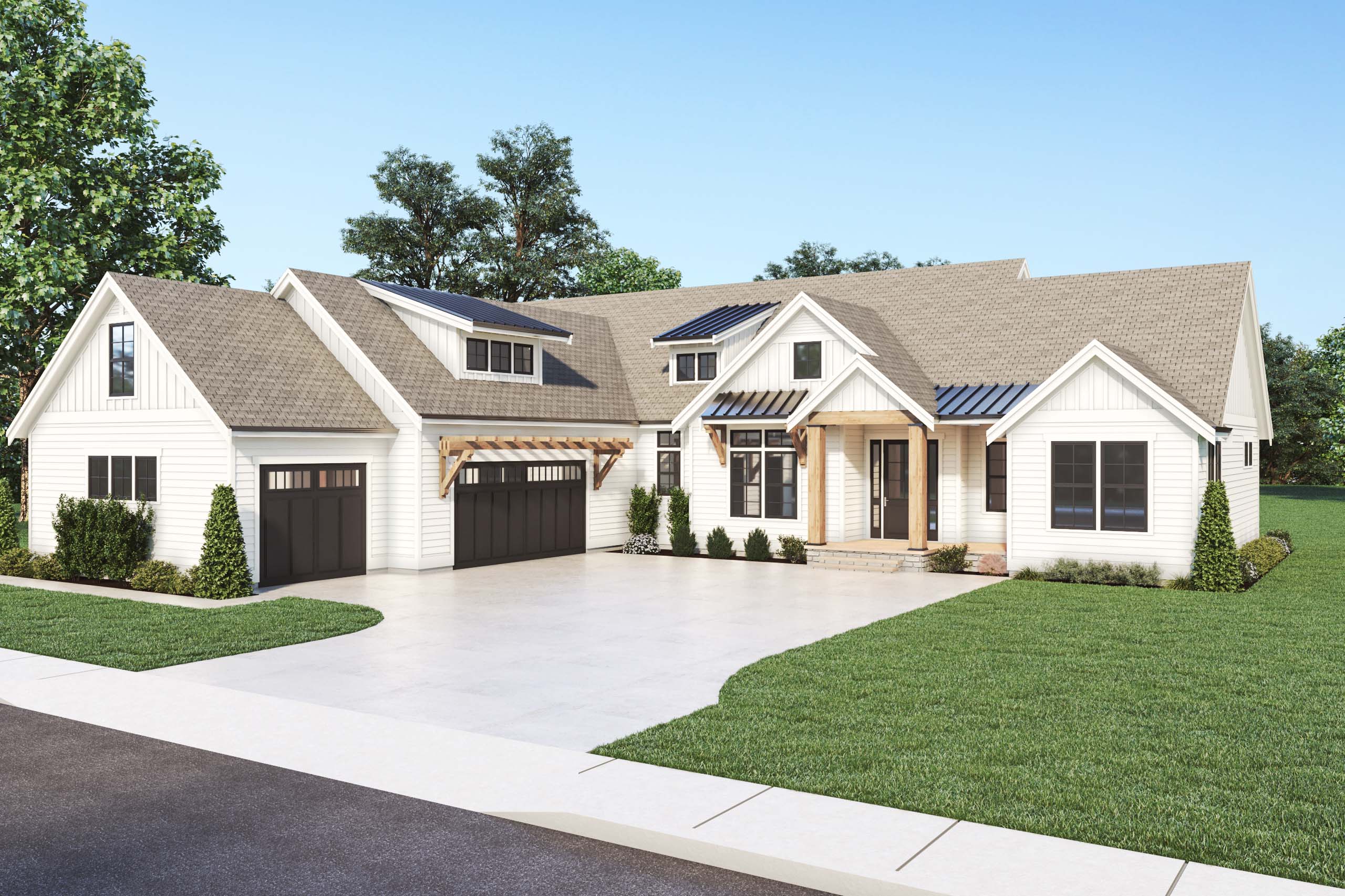 As the winter months fade away and the flowers start to bloom, there is a wonderful feeling of opportunity and new beginnings in the air! Embrace the seasonal shift and try something new when it comes to your next house. Whether you've been waiting for the right time to build your dream plan or you're looking for your first home, we have five fresh new homes for spring to help kickstart your journey!
We have thousands of homes to choose from and a team of designers and architects with many decades of experience, so we have seen and done it all! That means we are ready to help make your dream a reality. As the days get warmer, nights get longer, and leaves emerge, let this season of change inspire you. Let us know how we can help make your home design absolutely perfect.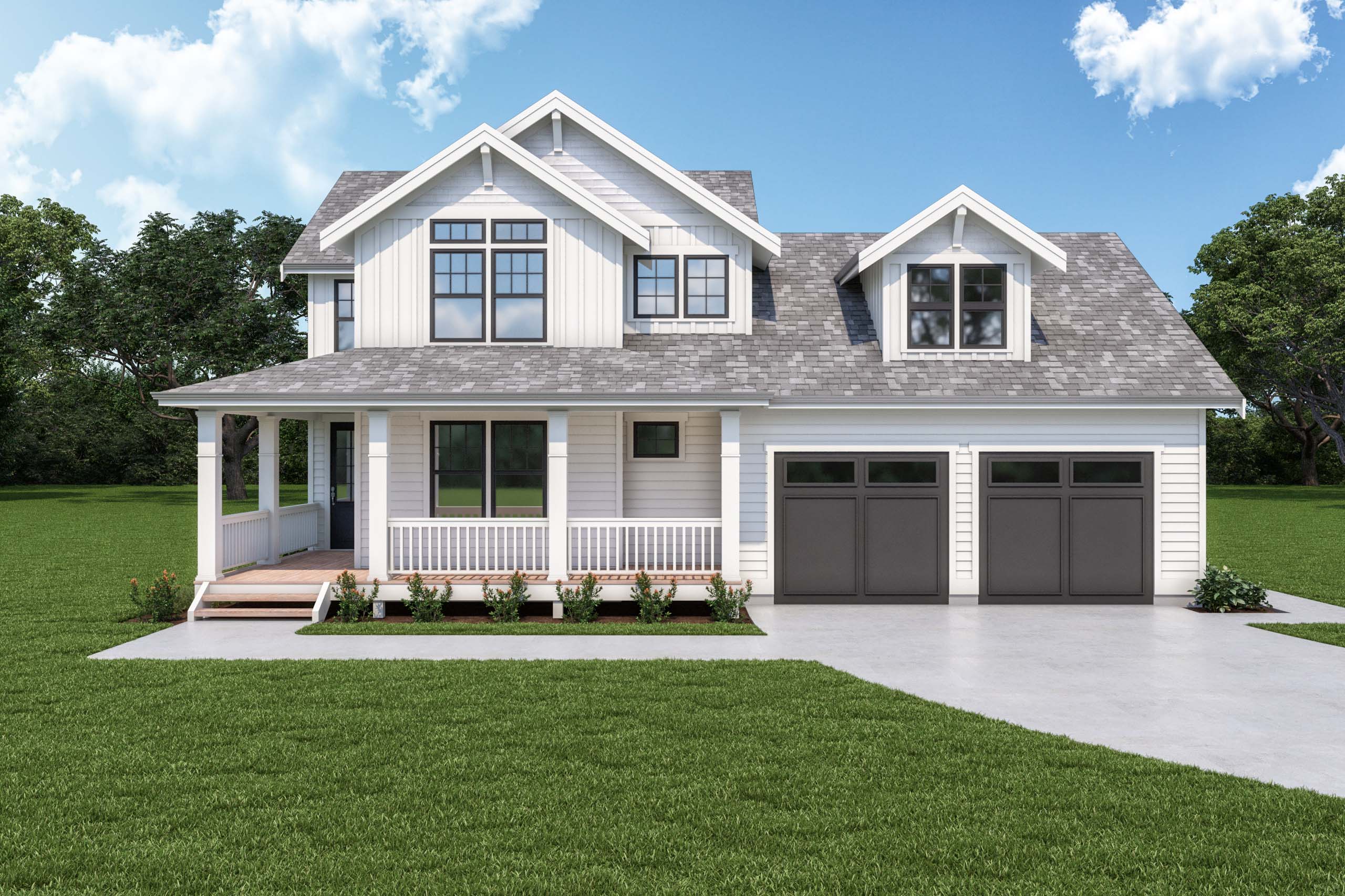 Let's kick off this introduction to new homes with DFD-8749 (above). It's a midsize design with a den in front to create privacy for the great room, and three bedrooms and a bonus upstairs. It's an honorable mention in addition to our five fresh new homes for the spring. We just love it so much that we couldn't help showing it off, too!
A Craftsman Full of Details
Packed full of character and history, Craftsman homes have withstood the test of time. They are modeled to look as though they were meticulously hand-built by master craftsmen, so these plans do not lack in the detail department! Plus, each of our Craftsman home plans comes with unique and unmistakable flair.
You'll find this to be true with our brand new DFD-8746 (below). A beautiful home inside and out, it's no wonder we chose it to lead the collection of five fresh new homes for spring. Let's see all that it has to offer!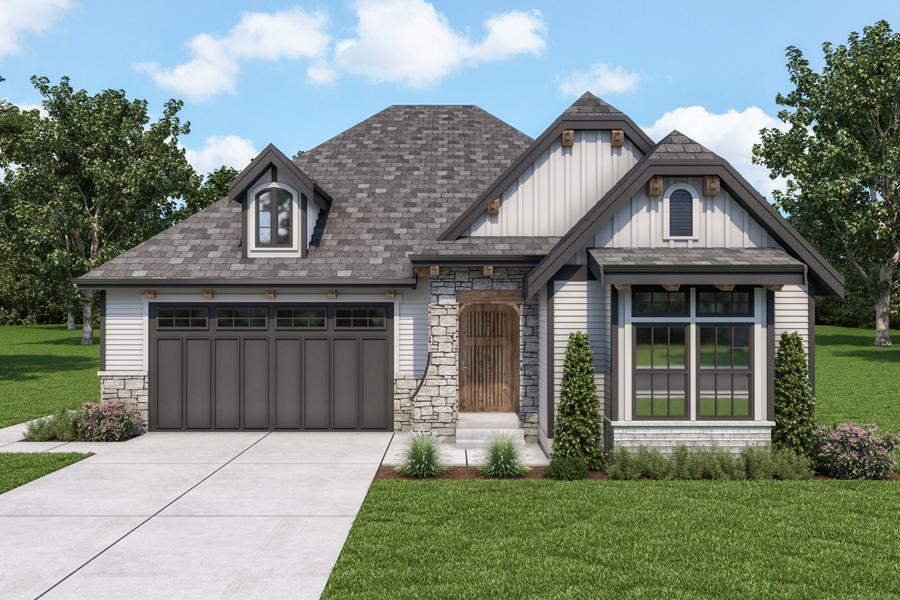 Beginning with its charming exterior with exposed stone and wood touches, this plan has it all. Even better, it is totally accessible! DFD-8746 can be enjoyed by anyone with all of its 1,615 square feet on one level. Plus, with 2 bedrooms and a den, this could be the perfect plan for new couples building for the first time or empty nesters looking to downsize!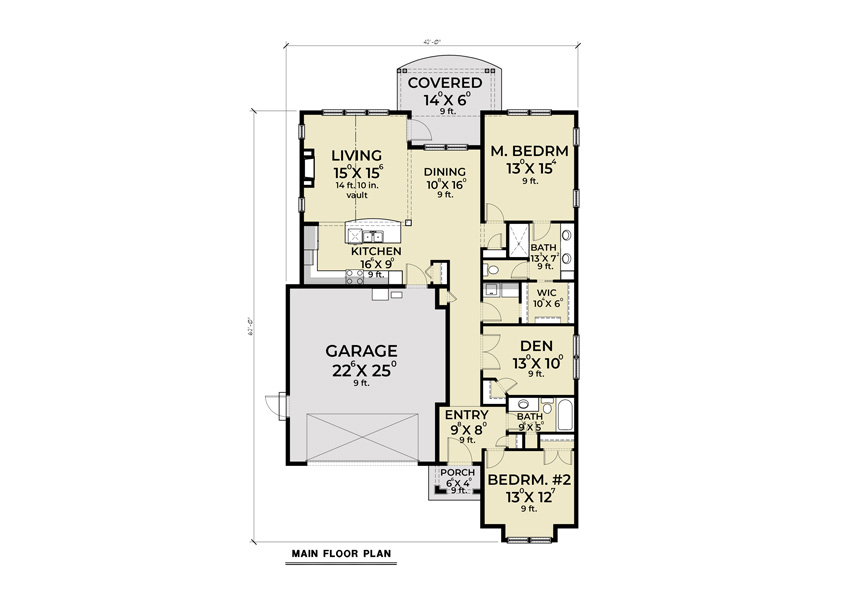 A Farmhouse for the Whole Family
A customer-favorite style for years, farmhouse plans continue to explode in popularity. And when you mix that with the booming housing market, the demand for these homes only keeps growing! They are known for their simple beauty, lovely clean lines, and welcoming designs. Of course, each also has its own distinctive characteristics, too. Let's see why this specific plan is number two of our five fresh new homes for spring.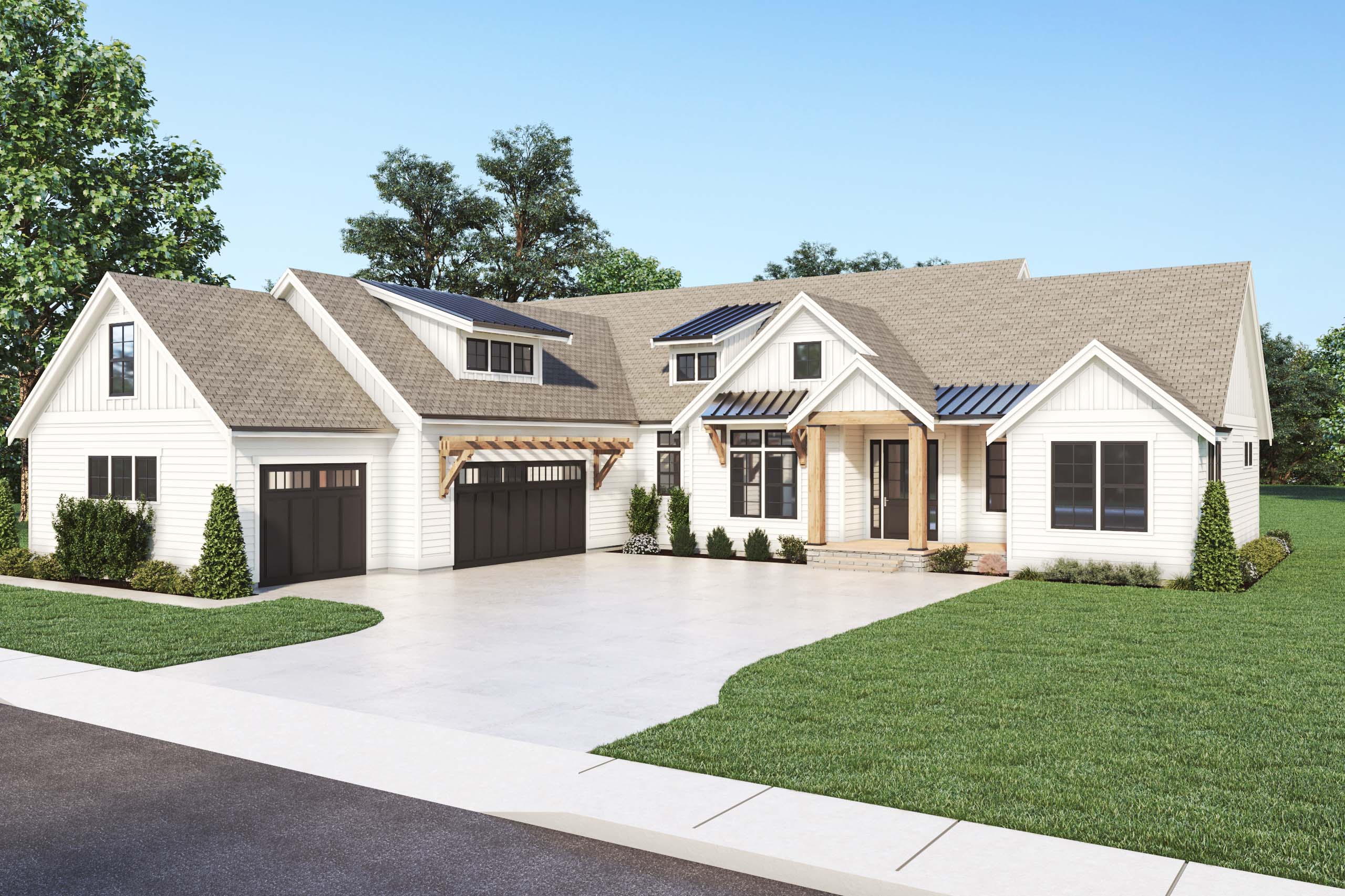 At first glance, it is obvious that DFD-8753 has so much personality. It takes the best of simple farmhouse style and unforgettable modern flair. We love this gorgeous curb appeal with a front side-entry garage!
Beyond the exterior awaits an all-inclusive interior brimming with functionality. Some highlights of the 4 bed, 3.1 bath layout include the totally open main areas beside a huge covered porch and patio. And you'll love the grand chef's kitchen with its feature island and walk-in pantry! One of the more unique aspects of this design is how the bedrooms are divided up around the house to give all occupants more privacy. It's definitely the solution so many families want.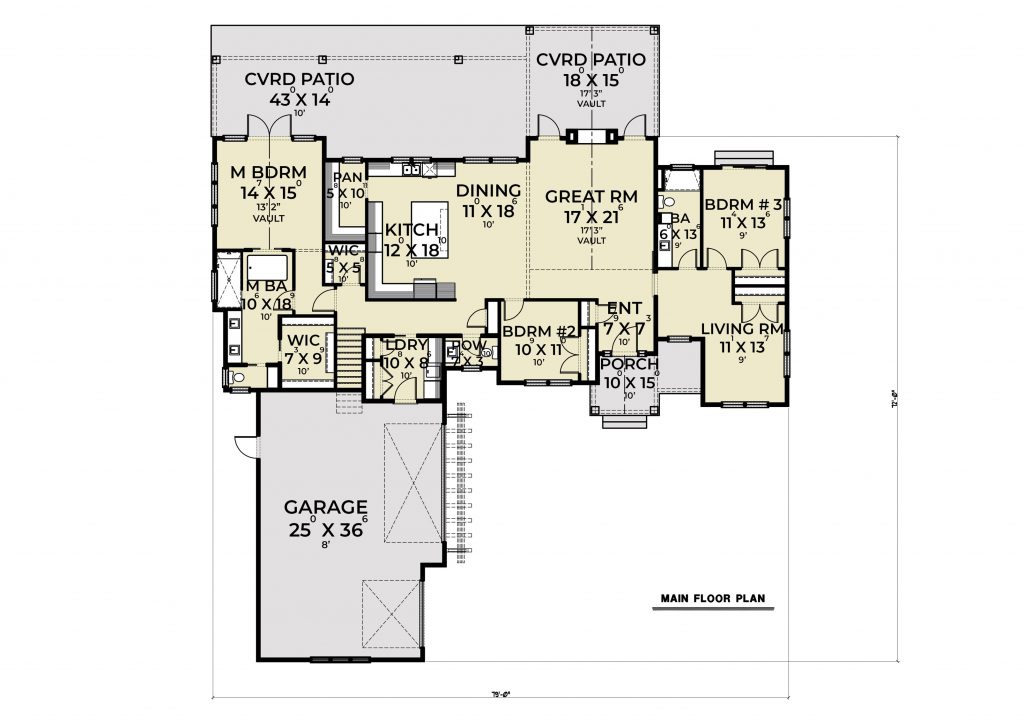 A Marvelous Modern Plan
If you want a dynamic home design that grabs attention, then check out some modern plans. Not only are these homes super unique, but they often push the boundaries of architecture and design. By combining various elements and features, they create some truly remarkable spaces that you won't soon forget.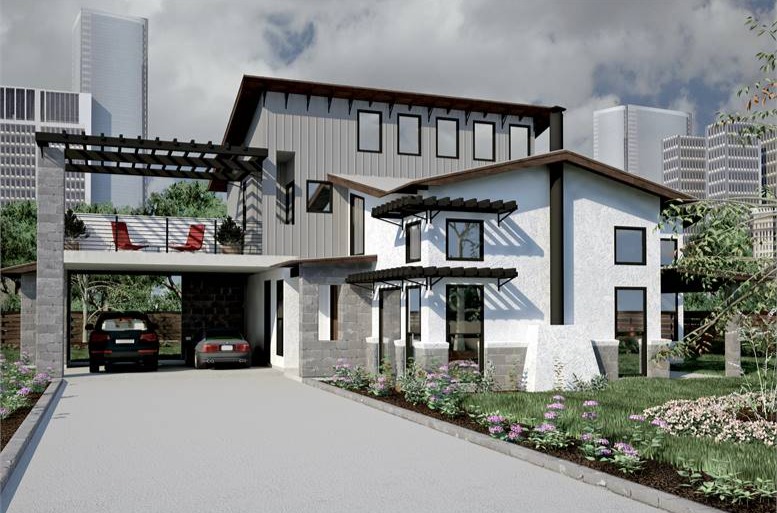 As far as modern homes go, we think that DFD-8740 is one of the coolest. This 1,905 square foot home has been designed to embrace open space and invite natural light inside. Notice how the unique exterior of stone and metal creates balanced curb appeal. We especially love the covered second floor deck over the carport that'll be a hit for outdoor entertaining! A space such as this is perfect for enjoying those cool spring breezes or warm summer nights.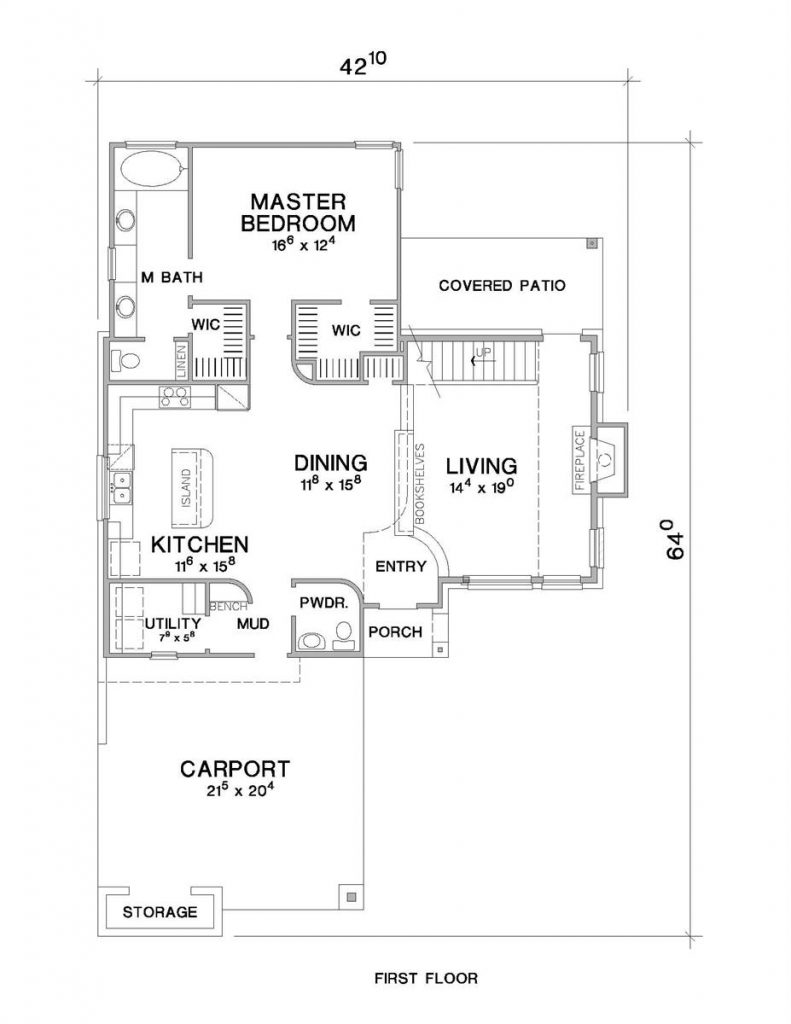 A Unique Modern Craftsman
If you want to age in place or just need a home that is suitable for people of all ages and abilities, ranch homes are perfect! Their one-story layouts are inclusive so everyone can enjoy what they have to offer, now and into the future. But what if you need to condense the footprint of your house? Look for one with a main-level master suite, like DFD-8748.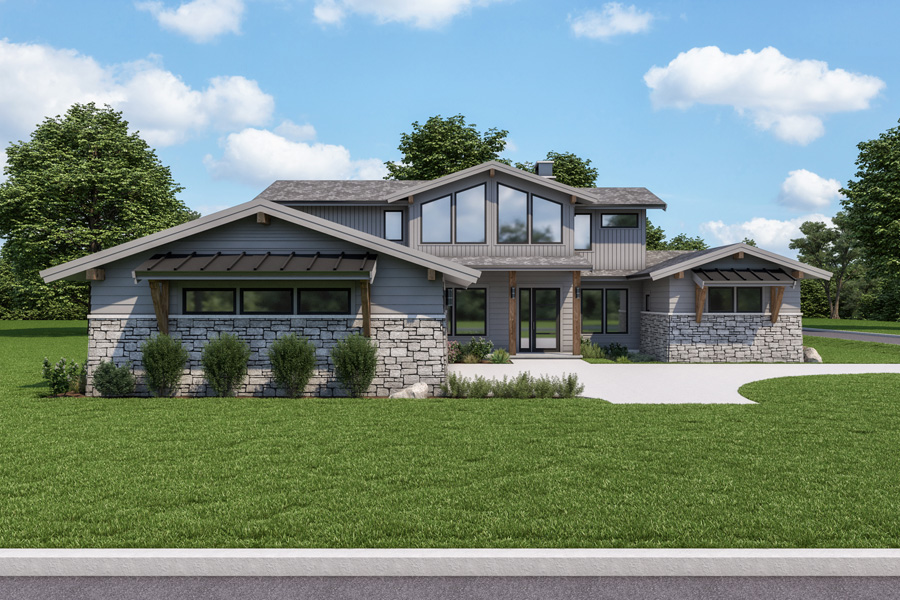 This bold design is a soon-to-be customer favorite. With the master suite, a den, and all main living spaces on the first floor, the owners can definitely age in place comfortably. Upstairs, the kids will love having their bedrooms split across the loft overlooking the great room. If you want a home that beautifully blends traditional and modern styles with a very popular split-bedroom arrangement, DFD-8748 would make a great choice.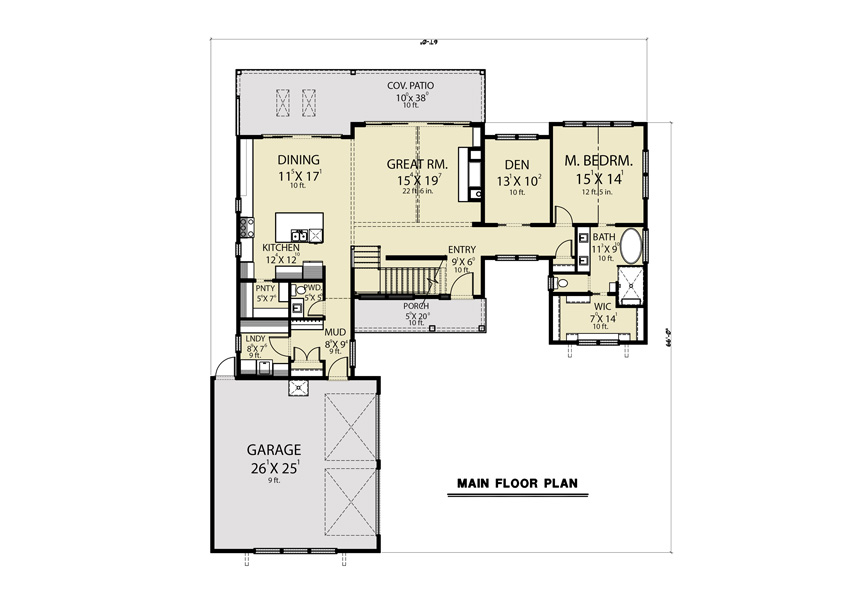 A Beach-Inspired Coastal Oasis
For the last mention on this list, we've decided to head to vacation. A beach vacation, that is! If this sounds like something that you and the family need, check out some of our favorite beach-ready house plans. Your personal paradise awaits.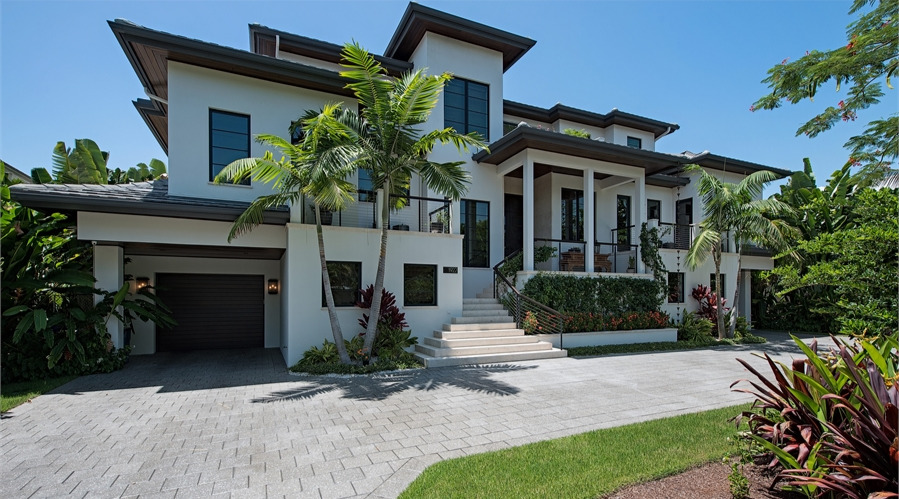 Like something right out of the tropics, DFD-7538 has wonderful appeal. Packed full of space, the 3-level layout has everything you could ever imagine. It's all built on a huge garage to boost everything up for better views! From the 4 spacious bedroom suites, to areas like the gym, sauna, and billiard lounge, this plan is downright amazing. Take a minute to soak it all in. And after that, imagine soaking in the rays out on your pool deck!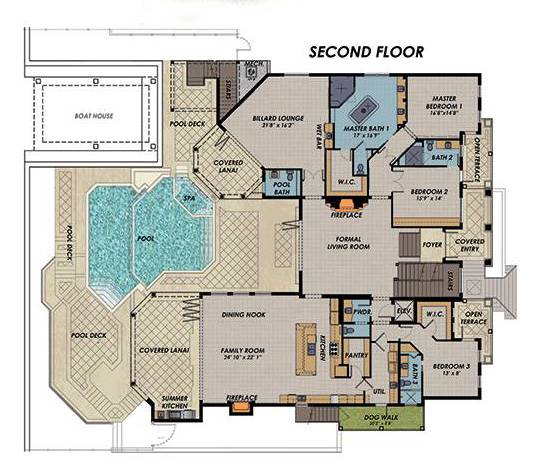 We hope you have enjoyed these five fresh new homes for spring. If you'd like to see some more, head over to Direct From The Designers and explore to your heart's content. We believe that finding your dream home should be fun, so let us help keep it that way by letting us know if you need any help.