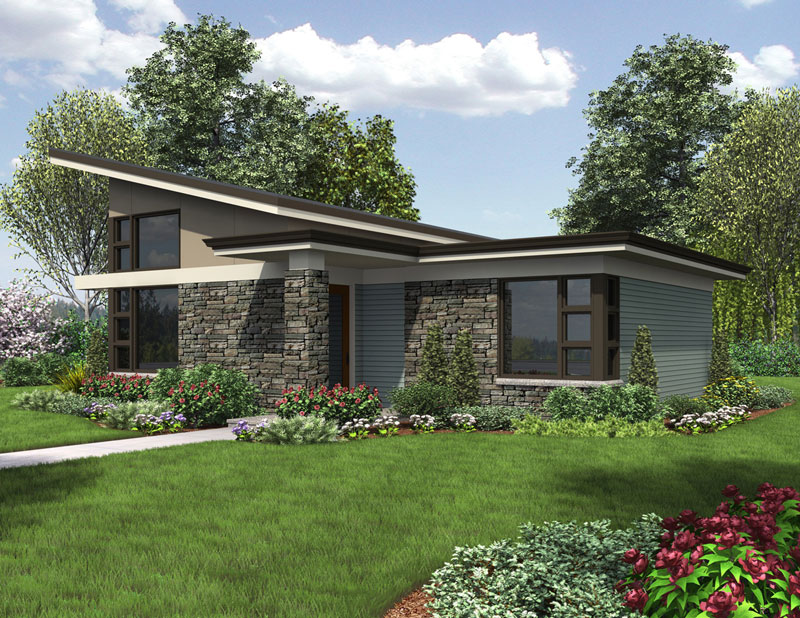 With minimalism going mainstream and more people wanting to reduce their expenses, tiny houses are big news. They are cropping up across the country and everybody from young professionals just starting out in their careers to retirees looking to enjoy a simpler lifestyle is interested in them. Our fascination with tiny house plans has birthed a booming industry that produces everything a house needs in 400 square feet or less, and even people who enjoy their comparatively enormous homes like to watch television shows about building and living in downright miniature spaces. So, what's the draw?
Tiny houses are all about doing more with less. Financial freedom is one of the most attractive benefits of downsizing; why settle for a long term mortgage if you can avoid it? Environmental concerns are also listed as a reason to choose to live small. Anybody looking to slash their utility bills will find motivation to consider living in a tiny house. The movement has gained a lot of attention for creating homes that are as condensed as possible, but there are plenty of house plans that are much smaller than average that are still comfortable for regular people who want to reap the benefits of reduced living space without taking it to the extreme.
Direct from the Designers offers a Tiny House Plan Collection full of designs of 1,000 square feet or less. You'll find everything from compact bunkhouses for camping in luxury to full family homes with three bedrooms, each with carefully considered layouts that make the most of their space. To get a taste for what's out there, here are a few amazing tiny houses!
An adorable one-bedroom cottage that's right at home on a natural lot, House Plan 4160 offers a reasonable amount of space with an open layout that won't close in. All living areas are contained to 484 square feet on the first floor, but there are another 220 square feet in a bonus room upstairs. Make it another bedroom, an office, or use it for storage and you'll have a great little house with plenty of potential.
The front door opens into the kitchen, which has an efficient L-shape and logical appliance layout that make it easy to prepare meals. The floor plan is open, and the living room is immediately adjacent, providing a spacious feel across the main level. A fireplace is positioned in front of the staircase to the bonus space, so it will radiate to heat the home from the center. The bedroom and bathroom are at the back of house, both amply sized for ease of use.
House Plan 4160 has a breezy covered front porch to kick back on, and its simple footprint means that it is easy to build. Get away from it all and open your options with a small design like this, which has everything you need plus a little extra for if you can't quite downsize your possessions as much as the people on TV!
If you don't need a lot of space, but you still require that the space that you do have has all of today's most in-demand features, look no further than House Plan 5178. This one-bedroom modern marvel has only 899 square feet, but it includes vaulted ceilings, a luxurious bathroom, and extra storage space in the form of a walk-in pantry—all of which are hard to come by in tiny houses.
A vaulted great room spreads wall to wall through the U-shaped kitchen and living area. Large and high windows line the walls on three sides, so there is plenty of daylighting potential that will help cut the electricity bill. A plant ledge wraps around the living room to put houseplants in the best position to soak up the sun. Anybody with an eye for both nature and contemporary design will create a great interior in this home.
The other half of the house consists of the bedroom and bathroom—each with so much space that anybody will be able to live in and use them with ease. The bathroom is particularly noteworthy because it has a separate whirlpool tub and walk-in shower, which you typically find in much larger houses with luxury suites. This neat one-story plan makes a completely sufficient home, as it also includes room for a washer and dryer. You'll be amazed by just how well you can live in this supposedly limited space!
This three-bedroom cottage packs a lot into its 975 square feet, and it was specifically designed to be as energy efficient as possible. Its country farm house style immediately draws the eye, but its fully loaded floor plan is what will make you want to stay. It's not very often that you come across a tiny plan that can house a family so well.
The layout of House Plan 3162 gets the most out of its square footage. An open floor plan connects the kitchen, dining, and living areas around the front entrance, and the arrangement of bedrooms and bathrooms helps to keep hall space to a minimum. The secondary bedrooms share a Jack and Jill bathroom, while the master bathroom can be accessed through the laundry room, so guests can use it without disrupting the privacy of the suite. The master bedroom also has a walk-in closet, so clothes storage won't be an issue like it can be in other very compact designs.
If you want to join the tiny house movement for environmental reasons, but still want a traditional place to call home, look no further. The exterior walls of this plan are two inches thicker than normal, and the roof has been modified, all to accommodate more insulation with a higher R-value. The designer has taken solar heat gain into consideration and suggests that you orient the back of the house due south to harness the sun's free energy. There are plenty more efficient features built right in—House Plan 3162 has been recognized by ENERGY STAR®, so feel confident that this little plan is the perfect decision for living green!