If you've been around a while, you know that the most popular home designs evolve over time. Home design trends shift every few years to reflect the styles, colors, and materials of the day. As the latest architectural and interior design movement, the transitional style has taken over the market by storm. Appreciation for this chic, middle-of-the-road style started with modern farmhouses, but now you can find transitional house plans with all sorts of different looks.
The Transitional Exterior Style
A transitional exterior combines elements of traditional and modern design. Flexibility is key to successfully merge styles into one coherent façade. Most often, you'll see the shapes of a traditional type of architecture simplified to show clean modern lines in lieu of any decorative embellishments. The final picture should be balanced and show key features from both styles.
One of our newest transitional house plans, DFD-9958 is a beautiful transitional farmhouse sure to appeal to today's buyers. Notice the gables, dormers, and porch—all requisite parts of a farmhouse, but they have been streamlined in this home. The exterior uses neat brick, board and batten siding, and natural wood touches for a modern update to curb appeal. Inside, the stunning great room boasts a vaulted ceiling complete with wood beams reminiscent of an old-world farmhouse.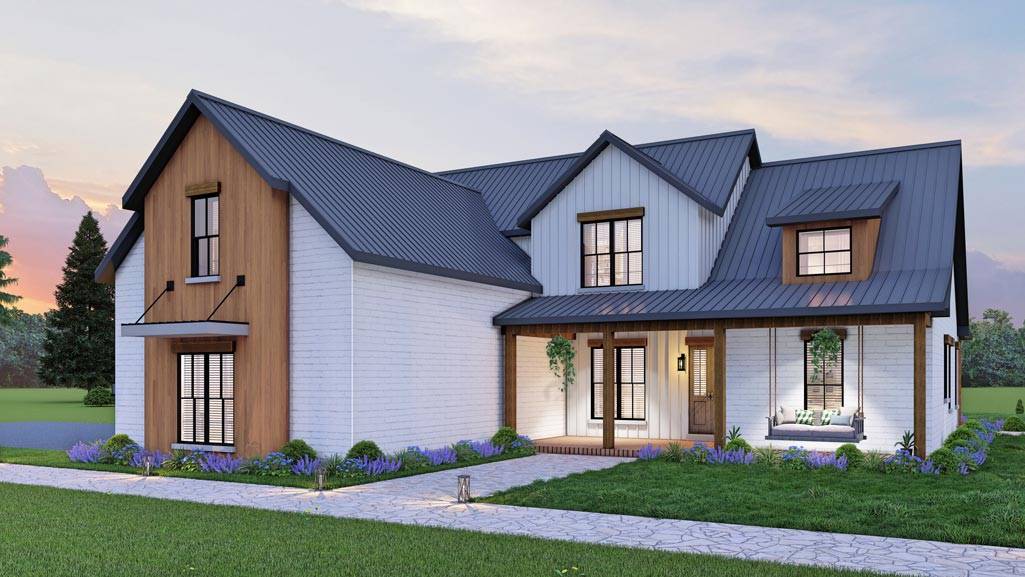 Another example of transitional exterior style, DFD-8748 offers the look of a traditional home with more contemporary finishes. Imagine the exterior with stucco or brick and it would be perfect for a coastal California neighborhood. The mix of stacked stone and siding creates a neat modern look with natural materials to go along with the dramatic contemporary windows. This home could fit into a stylish subdivision or stand out alone on acreage!
The Interior Stylings of Transitional House Plans
Transitional style goes beyond the architectural design you see from the street. The interior also plays a key part. In fact, many homeowners these days build and renovate traditional homes with transitional interiors because they want to experience a timeless, balanced vibe in their living spaces!
Many things go into an interior design. Built-ins and millwork can make the difference between boring and amazing. Furnishings should offer a sleek profile, but you can branch into different genres to suit your tastes. Just avoid matchy-matchy furniture and finishes! A dining room table with six different—but complementary—chairs is just fine in this new trend. Wallpaper is back in vogue—unique patterns can turn the backdrops of each room into art, so think about what you'd like to see!
DFD-5087 wonderfully combines styles and textures throughout the home to provide the transitional feel, both exterior and interior, that today's families desire.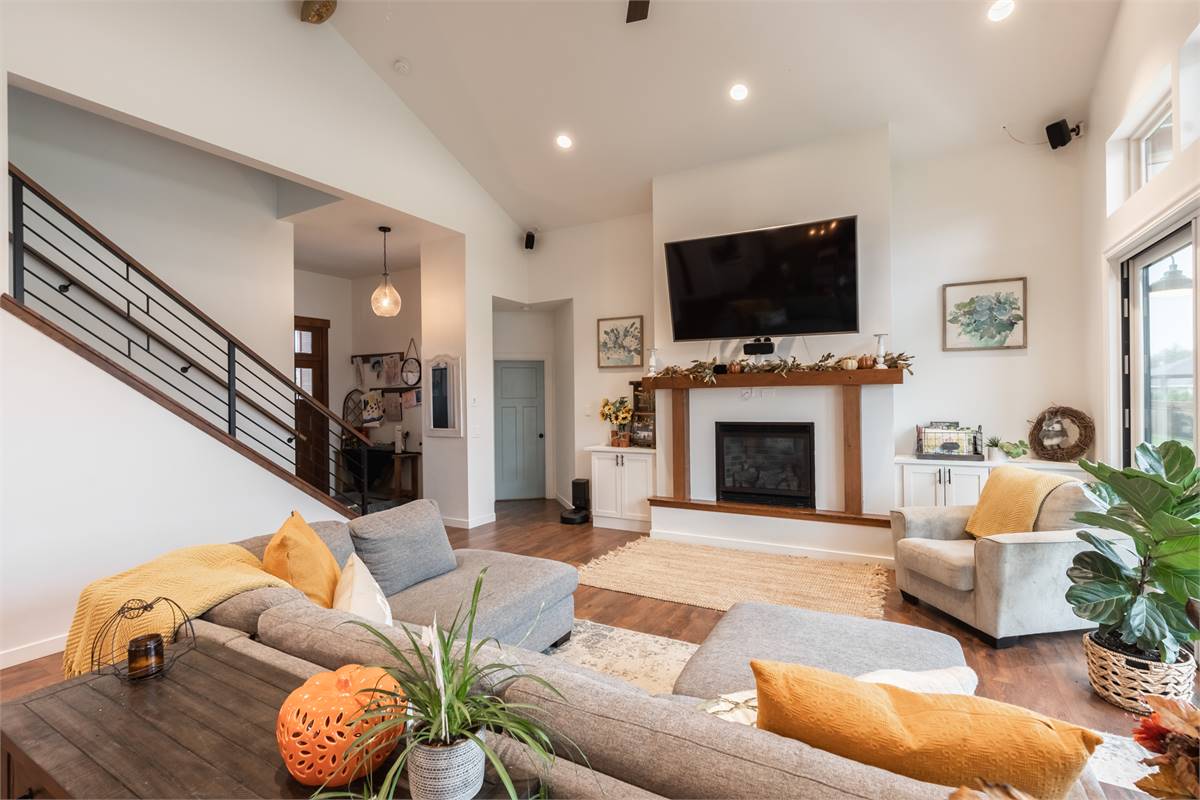 Background color palettes can be soft and neutral, allowing you to incorporate color with the items you place in your home. Combining modern lines with soft and rugged textures helps to create a picture of balance. Accessorize sparingly and keep a minimalist look with less clutter. White space is fine of course, but look for space to add your individual touches. Transitional interior design shouldn't feel cold and impersonal.

This build of DFD-5024 has a subdued grayscale and wood tone palette across the interior. The effect is sleek and stunning, and these spaces will beautifully offset colors in the furnishings the homeowners choose.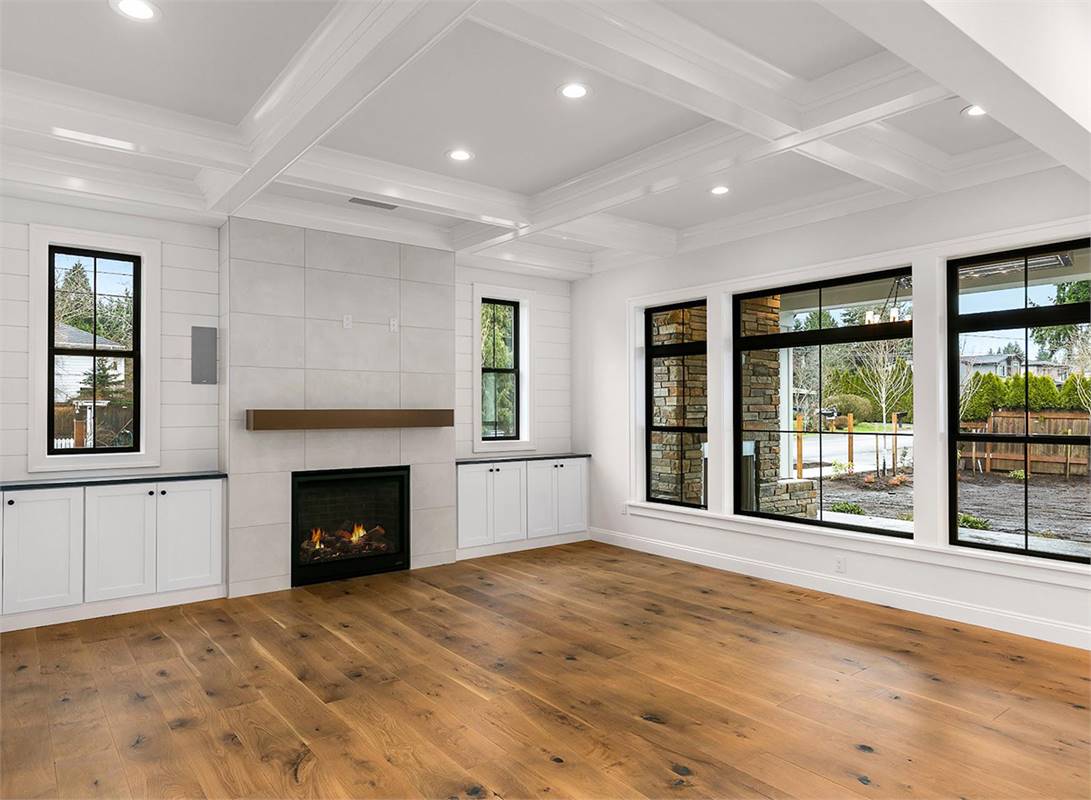 If you think a transitional home plan is what you are looking for, we have some beautiful plans to review. Go to Direct From The Designers to see your choices, and don't hesitate to reach out if you need any assistance!